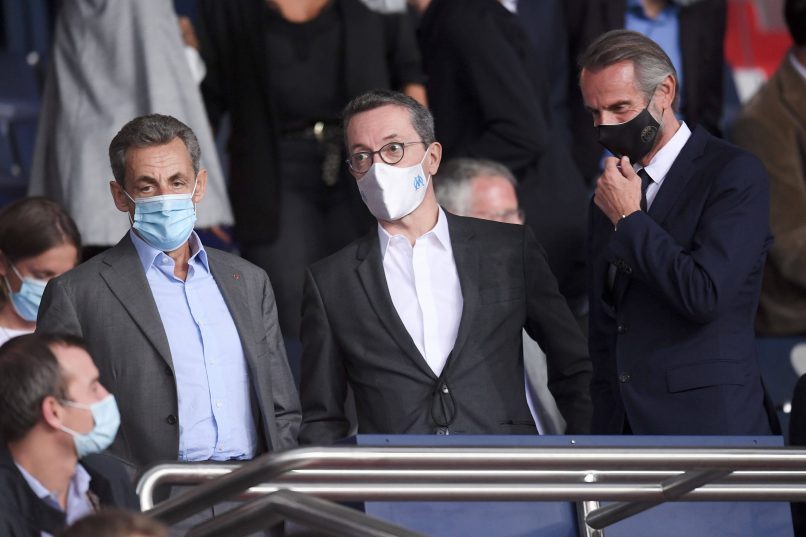 Marseille President Eyraud – from confidentiality clauses to frowning on employees being fans – causing rifts with constant business rhetoric
Marseille President Jacques-Henri Eyraud's latest remarks caused former player Manuel Amoros to produce a furious outburst on RMC.
Speaking in a video call in early December, arranged by a sort of WeWork-type Paris working space, Eyraud explained that he did not want his staff to be majorly made up of people who are also supporters of the team:
"When I arrived, I was struck by the fact that 99% of people working at the club were from Marseille. I think that this is a danger, a risk. Why do I say that? Because I was there for several months and we were on a run of two consecutive defeats. I saw in the business just how grey the faces were. People were close to depression. In terms of productivity, the impact that a defeat had on the attitudes, behaviours, on a daily basis was strong. And that, that was not on. The English, the Americans, who usually are better able to distance themselves from that, say that when you are an employee at a football club, the first thing that you have to be careful of not doing is to bring in, and I am citing, a "fan in a suit," because it will be someone who will be drawn to talking about having passion for the club, for his team, rather than looking at the plan defined together."
Amoros responded:
"It is incredible, it is shameful to say that when you are the president of Marseille. The supporters, the people of Marseille who live only for the OM results, and that he (Eyraud) does not care, is a Parisian, comes here, he does as he wants. He kicks out Marseille people who have been in place for years and he brings us Parisians who know nothing about football. How are you going to try to put Marseille on the right road and perform as well as before?"
Speaking to La Provence, a former colleague of Eyraud echoed these sentiments:
"That, that is the Jacques-Henri that I knew internally… I believed a lot in him. When he arrived, I warned my family members, I explained to them that they were not going to see me much, that I was going to throw myself into the project. I was disillusioned: once the smokescreen passed, I saw the sad reality."
This webinar was supposed to be private and available only on LinkedIn – the fact that media were only able to quick up on it a dozen days later proves that this was nearly the case.
Speaking as part of an event organised by Le Shack, Eyraud highlighted how the ways of working is different in countries outside of France.
Amoros had a rebuttal for that too: "He says that in England and the United States, things are not the same. All he has to do is go there, go to England on the United States. Here we are in Marseille, this is a special club, we know it."
To understand the tension around Eyraud, one has to go back to 2017 – in the media, Eyraud was launching an operation of seduction, but behind the atmosphere, the first rumours of employees being laid off were already swirling.
A Marseille employee sacked last year said on the layoff situations: "The version of events that he (Eyraud) gives today is totally false. There were working groups, all the services combined, many proposals were made."
Amoros wants to see the club use the expertise of former players:
"One time, Eyraud and McCourt brought us together, with other colleagues. We discussed everything, the club, the youth setup, etc. At the end of the meal, they said that we would see each other, very, very soon. We are still waiting…"
Eyraud would wait until summer 2017 to make moves in the direction of laying staff off. 25 employees were laid off at this time, including 13 people from the media side, resulting in the shutdown of the club's own brand media channel, OMtv. Firings occurred across the board: in the media, communication, marketing and administration departments. But also in facets of the business as unobvious as security, where the club removed Guy Cazadamont, an employee who had been there for decades. On the sporting side, layoffs occurred too: in the medical staff, Jean-Georges Cellier and Jérôme Palestri were let go.
Three years later, many former club employees decided that they would like to speak to Eyraud's character, judgment and decision-making as president to La Provence. However they can only do so as anonymous sources, owing to a confidentiality clause in their employment contracts with the Ligue 1 club. L'Équipe confirm that Eyraud inserted these clauses himself upon his arrival.
This decision-making led to some uncomfortable situations – for example, former assistant to Rudi Garcia, Fred Bompard, received a formal warning for breaching this clause via letter after speaking about Kevin Strootman in a feature piece that L'Équipe did on the Dutch international recently. As a result, Bompard was forced to decline the newspaper's advances after they asked him to provide quotes and thoughts on Duje Caleta-Car for a separate article. This is not a one-off occurrence. Marseille used central defender Rod Fanni's decision to give an interview with L'Équipe in December 2017 against him in their ultimately successful dismissal process against the then 36-year-old defender.
 Another ex-employee told La Provence:
"It is narcissistic. We could get together to bring an action, but it is not worth it. We can see that there is hardly anyone left but his LinkedIn community which still believes in what he says. On top of that, he did not have to work very hard to get us to leave. Some people, still at Marseille today, cleaned up for him…"
The list of individuals who had been selected for the sack was sent to the now former deputy CEO Jean-François Richard, who one lunchtime called all those unfortunate to be losing their jobs in – another former employee explains their view to the same publication on Eyraud's thinking behind the layoffs:
"We know very well that it had nothing to do with their competence. It just saved on salaries, to then be able to take on interns or underpay young people on questionable contracts at €1,200 a month."
One former employee claims that the practice adopted was not to formally layoff workers, but rather induce these employees to quit upon their own volition:
"In the end, basically, it was: go now, otherwise we will make your life a misery."
La Provence alleges that Eyraud showed little loyalty to individuals who brought the club major wins on the business side – they use the example of the salesperson who did the majority of the work in signing the Puma sponsorship deal, was also asked to find a new job. 
Individuals not bound by confidentiality want to speak for those who are blocked from doing so – Jean-Paul Delhoume, former editor at La Marseillaise and regular contributor on OMtv, is one of them: "If the former employees do not have the right to speak, I will do it for them. OMtv's misfortune was the arrival of Eyraud. But it's also OM's misfortune. When we buy players as he did and then we can no longer sell them…"
Will the holiday season bring an end to the tension? Internally, where forced departures have consistently continued since 2017, Eyraud's latest remarks have been looked upon very poorly.
A current Marseille employee stated:
"He makes us look like asses, he may have expressed himself awkwardly, but it is serious, he does not realise what harm something like that can do within the club. It is Marseille bashing. This means that previous presidents were as stupid as us since they had hired us! He plays the matador, but he is the worst leader that I have known in my career. Is he talking like that because he is going to leave? You can tell that he is bitter."
Another recently departed employee adds:
"I'm not ashamed to have been hurt and pained when the team lost. Companies like Nike spend millions to get their employees fully invested in their brand. I thought it was an asset. What has he been up to since we left? OM Nation, OM Prime… It changes every year! In the end, maybe the problem was not us. They will never take our pride in being from Marseille away from us."
La Provence also alleges that Eyraud mimicked cult hero fan René Malleville. The episode took place in the spring of 2018, when OM were being managed by Rudi Garcia, making it to the Europa League final and finishing 4th in Ligue 1 during that campaign, with a very elevated 77 point total that historically is enough to qualify for the Champions' League. Yet OM were bested by PSG, Monaco and Lyon on this occasion. A promising season, but Sporting Director Andoni Zubizarreta was not as ecstatic as Eyraud or the McCourt team – he knew that the financial balancing act required in the 2018/19 campaign would be very tough.
Eyraud in the meantime was fixated on two things – he wanted to sign Mario Balotelli at all costs (something that he would achieve six months later, with Super Mario landing a monthly salary of around €800k). The second, according to La Provence: to settle the score with certain individuals who do not believe in his project and vision.
In a seminar that saw a number of OM executives attend, Eyraud opened up. Someone who attended the meeting explained how Eyraud targeted René Malleville, a famous Marseille fan whose match reaction videos chalk up thousands of views every week: "He embarked upon a distasteful imitation. He nicknamed him the red-haired man who screams in front of the cameras. He likes to also imitate Bengous (another famous Marseille fan) by using his Marseille accent."
In a separate meeting held outside the training centre, La Provence claim that Eyraud also showed a video clip which was a compilation of all the negative comments made by journalists that he had come across over the course of the campaign. Shown in front of a large number of club employees, the whole sequence aroused as much laugher as incomprehension.
Marseille released a communiqué on Tuesday following the publication of La Provence's  piece.
"All of the employees that make up Olympique de Marseille's business council would like to respond to the article entitled "Eyraud, les Marseillais à dos," published this Tuesday, 29th December 2020 in La Provence. We do not accept that a journalist instrumentalises employees to settle personal scores with the Marseille president. In addition, the use of anonymity stigmatises former or current employees, who one might think have spoken. The life of a football club, and OM in particular, is certainly hectic, but this article contains deeply malicious and unfounded elements which are not acceptable. 5 years after the arrival of Frank McCourt and Jacques-Henri Eyraud, the club continues to transform and evolve to support changes in society. This sometimes gives rise to deep debate, disagreement and some legitimate tension, but nothing that can justify such an article."