The big clubs decided to play a waiting game. As a teenager, Angelo Fulgini was linked to pretty much every big-name side on the continent. These included Milan, Manchester United, Real Madrid, and Liverpool where he was offered a trial in 2015.
During the last five years, the transfer links have lingered and the next transfer window could be the most realistic and optimal time for Fulgini to make his move.
Now with years of first-team development under his belt, what type of player would these interested parties be getting?
Having represented the France national youth teams from U17 level, Fulgini also remains eligible for Côte d'Ivoire, New Caledonia, and Italy.
He was born in the African nation of Côte d'Ivoire while his father was based there as a soldier, his mother is New Caledonian, and his grandparents on his father's side are Italian, hence the Italian-sounding name.
"It's a good mix!" he said of his roots during his time at Valenciennes. "I'm happy to represent all of it."
"There are, for example, not many Caledonian players so it is important for my family who are there, and for me too."
Now aged 23, he is no longer eligible for any of the French youth teams, so his next move at club level, and how successful that is, could dictate which nation he settles on — i.e. will he be high profile enough to eventually make the France senior side?
An 18-year-old Fulgini made his professional debut with Valenciennes in Ligue 2, starting 16 games at right-back during the second half of the 2014/15 campaign while also making one appearance in defensive midfield in the Coupe de France.
It was a difficult season for the club who just managed to avoid relegation, and by this time there was already plenty of interest in Fulgini.
Valenciennes knew they had a talented and potentially valuable player on their hands, so signed the teenager to a three-year deal that summer. The next season he played only a handful of games at right-back but started 18 games in various midfield positions, from deep-lying holder to midfield shuttler, in the centre, or on the right of a diamond midfield.
Since then he has played in pretty much every position on the park, as shown below from Transfermarkt, and has proven to be a versatile tactical tool.
In the summer of 2017, Fulgini took the step up to Ligue 1, signing with Angers for €1.4m. While at the club he has played on both wings, in midfield, and even spent one game in 2017 up front in support of the main striker Karl Toko Ekambi.
He has since settled in a central midfield role more often than not, but his positional history means he could do a job in a number of tactical setups and formations: On the right or in the middle in a 4-1-4-1, 4-4-2 or diamond midfield, out wide or in the middle in a 4-3-3, or midfield or wing-back in any of the back-five formations.
Add his ability to cover at right-back, and Fulgini is, at the very least, an attractive squad option for many teams across Europe.
Fulgini has an inventive touch and is lively on and off the ball. He is given responsibility at corners and free-kicks thanks to his great technique when striking a dead ball. This transfers into open play when he finds himself operating down the right channel where he's able to deliver dangerous crosses into the area.
From central positions he has a good eye for a through-ball, spotting the runs of team-mates and waiting for the right time to play the pass, more often than not. He has a good passing range and will occasionally trust his weaker left foot to make a play.
Though Fulgini has only scored 18 goals from 172 appearances, he's a decent finisher for someone who started his professional career at right-back and looks comfortable cutting in off the left wing when playing further forward, offering a more direct threat on goal on top of his creativity.
Dribbling is also a big part of the creative side of his play when it comes to taking opposition players out of the game. His positional and tactical versatility means these dribbling actions can take place across the park, as shown in the graphic from Twenty3, below.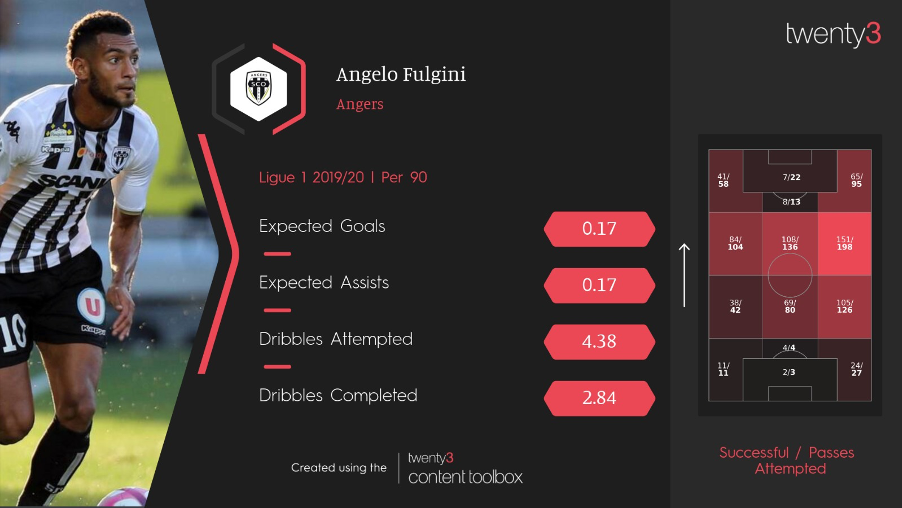 That inventive first touch can help him beat the first man and he will often look to take on a second if there is no obvious pass available immediately.
These cunning attempts to take players on are also indicated by the fact that Fulgini has completed more nutmegs than any other player in Europe's top five leagues, with 12, according to FBref data.
Sometimes the tendency to dribble can lead to errors in dangerous areas, and some improvement is needed when it comes to decision making around such actions.
As well as this, the occasional attempt at a first-time pass to keep things moving can go astray, but given his defensive ability, Fulgini can often win the ball back himself after making an error.
The heatmap below from SmarterScout shows some of these traits flagged up by the data.
The purple squares indicate take-ons and are littered across the pitch, especially noticeable in deeper areas. The yellow blocks on the corners show the regularity with which he takes set pieces, and the brown areas in midfield show a mixture of take-ons and passing.
Though the actions map is taken from his games during the 2019/20 Ligue 1 season playing in central midfield, it shows a tendency to play from the right, but also a number of actions across the pitch, including attacking areas where shots are indicated in white.
His ratings from the SmarterScout data are shown below, ranking impressively for his overall productiveness and industry in defence as well as the quality of his defensive actions, while also scoring well for attacking output.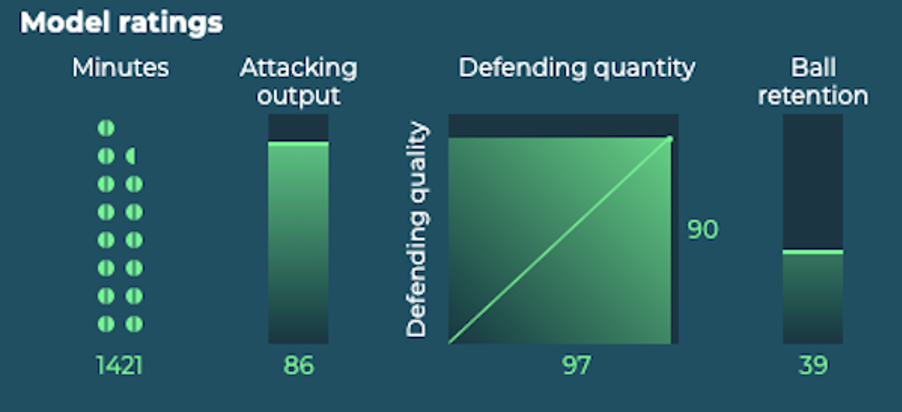 His ball retention rating is low, but merely highlights his willingness to try more risky plays which might not always come off, but when they do, can put his team in a great position.
Most playmakers will score low for such ball retention numbers, and all of this together makes Fulgini some kind of attacking playmaker who can also do the job of a defensive midfielder, though the defensive side of his game doesn't extend to winning duels in the air, where he currently loses more than he wins.
Many of the aforementioned traits are reinforced by his radar from FootballSlices, below, using FBref data, in which he shows up well for taking on the opposition while also stopping them dribbling past him.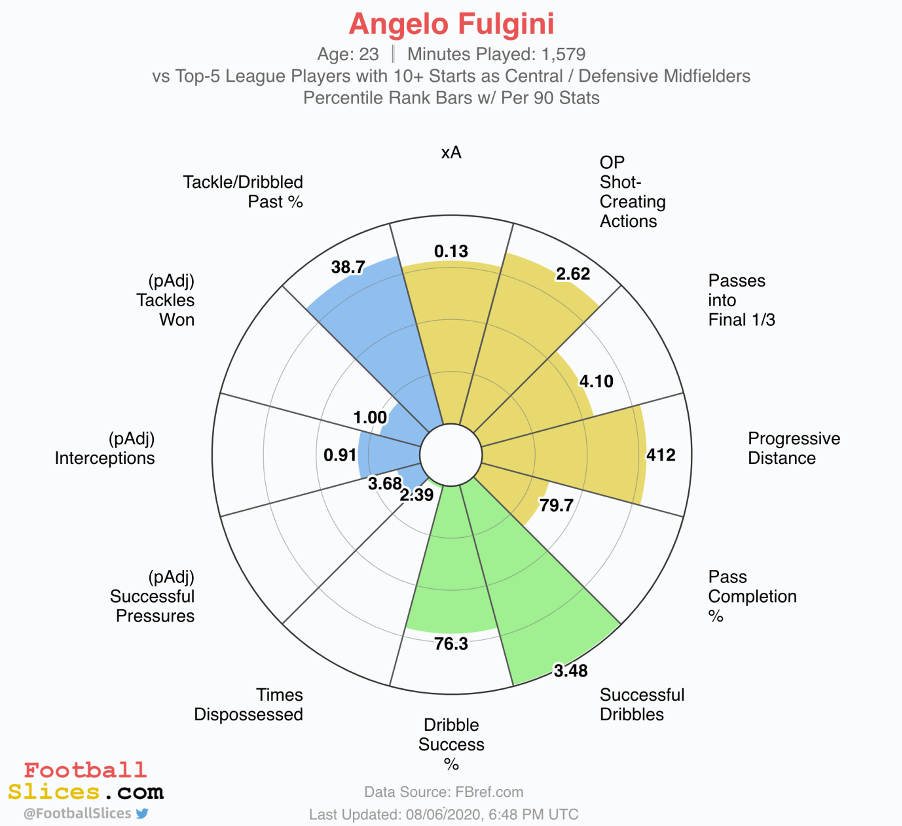 Though his high-risk playmaking gives a relatively low pass success for a midfielder, his progressive passing and shot creation is impressive.
At the moment he's someone whose defending can be as reactive as it is proactive, but his ability to close down quickly and his involvement with an Angers team which generally likes to press in midfield, shows he could be part of a bigger, more organised counter-press further forward.
As Fulgini's positional history shows, at 23 years old he's already played more positions than many players will in their professional career. He'd likely be very good as a modern-day right-back tasked with cutting into midfield as well as overlapping down the wing, but he sees his future in midfield.
He lists Thiago Alcantara, Andres Iniesta, and Ilkay Gundogan as his role models, and the 23-year-old's next move will go a long way to deciding whether he get close to emulating those players.
French football's decision to be the only one of Europe's top five leagues not to resume their season amid the COVID-19 pandemic might have a detrimental effect on a number of young players at key moments in their career, but it could also give them time to take stock of their next move.
The upcoming transfer window will no doubt present Fulgini with chances to leave Angers, but he'll need to make sure he goes to a team where he can develop his game further.
His versatility will certainly help when it comes to getting the all-important game time, regardless of the level of club he moves to, and it would be a surprise if Fulgini is not playing, at least, in the Europa League for a club in one of Europe's top five leagues come 2021.
James is a world football writer and reporter for the Morning Star newspaper, whose work also features on the Guardian, BBC, and Forbes. He is the founding editor of World Football Index.