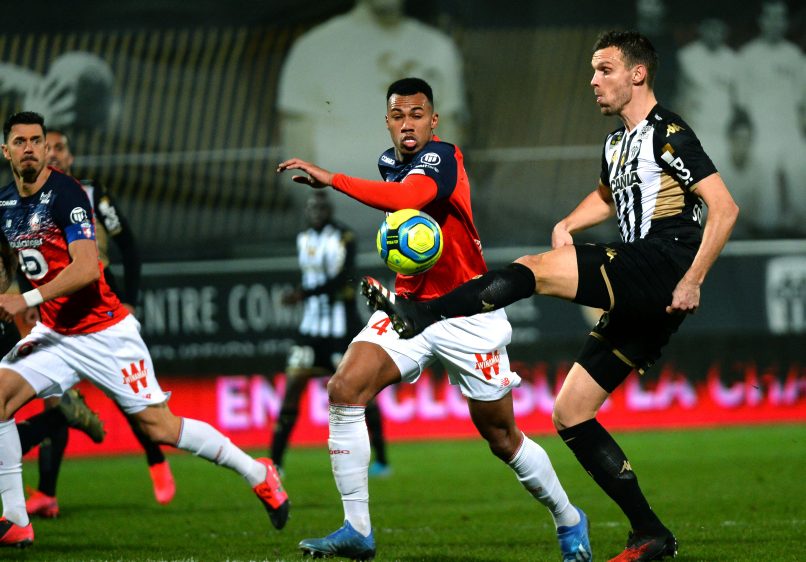 PROSPECT | Gabriel Magalhães
Among names like Chouiar, Camavinga, and Osimhen – players who have experienced extraordinary breakout campaigns in Ligue 1 this year – there is one that seems certain to surface in a different country come next season. Gabriel dos Santos Magalhães is that name, and after numerous reports linking the 22-year-old defender to Premier League clubs like Everton, Arsenal, and Chelsea, the central defender's potential departure from Lille feels imminent.
But, is Gabriel, with less than two full seasons of Ligue 1 under his belt, worthy of the hype and the €30m valuation that has been floating around? His physical attributes, ability on the ball, and unique profile make a compelling case that yes, Gabriel deserves the attention that he has been receiving from old and new admirers alike. 
Recently dubbed a "colossus" by freelance writer Romain Molina, Gabriel is an impressively imposing figure in Lille's defence. At 1.90m, the central defender is well-equipped to deal with some of Ligue 1's more physical forwards like Júlio Tavares and Moussa Dembélé. Usually alongside 36-year-old José Fonte in a central defensive pairing, Gabriel is fittingly mobile, as his Portuguese partner does not have the same pace and acceleration that he had at the peak of his powers. Additionally, Gabriel excels in utilising his physical attributes effectively, as the defender is as capable of bullying opponents off the ball in shoulder-to-shoulder challenges as he is gaining advantageous positions when jostling in aerial duels.
The pairing of José Fonte and Gabriel has proven beneficial both to the team's defensive solidity as well as to the development of the 22-year-old, something Gabriel spoke to with L'Équipe: 
"As soon as José arrived at the club he spoke with me. He encouraged me to work hard and to make the most of the opportunity that would come one day. He taught me a lot, on and off the pitch."
Fonte, very much the elder statesman and club captain of Lille, has taken this mentorship role in stride, repeatedly stating that one of his primary duties is indeed to "to show the way to the young kids we have." If Gabriel is to leave for England, this experience of playing alongside and learning from a model professional with over 300 appearances in the Premier League would certainly ease the difficulties of adaptation that the Brazilian would face. 
In fact, transformation and change are two things not entirely new to Gabriel. At the age of just 13, the young Brazilian left his home of São Paulo for the first time to join Avaí FC, his first professional club. Almost 700 kilometres south of São Paulo, it was in Florianópolis where Gabriel experienced cold and homesickness for the first time. A week after his arrival the young defender had already returned home.
While back in São Paulo, Gabriel's father encouraged him to reconsider this unique opportunity that he had – one that many hopeful teenagers from his area and background are not afforded. After two weeks of reflection, Gabriel left home for the second time, this time for good. Three years later, Gabriel's sacrifices and hard work were rewarded with his first professional contract at just 16. Fast-forward two more years and at 18 the defender had already made his first first-team appearance for Avaí, scoring his first goal to boot! 
As a centre-back for Christophe Galtier's Lille, Gabriel sees a lot of the ball. On average, the 22-year-old completes the most passes per 90 for Les Dogues and is also the primary passing outlet when the team's electric attackers try to beat an offside trap or break past opposing defenders. The likes of Nicolas Pépé, Jonathan Ikoné, and Victor Osimhen have all been on the receiving-end of Gabriel's over-the-top long balls that attempt to find the streaking forwards. 
Such an ability, as well as Gabriel's defensive contributions, essentially ousted former club captain Adama Soumaoro – now at Genoa – from Lille. It was Soumaoro's thigh injury, suffered in February of 2019, that offered Gabriel his first-team chance, and, in following Fonte's advice, Gabriel made the most of it. When Soumaoro returned to fitness his Brazilian counterpart had usurped him, his starting spot undeniably handed over to the colossus from São Paulo. 
With his future almost assuredly elsewhere, it will be interesting to see how Gabriel's career develops. From leaving his family at 13 to moving to France at 19, it is evident that the young Brazilian is confident, ambitious, and adaptable. His time in Ligue 1 made evident his abilities on the ball and his physical dominance, two qualities that will surely make him a welcome addition to whichever club might win the race for his signature this summer.