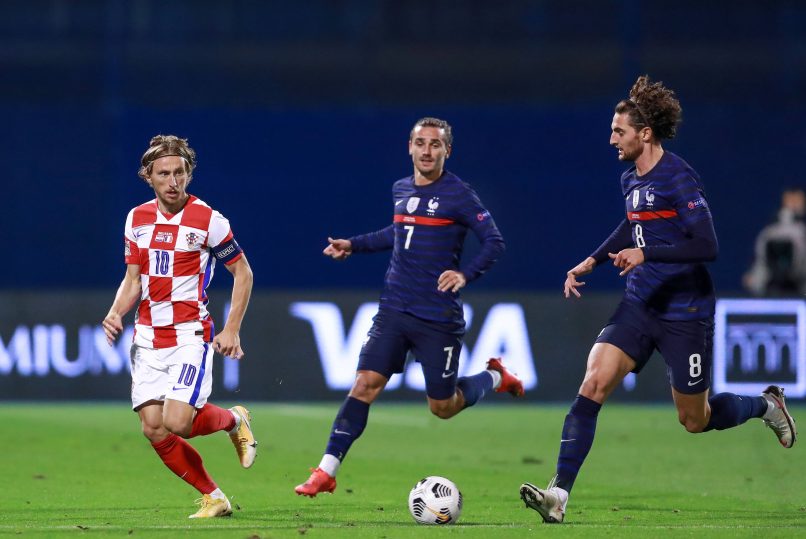 Road to EURO 2021 – Episode 9
What are the chances of seeing them in France's squad next summer? Every week, Get French Football News will dissect French players performances across Europe and rate the likelihood of their presence in the final 23 men for the European championships.
The scoring is simple – each time a player is mentioned in the "tops" category he gets + 1 point, each time a player is mentioned in the flops category, he gets minus a point.
Tops:
Adrien Rabiot (Juventus)
His appearance in the last national team squad was a huge surprise and brought questions for Didier Deschamps after the ex-PSG man had refused to appear in the reserve's list for the 2018 World Cup. Months went by and there he was, coming back at Clairefontaine. After a decent return against Sweden, he sat on the bench against Croatia. In the October national break, he was given more game time by Didier Deschamps. At the Stade de France, he was strong against Cristiano Ronaldo's teammates, but shone brightest in the 1st half against Croatia where he was France's metronome. His ability to break the lines with the ball or through sharp passes was as impressive as his commitment to help his team win back possession. He slowed down a little bit in the 2nd half but this October national break was overall a success for the former pariah. If he manages to maintain the same level of performance until June, he is a strong contender to make it into Deschamps' Euros squad.
Lucas Digne (Everton)
It was a tricky choice between him and OM's Jordan Amavi for this "tops" spot. But with an assist for Kylian Mbappé in Croatia, and another for Dominic Calvert-Lewin at Goodison Park in the Merseyside derby, it was a good week for the French left-back. Although his performances for France in September had been a disappointment, this was clearly a better national break for him. Digne offers something different to Lucas Hernandez. The Everton defender is not as strong at defending as his Bayern's homologue, but his crossing ability is as good if not better. In the Premier League, he is now regarded as one of the leading full-backs, shining at the weekend with a stunning assist for Dominic Calvert-Lewin against Liverpool. His one-touch cross in Croatia for Kylian Mbappé, was not bad either (probably better). Plus, he is a real threat on set-pieces, which is another big asset.
Presnel Kimpembe (PSG)
A little less than a year-and-a-half ago, Presko precipitated PSG's exit out of the Champions' League round of sixteen against Manchester United. Today, he'll face them again. What happened between these two fixtures? Well, Kimpembe went through a lot of criticism and produced several poor performances at the end of the 2018/19 season and the beginning of the following. The question of whether he would ever have the ability to get back on his feet at PSG was a huge talking point. But after several hellish months, Kimpembe was finally back at his best in the Champions' League. The turning point probably being the Round of 16 second-leg against Dortmund where he was impressive in his duel with Erling Haaland. PSG would eventually reach the UCL final thanks, mostly, to several masterclasses from the Eragny-born defensive general. More recently, he proved once again he was in a world-class shape with a great performance against Portugal. At 25, consistency is the only thing that might hold him back from reaching the greatest heights.
Flops:
Kurt Zouma (Chelsea)
Unfortunately, this time, he is amongst the flops. Indeed, in Chelsea's eventful draw against Southampton (3-3), he was not really dominant at the back, to say the least. Being a part of a defence that conceded three goals is never a good look when you're a centre-back. But being involved in one of the most comical goals of the season is definitely worse. Southampton's equaliser, despite being majorly due to Kepa Arrizabalaga's crazy mistake, started off with a poor back pass from the French defender. Zouma's misery didn't end there, as he was involved on Danny Ings' first goal that put the Saints back in the game with him seemingly out of his partners' defensive line. In the dying moments of the game, he couldn't prevent the Dane Jannik Vestergaard from scoring Saints' third goal. What started as a quiet game that could have been a confirmation that Chelsea had finally found themselves the real Zouma turned into a pure nightmare that proved once again that consistency, again, was still a big problem.
Antoine Griezmann (Barcelona)
Be sure that this column is not trying to persecute Antoine Griezmann. This situation is deeply depressing. Of course, he will never be dropped out of France's squad. Never ever will he not feature in the starting eleven under Deschamps. But it is fair to say that he is not the same player anymore. He might have scored a goal against Croatia, but he is far from the level we were used to see. Against Getafe, in Barcelona's 1-0 defeat, he was disappointing yet again. He even missed a clear one on one with the keeper in the 30th minute, a situation that normally sees the ball end up in the back of the net with him. He played in a more central role against Pepe Bordalas' team, but couldn't make the most of it. According to a Sport columnist, he "missed a chance that a Barcelona forward has no right to miss." Will he be ready to play the Euros with the same vigour that he brought to the 2018 World Cup? Only time will tell, as they say. For Griezmann, it is running out.
Téji Savanier (Montpellier HSC)
What a disappointment for one of Ligue 1's best performers of the season! In Montpellier's draw against AS Monaco, he did not play a positive role in his team's performance for once. He was sent off in the 19th for a nasty foul on Florentino Luis. Although it was not malicious, Téji Savanier's latest red card is just another one added to an already long list. Savanier has always had some serious disciplinary issues, which led him to miss several matches last season. In this campaign, he has already been booked three times in seven games. Will he ever learn from his mistakes? In truth, he's never been closer to a surprise call up than this year, but Deschamps won't look at him properly unless he fixes his hot temper issues.