Paris Saint-Germain held on to claim the three points with a vital 1-0 win over RB Leipzig at Parc des Princes on Tuesday. This win gives them new hope of qualifying from Champions League Group H as they now sit in second and have destiny in their own hands – if they win their last two games, they will go through. It took just 11 minutes for the hosts to go in front through Neymar from the penalty spot after Angel Di Maria was admittedly very softly fouled after good pressing from the home side.
The visitors grew in confidence during the second half and PSG were forced to stay back and defend against the ball. Thomas Tuchel was under major pressure coming into this game, but PSG got much needed three points.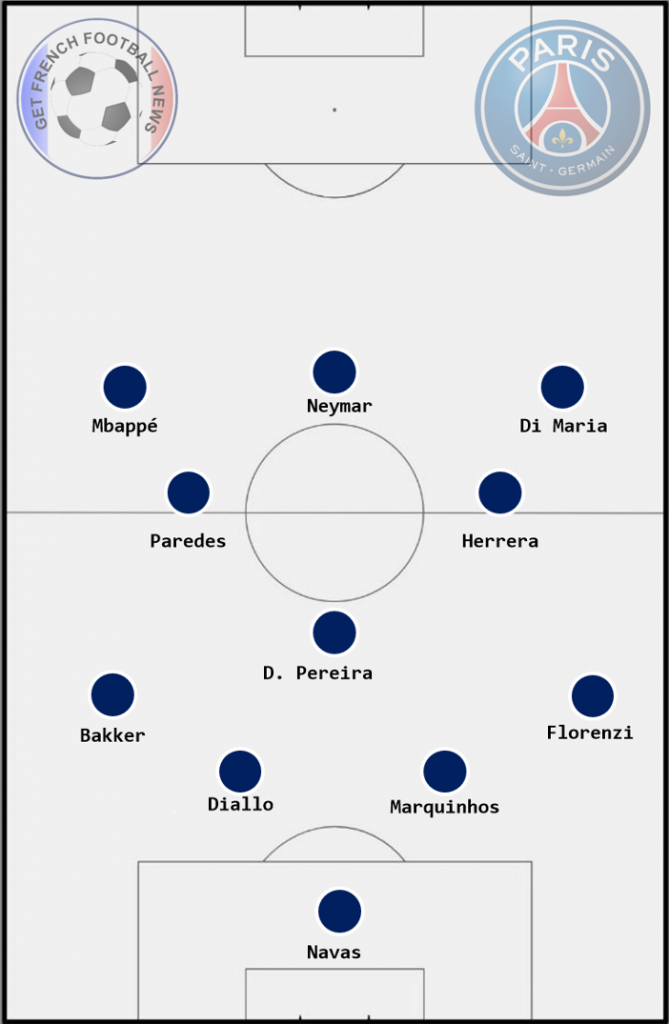 While Julian Nagelsmann opted for a 4-4-2, Thomas Tuchel decided to play a 4-3-3 with Neymar as a false nine. Presnel Kimpembe was replaced by Abdou Diallo because of his red card against Leipzig in the last game.
Leandro Paredes started because Marquinhos was back to his more natural centre-back position. Finally, Mitchel Bakker was favoured by Tuchel.
A lack of control throughout the game
PSG had 37% possession throughout the game, they had no control and often relied on long balls to progress the play.
There were two main reasons for this issue. Firstly, the midfielders didn't make themselves available between the lines to offer a passing lane to the centre-backs. But the second one was of a different nature. When PSG had to play out the back, they were either in a two or in a three. When they were two, they didn't have numerical superiority against Leipzig's two forwards to bypass the first line, which meant that Leipzig's forwards were pressing them intensely. The midfielders didn't offer themselves as options for the ball-carrier (often Diallo), consequently leading to hopeless long balls to their forwards. However, when they were in a three, they had this numerical superiority which meant Leipzig forwards couldn't press them. They had more time to find their partner and it led to Neymar or Mbappé being found in the half-spaces with a good pass from Pereira or Diallo.
Neymar was able to take the ball deep and progress it thanks to his carries, he was also able to get one or two free-kicks but it was a poor performance from him overall on that side of the play. He often slowed down move construction with extra touches something that he is unlikely to have done to the same extent had he not been lacking in fitness.
Mbappé was better than usual in the context of his very difficult 2020 when he had to use the ball. He was found in the half-space from time to time and played simply to find a teammate. He was hard to find behind Leipzig's imperious defensive line of Dayot Upamecano and Ibrahim Konaté but the French forward put in a strong effort.
It was Marco Verratti's presence, coupled with Moise Kean and Pablo Sarabia coming on that brought a bit more control at the end of the game and PSG desperately needed this as Leipzig sustained pressure for 20 minutes in the second half. Les Parisiens were then able to get out of pressure situations thanks to a combination of the diminutive Italian playmaker but also to Rafinha. Both were helped by Sarabia and Kean who pressed immediately after PSG lost the ball, which helped PSG to sustain pressure in their opponent's half, something Neymar, Mbappé and Angel Di Maria simply didn't do towards the end of their time on the pitch.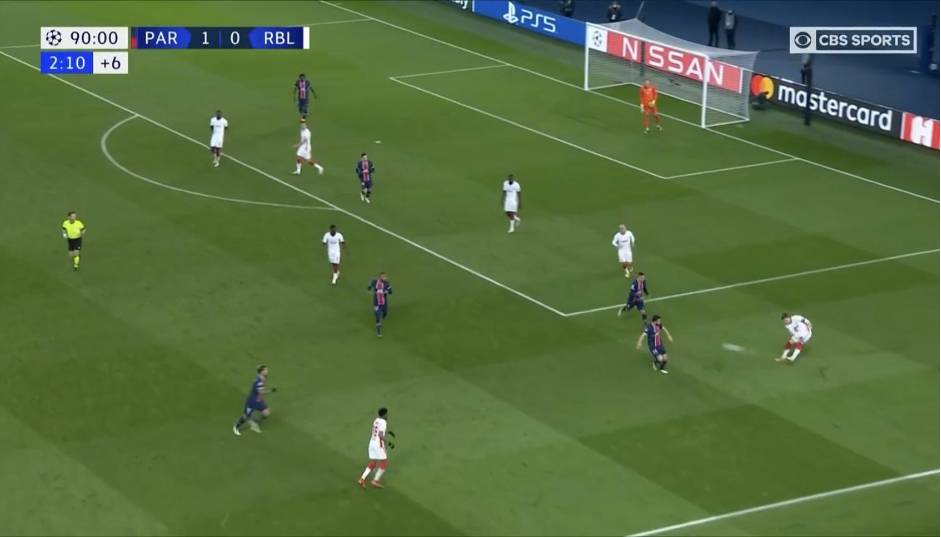 PSG were pretty lucky – Leipzig are struggling to find the dynamism that they were used to having last season. It's mostly due to the fact they have lost Patrik Schick and Timo Werner, who excelled between the lines. They were able to circulate the ball from right to left much better in order to find the wing-backs into space. They struggle to do that currently.
They were able to find Dani Olmo or Yussuf Poulsen between the lines like highlighted below but those players struggled making the difference.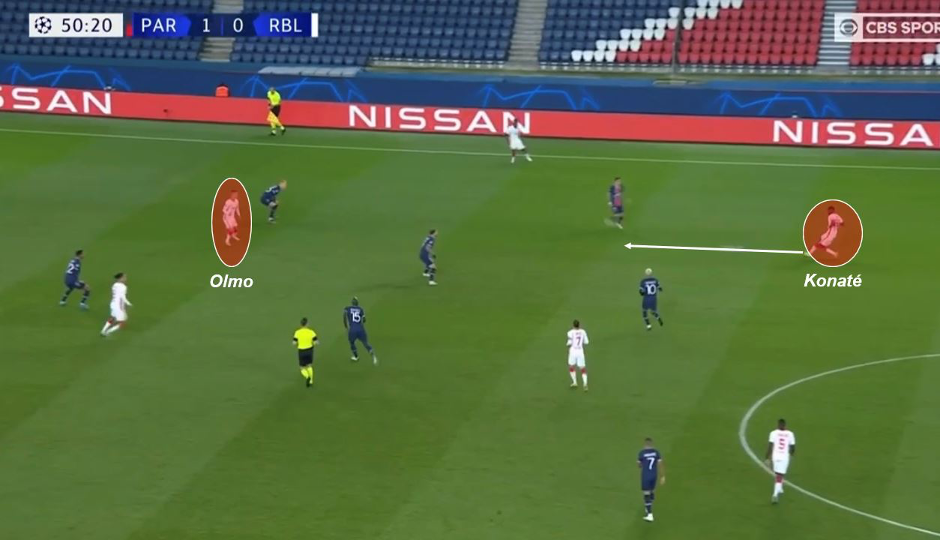 Disjointed press
PSG's press was disjointed because players didn't make the effort as a team.
Neymar's pressing completely disappeared in the second half while in the first 45, he was quite good in that regard. It is probably due to his lack of match fitness. He made 25 pressures during the whole game, which is quite impressive overall. Much more impressive than Mbappé who was PSG's laziest forward. He didn't have the will to make the efforts Neymar often did in the first half for instance.
However, both were often making the press for the sake of it. If you press as high as PSG were willing to do in the first 30 minutes, it is either you go all in to try to win the ball back or you don't do it at all and close down space in a different manner. This is highlighted below.
While Mbappé was "faking" the press, Di Maria and Neymar decided to press, but too late. Their press made Leipzig's holding midfielder available between the lines and Péter Gulácsi was able to pick him up, effectively bypassing the first line of pressure.
They then didn't track back which caused PSG to defend with only seven players because the front three didn't react to being bypassed. This is depicted below.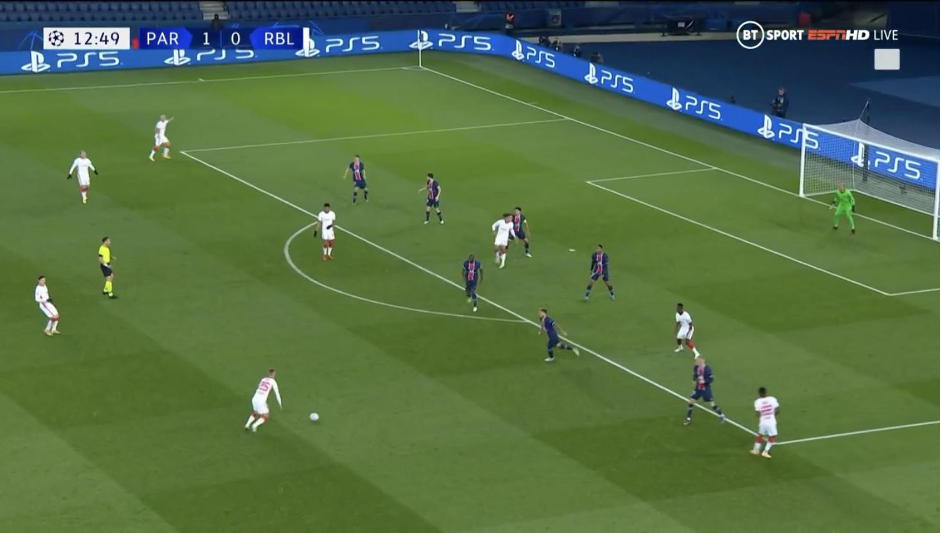 The lack of cohesion is also highlighted below. While Di María closes Dayot Upamecano's passing lane to his right-back Nordi Mukiele thanks to his cover shadow, Neymar is barely jogging when he should have already been close to Di María to close down the space that Upamecano had to drive forward. The Frenchman drove forward in the space highlighted in the still and found a teammate higher up the pitch.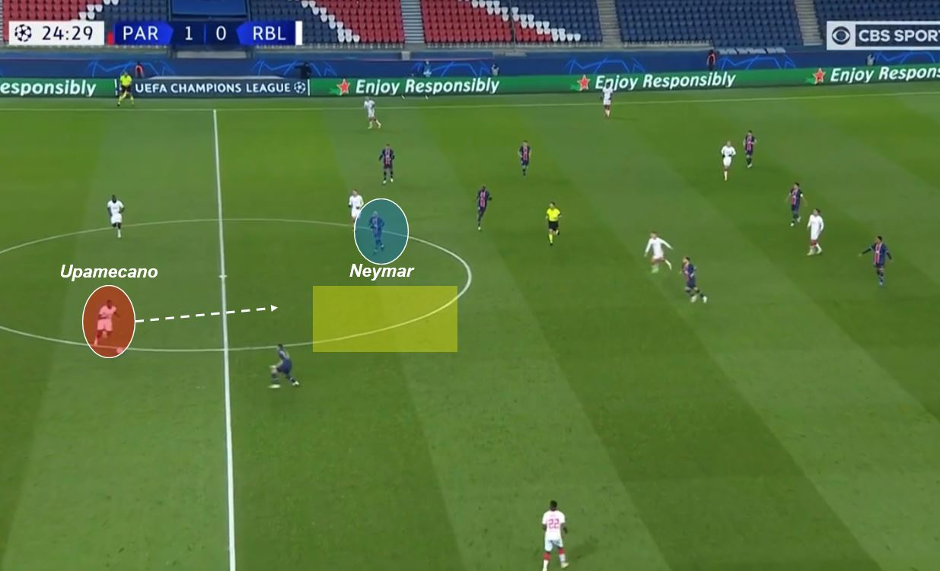 However, not everything was bad when it came to PSG's press. The penalty followed a really good press from the whole team and they recovered the ball high up the pitch to immediately get to the box in less than three passes. Di María then got fouled.
The still below is also a good example. Di María was closing down the left-hand side with his cover shadow while Neymar made the effort to close down the immediate access to the half-space. Upamecano could have passed the ball back but he wanted to play it forward so he made a long ball that PSG won back.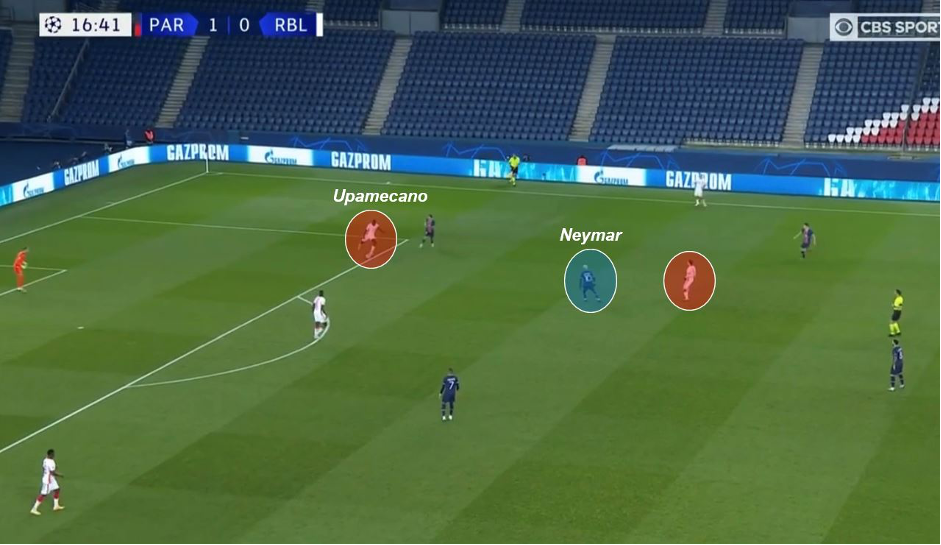 Once again, PSG could have been more effective if they were more consistent in their pressing. They could have sustained pressure a bit more and their counter-pressing that became effective at the end thanks to fresh blood would have helped them even more in sustaining this pressure earlier on. The lack of fitness is obviously a reason for this but the lack of consistency they show week in and week out in Ligue 1 when it comes to repeatedly making efforts costs them in the Champions League as they are not used to doing it.
Conclusion
Because football isn't black or white, you can't pinpoint one guilty character. Tuchel and the change in philosophy, Leonardo and his poor decisions on the transfer market this summer, the constant injuries from major players since the start of the season, or even the lack of implication from most players are all massive issues that explain the poor performances from PSG so far this season.