TACTICAL ANALYSIS | PSG 1-2 Manchester United
After a season away from European football's top table, the Red Devils returned to action at the Parc des Princes, where just 19 months ago they secured one of their greatest ever comebacks in this competition. Playing against an extremely poor Paris Saint-Germain side, the away team were able to secure a late 2-1 win thanks to, once again, Marcus Rashford.
Bruno Fernandes had opened the scoring with a retaken penalty but the hosts looked on course for a point after Anthony Martial turned a corner into his own goal.
United got a relatively easy game as PSG players seemed uninterested. In this analysis, I will try to break down what both teams have done right and what they could have done better. 
Thinking behind both line-ups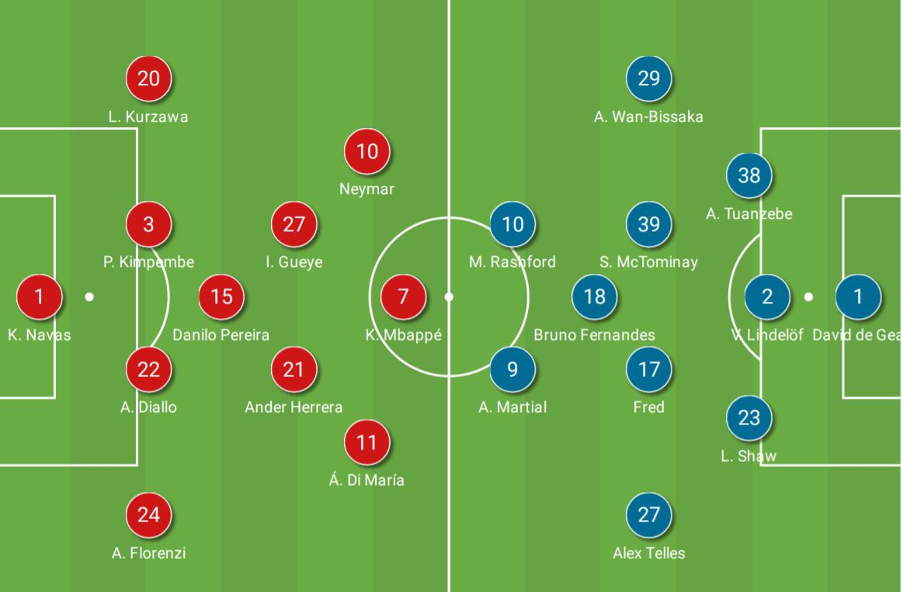 Thomas Tuchel had to deal with the injuries of Marco Verratti, Thilo Kehrer, Juan Bernat, Mauro Icardi, and Marquinhos. Four of them started the Champions' League Final last August. With Ángel Di María not being able to feature in PSG's last three Ligue 1 games due to a red card and the not completely fit Ander Herrera, Danilo Pereira, and Rafinha, Tuchel had quite the difficult task to find a competitive team.
The German manager decided to opt for a 4-3-3, changing from his usual 4-4-2 he uses in Ligue 1. The aim behind this was to have more bodies in midfield to prevent transitions from occurring, something United are excellent at.
On the other hand, United started the game in a 5-2-3 with Bruno Fernandes as a False nine. They adopted their usual plan for big games by conceding possession and hitting the opponent on the counter. This is why Fred and Scott McTominay were picked ahead of Paul Pogba in the starting line-up. Alex Telles was making his debut, while Axel Tuanzebe was playing his first game in ten months, with Maguire was out because of an injury.
PSG lacked players in the opposition box in the first half
My main criticism regarding PSG's approach was the fact they lacked players in the opposition box as a result of option for the 4-3-3 instead of the 4-4-2. I do not know if Kean was fit enough to start but if he was not, it is difficult to see what Tuchel might have done differently, even though this switch prevented PSG from effectively implementing their attacking play. The French side has been designed to play to both Mbappé and Neymar's strengths, which is to all for them to both interchange off the left side with the left-back making late overlapping runs to find a cutback. The space they have to find out wide can only be created if someone pins the opponent's centre-backs. This repetitions only successfully occurred at the start of the second half when Moise Kean came in.
In the still below, you can see Layvin Kurzawa crossing the ball even though nobody was there to get on the end of his cross.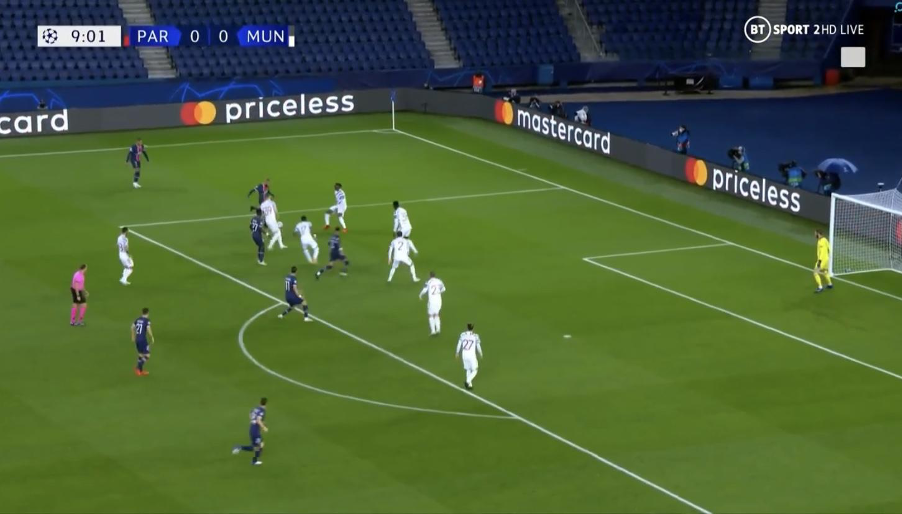 Kylian Mbappé had to drop deeper to collect the ball from time to time as there weren't enough bodies to pin United's defence, so the Frenchman used his intelligence to attempt to disrupt the opposition's back line, thus creating space between the lines for Neymar to run into. However, Manchester United remained compact and didn't allow for any space in behind to their opponent.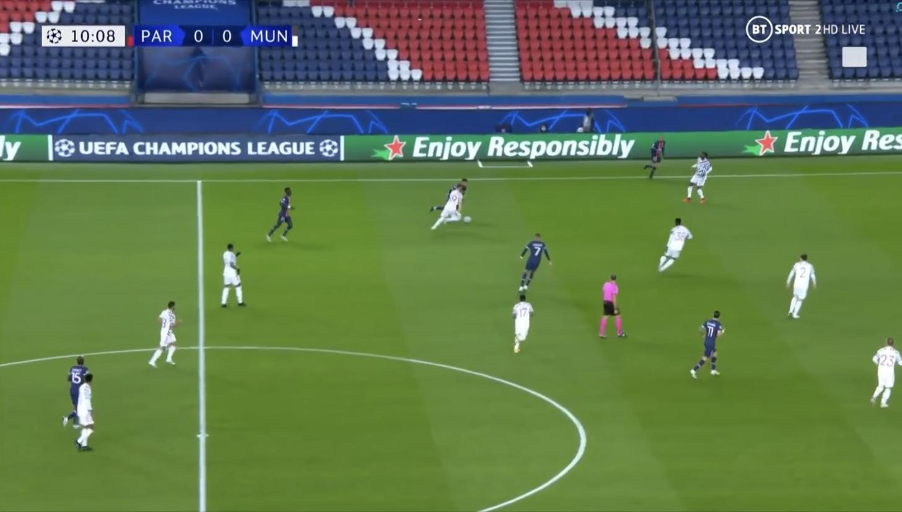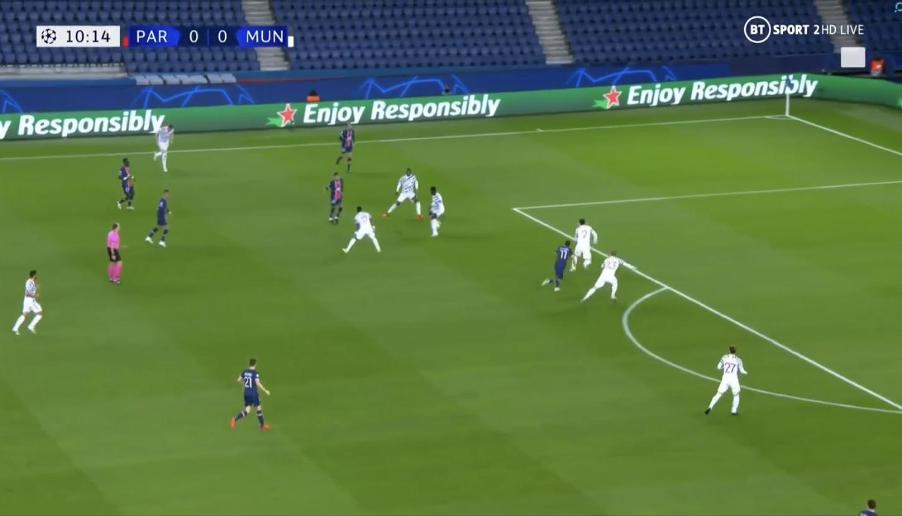 These dynamics in this specific play resulted in Neymar releasing the ball as he attempted a pass to Di Maria in a one against two situation.
In the second half, Moise Kean allowed PSG to switch back to a 4–4-2 which consequently drew United deeper at the start of the second half. PSG were finally able to find pockets of space between the lines to then play their usual overloads on the left-side for either Kurzawa or Mbappé's overlapping runs.
In the instance below, Neymar is found by Di Maria and faces the play. He is then able to pick out Mbappé with a simple ball, which created momentum for PSG as Mbappé's overlapping run coincided with Tuanzebe deciding to leave his backline to press Neymar who was the ball-carrier. Unfortunately for PSG, Kean didn't sense the opportunity by making a run to the near post, the Everton loanee instead moved behind Lindelöf, which failed.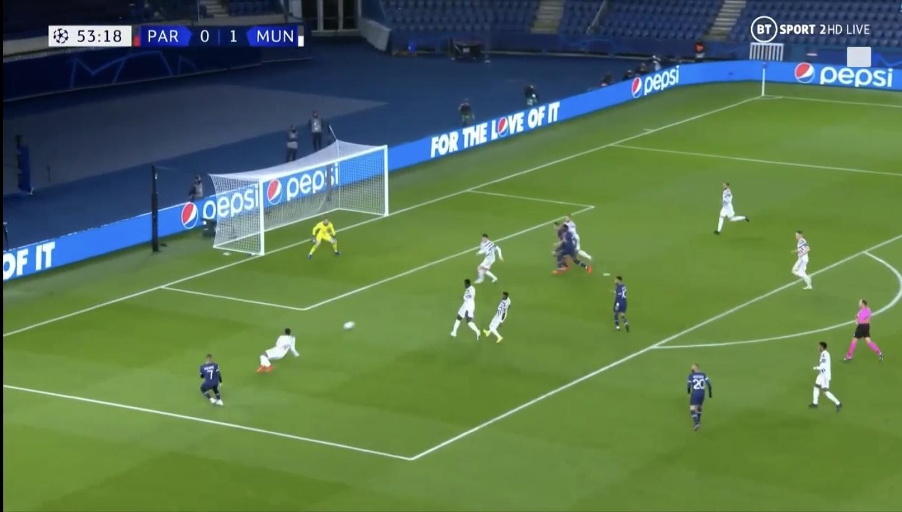 United were still able to defend well enough, even following the 4-4-2 switch, even though they should also say a massive thanks to Kurzawa who was exceptionally poor with deliveries and dribbling once the ball came to his side for a cutback. He never provided the ball in the right space at the right time.
In the still below, Di Maria was able to find Neymar between the lines. Both Mbappé and Kean pinned United's centre-backs which created the space for Neymar to receive it. The Brazilian then passed the ball back to his teammate who finds Kurzawa on the overlap. The left-back completely mishits his low cross and United recovered the ball pretty easily.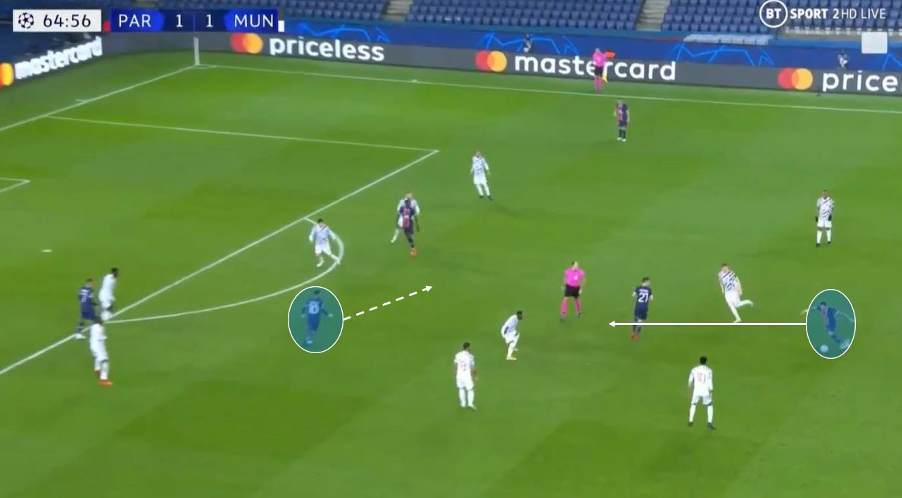 In the 82nd minute, PSG could have scored from a mistake by United's pivot as they left space to Neymar in the middle of the park. However, Neymar's shot was stopped by David De Gea, who was remarkably good on Tuesday night.
No intensity from PSG's front three
I have watched this game three times and still came to the same conclusion: Kylian Mbappé and Neymar were not anywhere near their usual levels on Tuesday. Di María has an excuse as he was out of form, but the former two have nothing to hide behind. PSG are the team I've watched the most last season after United so I know both teams inside and out and frankly, it has happened way too many times that both Neymar and Mbappé were not good enough on major occasions (against Dortmund away or against Liverpool away two seasons ago among others). But, we should also definitely give credit to United's defence who were compact off the ball (albeit in some occurrences I already showed you above).
However, what was borderline unprofessional and disgraceful from PSG's front three was their total lack of tracking back in United's transitions and failure to press the United defence when they were out of possession. You can be underperforming going forward or even be shut down by the great work of the opponent (it was a bit of both on Tuesday) but you have to work for your teammates when you don't have the ball. In the second minute of the game, you can see the front three not pressing United players, with Tuchel screaming at them to push higher. They simply were not willing to do the work for the team.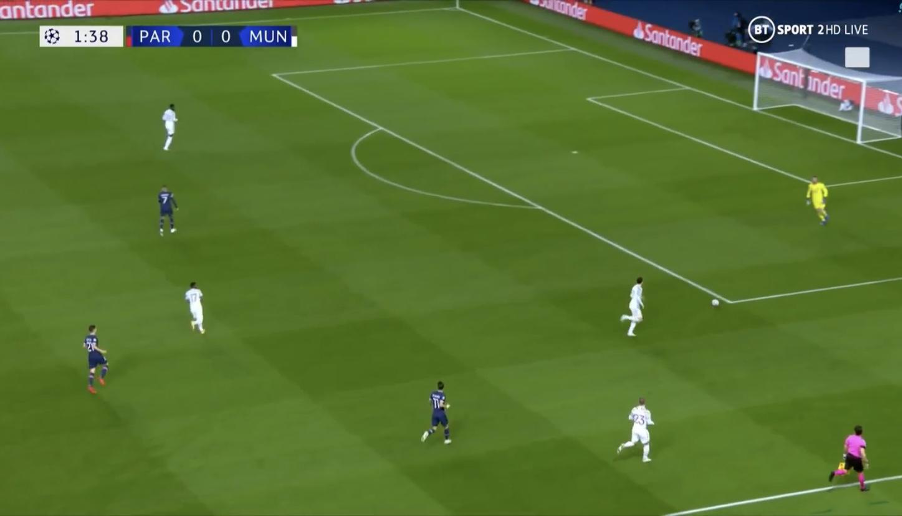 United's second goal is an example of where Pogba has all the time in the world to find Marcus Rashford. Many more examples are depicted below.
In the still below, you can see Fernandes picking up the ball with time to take the shot. PSG's forwards were still in United's half, which shouldn't be happening as they should make more effort for the team.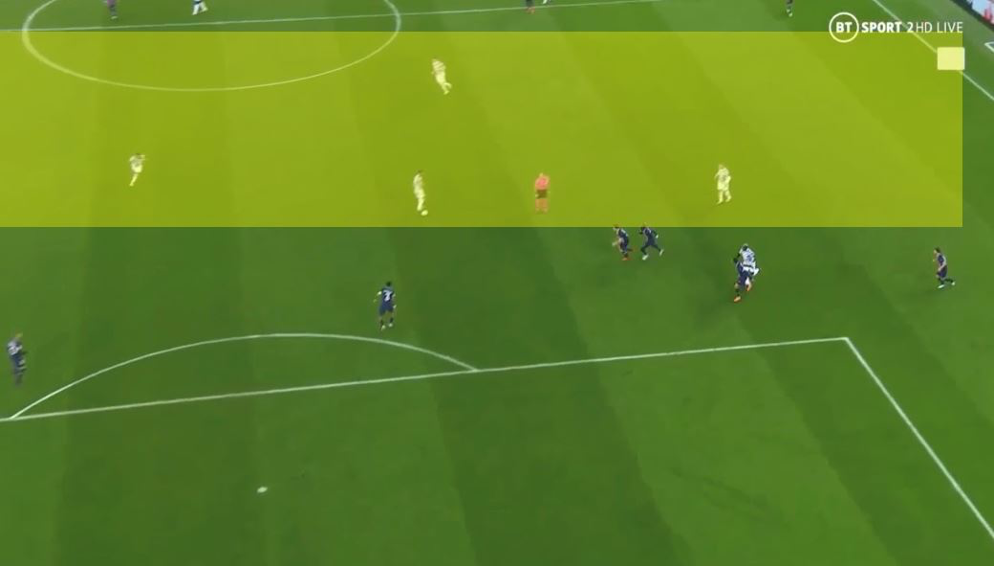 The only time they worked for the team was during the first twenty minutes of the second half and this is when PSG dominated United. You can see all the PSG players in their own half attempting to defend as a unit and be compact.
Finally, I wanted to pick up on what was the most telling lack of off the ball work from PSG. Luke Shaw picked up the ball deep and in wide areas, which often provoked delicious opportunities for PSG to press or produce traps. However, nothing happened. Shaw was able to find his teammates in wide areas and United players were able to put together quick combinations to take the ball out from the back and find teammates in the opponent's half. This was possible as both Neymar and Di Maria didn't move at all during this 10 second sequence.
Knowing United's struggles to play out the back against a press, it would have been interesting to see PSG trying to press immediately in their defensive third. Nothing as such happened, which helped United gain confidence throughout the game.