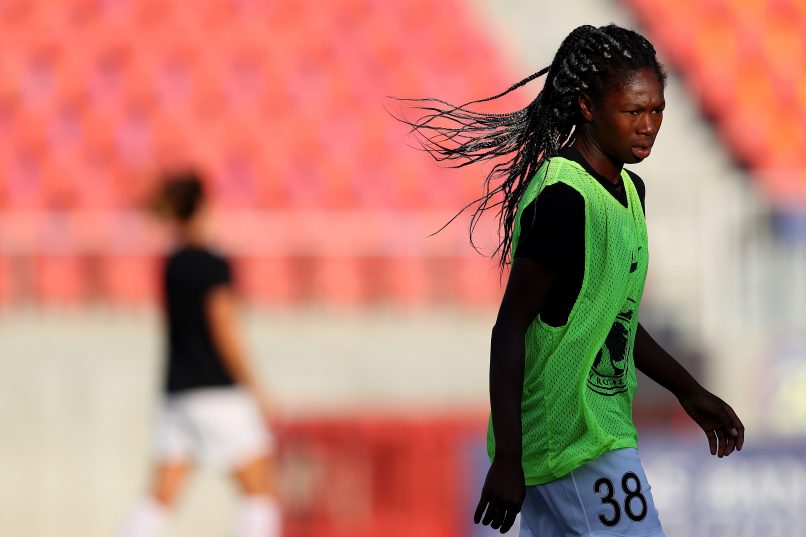 Aminata Diallo makes 1st public appearance since police custody stay in Hamraoui affair
Aminata Diallo, the PSG player placed in police custody and then released last week in the Hamraoui affair, appeared with Kylian Mbappé on Thursday evening at the event celebrating the release of the comic book dedicated to French football's golden boy.
She had not appeared publicly since November 9th, the date of PSG's big win over Real Madrid (4-0) in the Champions' League. On Thursday, Aminata Diallo, midfielder in the PSG women's team, attended the release of the autobiographical comic book dedicated to the French international, "Je m'appelle Kylian".
The player promoted the comic book on Thursday by going to Bondy to hand out copies to the children of AS Bondy. He then participated in a further promotional event last night in the company of several teammates such as Marco Verratti, Achraf Hakimi and Idrissa Gueye as well as actor Jamel Debbouze. So there was also Aminata Diallo, with whom he posed all smiles.
Aminata Diallo was taken into custody for 36 hours last week after her teammate Kheira Hamraoui was assaulted on November 4th after a night out with the team. Diallo was driving Hamraoui in her car when two individuals stopped the vehicle, took Hamraoui out before hitting her in the legs with iron bars. Restrained but not beaten, Diallo explained herself at length to investigators before she was released from custody without any charges being brought against her. L'Équipe claimed last week that this could be a case of Diallo seeking to harm a direct rival in the PSG squad for competition for places.
"If she had been summoned for a normal round of questioning, had been asked the questions and returned home, do you think that they could not have obtained the same result?," her lawyer Mourad Battikh stated to BFMTV earlier this week. "Today, what do we think about Aminata Diallo? She is a young girl with an exemplary career. She passed her baccalaureate alongside her professional career. She worked at McDonald's. She could be an example, of the value of work, the embodiment of a self-made woman. But we will remember from her instead as a young girl who was in police custody and who has vaguely been linked to an assault case."
Since then, the player, "very affected psychologically" is training apart from the 1st team squad and has still not resumed with the PSG. She was also not called up for the France team on Thursday.