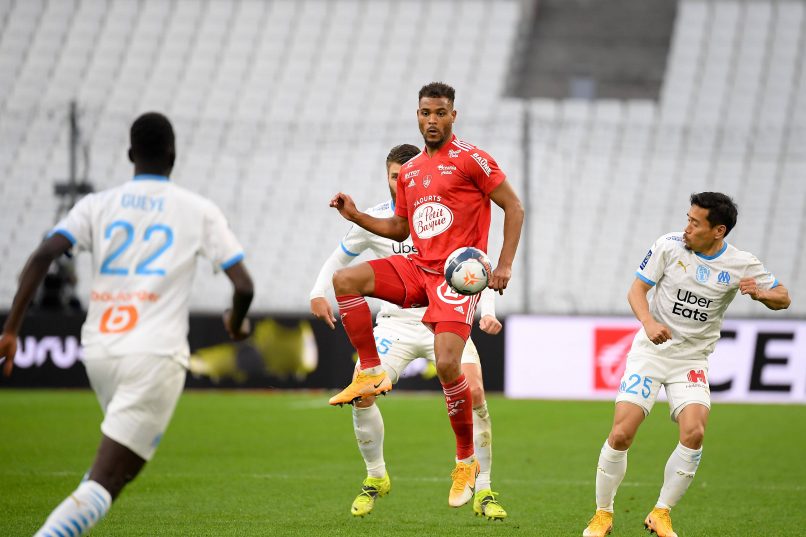 Brest attacker Steve Mounié accuses Sierra Leone of faking COVID-19 cases
Speaking in an interview with Le Télégramme, Brest and Benin international attacker Steve Mounié accused Sierra Leone of faking positive COVID-19 cases so as to weaken Benin's starting XI in the most recent international break in a crucial African Cup of Nations qualifier, which was subsequently postponed.
In response to the elevated number of positive COVID-19 cases amongst the Benin squad, CAF rescheduled the match for June. It was in fact the Benin squad who were found to have 5 positive COVID-19 cases, but the tests were administered in Sierra Leone. Tests taken 48 hours after all came back negative in Cotonou, Benin.
"Among the five players, three have already had COVID-19, including two from Clermont who contracted it a month ago. It was therefore impossible that they would have the virus again in such a short period of time since they have the antibodies. Me, I already had COVID-19 a year ago, and the same, I still have the antibodies when I take blood tests. It was then that we understood that it was a masquerade, an outright lie."
"Among the 80 [people] of our delegation, as luck would have it, the five positive players were all in starting XI for the match," adding that the tests were carried out in "totally unhygienic" conditions, undertaken by a laboratory "apparently not certified" with the results being revealed just a few minutes before the pre-match warm-up when "we are supposed to receive the results six hours before the match."
The Beninese delegation therefore refused to take part in the match and CAF postponed it, but the 26-year-old remains angry. "This kind of thing must not happen again! What does it demonstrate? They have already won somewhat with this postponement. As long as the protocol is not respected and there is tampering, there must be higher penalties. We are talking about cheating, it's foul play."