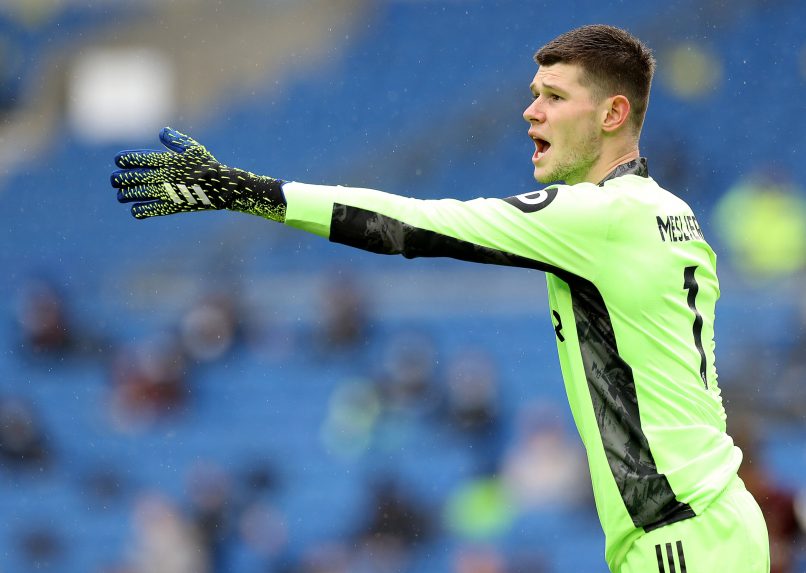 Could Bielsa's uncompromising philosophy be detrimental to the development of Illan Meslier?
Watching live football at Elland Road these days can at best be described as different, and at worst eerie, given how quiet this famous old ground is during the playing of a match.
Hell hath no fury like Bielsa scorned 
There are times, however, when the decibels are dramatically raised which subsequently snaps everyone out of their collective musings. Most of the time, that is when Illan Meslier chooses to go long up the field instead of finding a defender around him. Leeds' manager Marcelo Bielsa bellows at the 21-year-old keeper with such ferocity that the game almost comes to a standstill. You get the feeling that a few of the central defenders want to go and check on his well-being after incurring Bielsa's wrath. 
Sometimes the cameras will pick up on the exchange and focus in on the Frenchman's face, although, the term exchange seems to suggest that there is some sort of reply from Meslier which of course there isn't. Meslier may from time to time gesticulate at no one in particular in a bid to perhaps convince the TV audience that he didn't have any other option other than to boot it with all his might instead of finding a short and often dangerous pass. 
A lot of people at home and specifically Leeds fans will understand this and appreciate the safety at all costs approach. But they aren't the ones that matter in the end. Indeed, it is Bielsa who Meslier has to impress and in order for the young French goalkeeper to do so, he has to take significant risks on the ball. With this in mind, could Bielsa's uncompromising philosophy be detrimental to the development of Meslier's goalkeeping?
https://twitter.com/LUFC/status/1364312105206374404
First impressions last a lifetime in the Premier League 
Perhaps no other position on the field thrives on confidence or suffers from the lack of it like goalkeepers do. When the going is good they resemble superman between the sticks and command their box with unwavering authority. Similarly, when mistakes creep in, that confidence dries up and they become a shadow of their former selves. In what seems like the blink of an eye they can't catch and the once fizzed-out passes to midfield that landed on a sixpence are now going straight to the opposition and causing panic at the back. 
In Meslier's case, he needs as much confidence as he can get given that he is just starting out in the professional game. Bielsa's high-risk football, however, does have a tendency to ask an enormous amount of a man that is playing in his first season in the Premier League in front of hundreds of millions of people. 
Professional football can be particularly cruel given how much social media plays a part in condemning a player to the gallows even if there are mitigating factors. In Meslier's instance, the first the world got to see of him properly was during the 4-3 blockbuster at Anfield against the defending champions.
That fixture broke records for the most-watched opening weekend Premier League match ever. From the USA to the UAE, where sports betting and general interest in the Premier League have subsequently soared after Mo Salah became the most successful player ever from the MENA region. In fact and this is worth mentioning, the best online bookmakers for Emiratis allow residents to bet on many sports nowadays. Indeed, punters can bet on football matches in the UAE Pro League, and international leagues and competitions, which is a reminder of how global the Premier League product is these days. The only negative to that is when a player makes a mistake, well, there is no place to hide.
Meslier's first taste of how unforgiving top-flight football in England can be was after just four minutes when none other than Mo Salah thumped a penalty past him. 
Meslier rises to the challenge 
In truth though, the Frenchman has been assured and thoroughly competent for the majority of the season despite a baptism of fire at Anfield.
The only unfortunate exception was against Arsenal when the U-21 French player made a costly mistake that led to a penalty after a heavy touch which made it impossible for him to clear his lines.
There have of course been a  few heart-in-mouth moments since he joined from Lorient, but Meslier looks to have an old head on young shoulders and has admirably accepted the challenge laid down to him by the ever-demanding Bielsa. 
Impressively, Meslier broke Joe Hart's record of seven clean sheets in a Premier League season before the age of 21 after keeping a clean sheet against Southampton in a 3-0 win at Elland Road.
On the basis of this evidence, one would have to come to the conclusion that despite being central to a system of playing out from the back that is fraught with danger, Meslier is carving out an incredibly bright future for himself by matching Marcelo Bielsa's demands. So instead of being detrimental, the Argentine's methods are having the opposite effect as he becomes one of the most skilled young goalkeepers in world football.