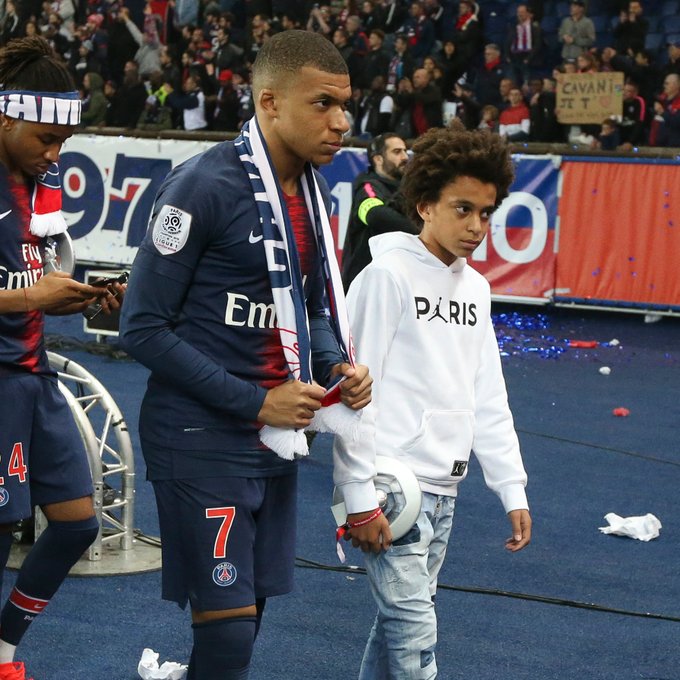 Ethan Mbappé has the potential to become a professional – scout
Le Parisien have provided a report on Kylian Mbappé's midfielder brother Ethan, who last week signed a new 3-year youth contract with PSG, having had an additional year left on his previous deal.
The 14-year-old is amongst the crop of 2006 generation of players and has been at PSG since 2017, when his elder brother joined from Monaco.
2 years ago, Ethan made it to the final 48 players selected for the final trial for the prestigious INF Clairefontaine academy, but after attending, decided he would prefer to remain at PSG.
Clairefontaine's former director, Jean-Claude Lafargue, confirmed as much to Le Parisien:
"It was a family decision. This boy is a very elegant midfielder. He is very much at ease, he is very intelligent. He is a player for the future, that is true."
This season, Ethan has played in the U15s and attended the American school in the 16th arrondissement in Paris in a bid to become bilingual. When school comes back, he will integrate the Saint-Germain-en-Laye youth academy. Ethan plays as a defensive midfielder and is growing taller rapidly, now standing at 1.76m, months before his 15th birthday on 29th December.
A Paris youth coach, who did not wish to be named, added: "3 days more and he would have been in a lower age category. That is not an easy burden to carry, but Ethan is a good boy. He has a number of qualities and he is a player who works a lot. His youth contract is deserved, it is not some buddy-buddy deal."
A youth scout added: "He has the potential to become a professional player and even play in Ligue 1. His top quality is his vision, but he also has an excellent left foot and a very high quality of pass."
Last October, Ethan played for PSG's U15s vs ACBB's U16s – their coach, Charley Cassanas, had the following to say:
"He likes to organise play. He is an efficient player in one vs ones, with less explosiveness but more technical proficiency."
Contacted by Le Parisien, the Mbappé family did not wish to comment on if Kylian and Ethan want to one day play together in the same team, citing a desire to protect their younger son.
Ethan and Kylian are very close – the latter's crossed arm celebration is dedicated to his little brother. They like to play kickabout.