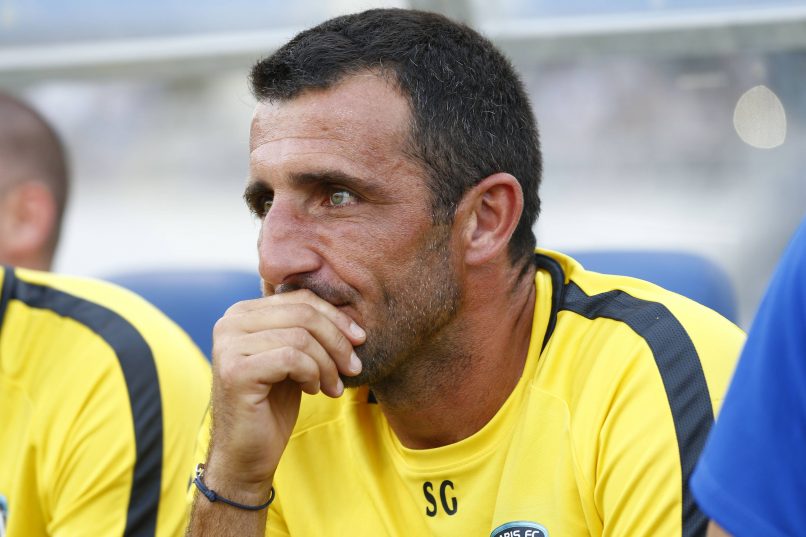 Exclusive | Morocco assistant Stéphane Gilli recounts being trapped in hotel with squad amid coup d'état in Guinea
In an exclusive interview with Get French Football News, Morocco assistant manager Stéphane Gilli recounted the afternoon that saw the squad and staff trapped in their hotel in Guinea, as a coup d'état was taking place in the streets of Conakry.
The team had been due to play a World Cup qualifier earlier this month, but were instead escorted back out of the country amid the tension and uncertainty developing in the country. 
Gilli also discussed his first impressions during his time so far as part of the Morocco set-up, as well as his time both at his former club Paris FC, and with the Bosnia and Herzegovina national team.
–
In our last interview in 2019, you were assistant coach at Ligue 2 side Paris FC. How did you end up in Morocco? 
Well, I still had one year left on my contract with Paris FC when Mécha Bazdarevic was dismissed in January 2019. Then René Girard came, and he wanted me to stay at the club and work with him. I had known him for many years because we're both from the same area (Montpellier). Even though my initial plan was to follow Mécha, the Paris FC chairman asked me to stay at the club and work with René Girard. I remained at the club until the end of the season, which was cut short due to COVID-19. 
And then you left Paris FC.
Indeed. Vahid Halilhodžić, the current Moroccan national team coach, had reached out a few times, but it had never materialised until this time, when I chose to work for him. It was a more personal choice because Paris FC is a great club, with a great chairman [Pierre Ferraci] who's doing great things and building a very coherent project. As I said, it was a personal choice but if I had stayed, it wouldn't have been reluctantly.
So, when did you start working for the Moroccan National Team? 
I arrived in July 2020 and the first thing that struck me was the facilities, to be honest. The Mohamed VI training complex, called "la Maâmora", is the Moroccan "Clairefontaine" and it is just fabulous. To be fair, I'm not sure there are many infrastructures like this in Europe or even in the rest of the world. 
It's true that there is, unjustly, a general unawareness of the African national teams' training facilities. But as you said, some are very good? 
Yes. And it is even more impressive for me because I've been to many, many training complexes throughout my assistant coaching career, you know. From the hotel to the medical centre and the training pitches, it's just quality. So I'm very lucky to be able to work in these conditions and everything is set up to help the players reach their goals and boost their performances. 
And what about your first steps with the national team?

When I arrived, they had already played two rounds of qualifiers for the AFCON. We began with friendlies and ended up at the top of our group with the best defensive record, having only conceded one goal. Then, we started the qualifiers for the 2022 world cup in September with a win at home over Sudan at home, until this incident in Guinea – so overall, a pretty decent start for me!
You've been an assistant coach for many years and you've worked for different teams such as Paris FC, Fulham but also Bosnia and now Morocco. Is there a big difference between a club and a nation, as far as your job is concerned? 
There is. For example, in a club, it is a day-to-day job. We're always on the field and working alongside the players who are in action and those who are not, analysing the week-end's opponent. When you work for a national team, we're preparing two games for two or three months, and we have something like five or six training sessions before each game, which is not a lot. So the job is much more about planning and writing reports on the players' performances in their respective clubs. For example, we're following between fifty and sixty players each week, on which we write a report to the coach. Just imagine that within a year, we have probably forty training sessions – those forty sessions are completed in a single month when you're in a club. So it's a completely different job. 
Coming back to that event in Guinea, it showed us that there remains instability in areas of Africa. Even if you're never prepared for this kind of event, is it something that is taken into consideration when you are planning to travel on the continent? 
Of course. For example, some countries cannot play "at home" and are forced to host their game elsewhere. When we played against the Central African Republic, they were not playing in Bangui, but instead in Cameroon. Those are the kinds of things we must deal with. But regarding our game against Guinea, this political event was unforeseen. We were all very surprised, because there are some countries where we are aware of the tensions. But in Guinea it almost appeared out of nowhere. 
Take us through your version of events.
We landed on a Friday night, trained the next morning and everything was fine. Then, on Sunday, at breakfast time, I was outside near the field with one of the assistants when we heard what I thought were firecrackers. The person in charge of the security told us to come back inside because those were not firecrackers obviously, but gunshots. We didn't really believe it until the Moroccan security crew told us that a coup was apparently on the verge of happening in the country. Then the gunshots intensified near the hotel, we saw that the streets were empty, that there were trucks loaded with people carrying machine guns driving by…
Then, we had some soldiers from the army, I think, who were placed in front of our hotel to protect us. At this point you realise that it is serious, that the situation is quite tense. What's more, the hotel was around forty-five minutes away from the airport so that was quite a distance, and we were hearing that everything had been closed off. But the Moroccan government, His Majesty the King and the Moroccan federation really did everything in their power to help us leave the country and return home safely. We took off at around 9:00 PM and everything went well. But to be honest, we were not really relaxed when we took the bus from the hotel to the airport… 
And what about the players? Were they affected by what was going on?
Not really. Even if the situation was obviously very confusing, they were not that affected. They certainly didn't want to play, but apart from that, they were calm and didn't show any significant sign of fear. 
How important is the psychological well-being of the players in your work? I imagine that is also a part of your job as an assistant coach…
Of course. When we were officially notified that a coup was occurring in the country, we still did a video session with the players, but we felt that they were less focused than usual. Which is completely normal. So yes, as an assistant coach, I must take care of the mental aspects of football as well. It is so important to keep a balance and make sure that they're ok psychologically speaking. This incident was a first for many of the players, who had never experienced something like this ever before in their careers. 
Going back to your experience in Africa so far, how do you find the general level of football? The games, even the AFCON, are generally not broadcasted enough, which prevents us from having any opinion on the real quality of the football.
It is good, but the quality of the infrastructure is unequal. In Morocco, we play under very good conditions, the pitches are good, the stadium as well… Even the weather is generally calm. That's not the case when we play in some other countries. We must deal with extreme weather conditions such as heat, but also humidity, sometimes even jetlag. Regularly, we must play on fields that are not good at all, artificial pitches. 
So it's all about adapting yourself to the environment and trying to play your game the best you can. As an assistant coach my job is also to help the players prepare themselves physiologically to perform. But yes, all those things make games in Africa sometimes very difficult. But there are some wonderful players who play in the biggest clubs in Europe, and I'm not just talking about Morocco.
As you said, there is a very talented group of players in Morocco, with the likes of Achraf Hakimi, Yassine Bounou, Youssef En-Nesyri, Hakim Ziyech… What are the ambitions of the FA for the next AFCON, considering that one of your rivals, Algeria, won it in 2019? 
I think that for a country like Morocco or even Algeria, it is fair to aim for the AFCON title. So, we obviously have this target, but we won't forget that there are many teams in Africa that have the quality to win it such as the Ivory Coast, Egypt and Cameroon – I'm probably even forgetting a few more. It may not be broadcasted everywhere but there are some very good teams with very good players in it who can fight for the title. Morocco is certainly going to the AFCON to win it. Now, I think there are seven or eight teams capable of claiming the trophy, so we'll see. 
The last five winners of the AFCON are all different teams, which shows just how difficult this competition can be.
Exactly! And this time Cameroon will be at home, so it is going to be difficult, but Morocco will play to win it, that's for sure. To do so, everything will have to be aligned: us, the staff, the players, but also the environment around us. Maybe with a little luck, whether that's in the draw or in the games… Sometimes, great competitions are won thanks to little details like this. 
Coming back to your journey as an assistant coach, you worked in Bosnia and Herzegovina. Did this experience influence your choice to go with a new national team, Morocco?
Of course. Having already worked for the Bosnian national team, I knew how it worked when I arrived in Morocco. In Bosnia, it was my first time for a national team, and I really liked it. It was a whole new experience for me. But to be fair, I like to work on the field and even if I feel very well with the Moroccan team, my aim is to come back, when the time comes, to a club to be close to the players every day. What I like is to create a bond with the players and help them improve. When you work for a national team, you don't really have time to work properly with your players. You don't have this long-term follow-up that I really like in a club. A national team is more about finding the right balance and the chemistry between a group of players – not improving them. 
What was it like to be in Bosnia?
In Bosnia I found a very talented group of players. They are the Balkan country that suffered the most from the [Yugoslav] war and they took more time to build something coherent, in comparison with Croatia or even Serbia – it is a very young federation. But overall, I really loved this country, with lovely people. You know, that's what I really love about this job:  you get to travel all around the world. I've worked in Qatar, Tunisia, England, Bosnia and now Morocco – it's incredible to meet new people from various cultures. It's so enriching. 
You seem very interested in going into depth on player development, have you ever been tempted by a first team coach spot? 
I would be interested in it, that's for sure. I've been contacted by several clubs this summer to take charge of the first team but first I need to have my licence, my diploma. This is something I have in mind – one day, I would like to implement the things I've seen. I've been lucky enough to work alongside coaches like Jean Tigana, Mécha Bazdarevic, René Girard, Vahid Halilhodžić. We'll see how things go. 
So, eventually, would you like to take charge of a first team to put what you learned during your career into practice? 
To do so, an opportunity must come… and they came to me! I've started thinking that I could have the chance to fulfil this dream. But let me get this straight: today I'm 100% focused on the Moroccan national team and helping them qualify for the World Cup. We must finish at the top of our group in the qualifiers to have the chance to be in the play-offs and reach the tournament in Qatar. Qualifying for the World Cup is always very special, and therefore what matters is to finish at the top of our group, then we'll see. 
To wrap this interview up, let's talk about the players you had the chance to coach: were you impressed by one in particular? 
Well, that's difficult to say. I met so many great players – from Louis Saha and Edwin Van der Sar at Fulham to Edin Džeko and Miralem Pjanić in Bosnia. The only thing I can say is that what struck me was how professional great players are. They work so hard every day to be at the top of their game. For example, Edin Džeko is such a hard-working man, he spends hours at the gym, before and after the training sessions. That's one of the lessons I've learned in my career.