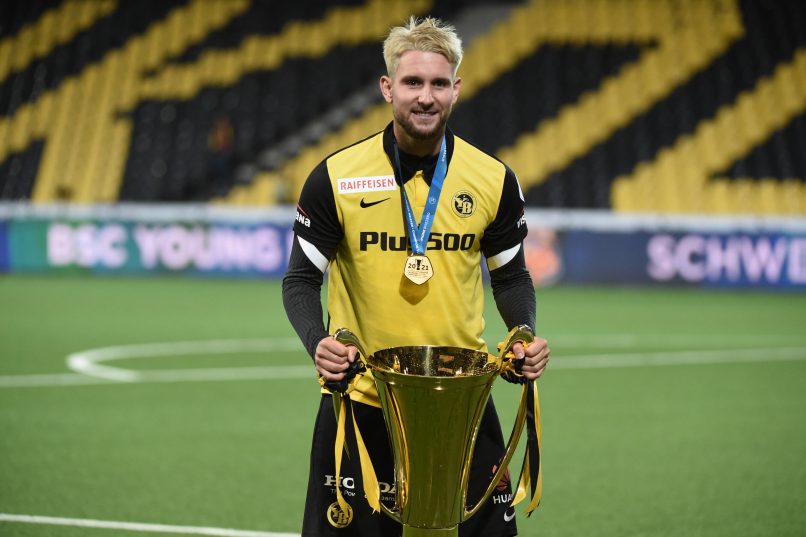 Exclusive | Young Boys defender Jordan Lefort on facing Manchester United: "We're not going to sit back."
Ahead of his team's Champions League group stage opener against Manchester United tomorrow night, Young Boys defender Jordan Lefort spoke exclusively to Get French Football News to discuss his team's approach to the game and their recent domestic success.
Formerly of Amiens, Lefort spent nearly a decade at the French club – rising from the third tier to Ligue 1 – before making his move to Switzerland in January 2020. He has since won two league titles, won the Swiss cup, and is set to begin his second season in European competition.
Lefort notably featured in Young Boys' Europa League run last year, which saw them face the likes of Roma and record an impressive 6-3 aggregate win over Bayer Leverkusen in the knock-out stages.
You'll be facing Manchester United on Tuesday, for your first match in this year's Champions League group stage. How does it feel to be facing that calibre of opponent?
The road to qualifying was already something of an obstacle course in itself, and it's already an impressive performance to have arrived at the group stage. Obviously, when you get there, you're playing against the likes of Manchester United, the great teams at the highest level of European football, so it's really a source of pride.
How have you prepared for the prospect of facing the likes of Cristiano Ronaldo, or Paul Pogba?
There's always specific tactics to look at. What we need to do on our end is what we did in the Europa League last year and play freely. We put in a great performance against Bayer Leverkusen in the Round of 32 last year, home and away. So what we need to do is play freely – even if there are exceptional players on the opposing side, that's how we'll be able to enjoy ourselves. 
We know that we'll have the fans with us for the home game who will push us, so that will definitely give us some confidence. We really want to play without restraint to make the most of the game, because it's not often you get to play this kind of match.
You put in a particularly good performance over those two legs against Bayer Leverkusen, how do you think you can draw from that experience?
From a personal perspective it was my first European campaign, so the Europa League was completely new to me, as is the Champions League this year. Last year we showed that we could go toe to toe with this kind of team and get results, so it gave us a lot of confidence in Europe. We need to base ourselves on these kinds of performances when approaching Champions League games.
How did it feel to to have gone from relegation battles with Amiens to playing European football?
It's amazing, because I realise the progress I've made, from a career perspective. Ten years ago I was playing my first match with the pros, ten years ago I never would have thought I might be playing in the Champions League. Even two years ago, I was still at Amiens and fighting for Ligue 1 survival, and this year I'm playing in the Champions League. I hope I can play as much as possible and make the most out of each moment, because I don't know whether I'll be able to play in it again every season. I can't wait to play against teams like Manchester United, Villarreal or Atalanta – starting with Manchester United, against Cristiano Ronaldo of course.
You've had a very successful time in Switzerland so far – what were your motivations for joining Young Boys?
At Amiens, I wasn't necessarily failing but I was in a situation where I was playing a bit less, and we were really fighting for our survival in Ligue 1. On the other hand, you had Young Boys who came forward – the champions of Switzerland and a club playing in Europe. It was an obvious choice. I didn't hesitate one second between fighting in a relegation battle and winning titles plus potentially playing in Europe. 
I would say I've made the right choice, I've now won the Swiss league twice and the cup once, and I'm about to discover the Champions League – so it was a very good choice.
How did you settle in, off the pitch in Bern? This is your first time playing abroad.
It didn't unsettle me at all. It's a German-speaking city here, but there's still a lot of French speakers, even within the dressing room you often hear French being spoken. I didn't have any issues, plus Switzerland is an extraordinary country – the respect people show, the institutions, the landscapes and everything else – I can really make the most of it. I think going to live abroad has been a great experience.
You've been deployed at left-back more often now you're at Young Boys, is this a role which suits you more than your original centre-back position?
I've always preferred to play at centre-back – but it's true that at Young Boys I play on the left-hand side a lot, but that doesn't particularly bother me as we have a very offensive style of play. We have a very technical approach based on possession. Playing at left-back here is really nice because you're very involved in the attacking play, you can score and make assists, so even if I'd rather play in the middle, I enjoy it on the left as well.
What would you say are the differences in styles of play between the French and Swiss leagues?
At Amiens we had a very defensive approach, because we were a small club, fighting relegation, which was based around physicality and not taking any risks. Here at Young Boys, we really try to play out from the back, take risks and play out from the back. We'll keep possession and play passes to move forward, whereas at Amiens it was a case of going forwards for the sake of moving it away from our goal, so that's a big difference.
Do you think that the Swiss league should get more exposure in France?
Totally, because in France we don't really talk about the Swiss league. It's a league that's really based on possession play, on playing out from the back – it's quick, offensive and enjoyable to play in. I think there are fixtures like Basel – Young Boys which are very attractive, even more so than certain Ligue 1 games. There are matches which deserve to be shown in France.
Would you recommend that more French players make the move?
Honestly, I would completely recommend it. In my case it's worked really well. There's more and more French players here – you have Fouad Chafik who signed for Lausanne from Dijon and Ronny Rodelin who signed for Servette. These are players who had established themselves in Ligue 1, who played a lot of games in France, and we've seen now that they're not hesitating to go to Switzerland. I think it's a very interesting league.
Another notable example was Guillaume Hoarau at Young Boys – how did his presence help when you first arrived?
We had some friends in common – notably Christophe Jallet and Matthieu Bodmer [from their Amiens days], so they helped me settle in through Hoarau. Guillaume took me under his wing when I arrived and we remain good friends to this day, we see each other often. He spent six years at Young Boys and left his mark on the club. He's a legend here in Bern, so that helped me to integrate.
You spent nearly a decade at Amiens and went through three tiers with the club – has this experience helped build your character to help you succeed today?
Definitely, I went through it all at Amiens – from the youth team, to the reserves, to the first team, and from the third division to Ligue 1. I experienced a lot at Amiens, and it's that it's something which has shaped me mentally. I know about a lot of aspects of football thanks to Amiens. My time there made me the player I am today.
Do you still follow the club now and keep in contact with players there?
I follow Amiens news on a daily basis. I don't have a lot of friends playing there anymore, but I still have a few links through members of the administration and through supporters.
You're not just linked to the club, but also the city as a whole – notably with your project helping Amiens-based students get through tough times last year. How did you get involved with that?
I was really moved last spring when I saw those videos of French students who were in a precarious situation because of Covid-19, even if before that it was somewhat the case with students already.
I myself was a student at Amiens, alongside my football career, and for my first contract at the club I was earning a few hundred euros a month. Sometimes things got quite tight, very tight even. Not all of us are lucky to have our parents, our family to help us out. Mine helped me as much as they could, but I don't come from a very privileged background, so this situation reminded me of my youth. 
I wanted to help a few out by making a donation to help pay the rent, groceries and their different expenses. Because of my attachment to Amiens, as well as being a supporter of the club, I wanted it to be for students who study at the university there. 
It's a charity that was set up by students right at the start of the Covid-19 pandemic, because some of the more "traditional" organisations were overwhelmed from an increase in demand. They deliver groceries to over 300 students in Amiens, so it's a great effort and I'm really happy about it. It's not official yet, it's about to be wrapped up, but I'm really happy to be getting involved in this initiative.
David Wagner has recently taken charge of Young Boys, what are your first impressions of him as a manager?
He's a manager who's close to the players – he speaks a lot to us, whether that's in training, or before and after games, and he's always got a smile on his face.
In terms of training, he's the kind of coach who watches everything and lets his assistant run the drills, but whenever he's got something to say he intervenes. He's a manager who has a possession-based philosophy and likes to play well, which is a constant in the Young Boys project in general.
It's a style of play that suits me, and it's what I've played under since I got here, so it's not changed. It's based around transition play in attack, on possession, and it's very offensive. It's something I really enjoy and I think it's what the club wanted as well.
Has this style of play been the source of the club's success these past few years?
Completely. I think when you look at the last four years, Young Boys are the number one club in Switzerland these days, they're going on their second Champions League participation and they get to the Europa League every year. So clearly it's led to the club's success.
And it's the style of play you'll try to implement in your Champions League ties.
We know it'll be difficult in away games, but at home we play on artificial turf, plus we'll be pushed by the supporters' enthusiasm. The goal is to play as we do domestically – even if we're facing some great teams and great players, we'll try to impose our own style at home. We're not going to sit back, we're really going to try to attack. You saw in the two legs against Ferencváros that we tried to play well, and it was really pleasing to watch. You can expect Young Boys to bring their style.
What are the overall objectives for Young Boys ahead of this group stage?
It's already an incredible performance to have arrived here, we played six matches to qualify. Clearly we're ambitious but we're not kidding ourselves either, we know that we're the outsiders in this group. I think the goal is to put in performances that reflect the club's image and its values. I wouldn't say the result doesn't matter, but as long as the supporters can see themselves in our team, I think that's the club's objective.