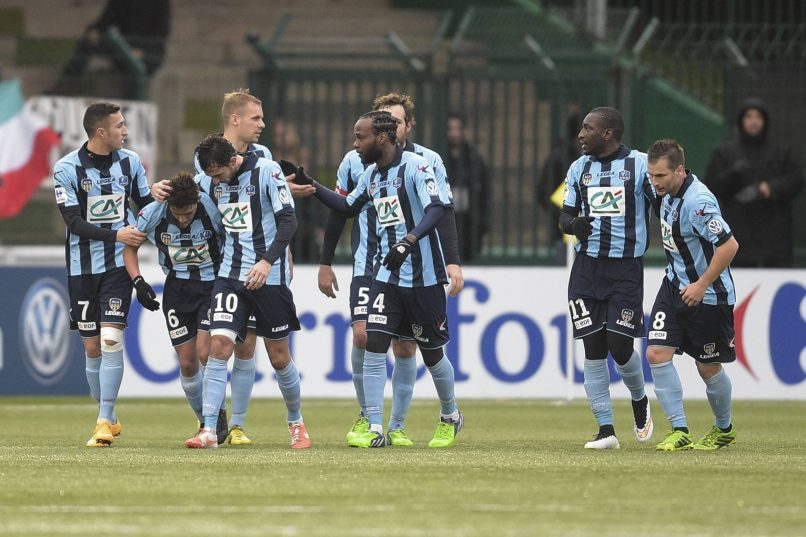 FEATURE | A marriage that didn't last – the rise & fall of Arles-Avignon
There is a lot of love associated with France. Her language is seen as the world's most romantic. Her capital nicknamed La ville d'amour. She even has a kiss named after her.
And still, over half of all French marriages end in divorce. One such failed union was that of Athlétic Club Arlésien and Avignon. Like 250,000 French couples each year, they became one. Overcoming sceptics, they experienced exhilarating highs. Ultimately it all ended in tears.
The pair were first introduced in the summer of 2009. It wasn't love at first sight, but more of an arranged affair. Those in Avignon had a degree of resentment for their more successful partner. Their city is twice the size. It was here where the Papacy resided in the 14th century amidst a bitter dispute between Rome and the French crown. But for the previous four years they had had to gaze jealously down the D570.
Some 38km away, Arles were experiencing football's fastest of rises. Having taken over in 2005, on request of close friend and club president Patrick Chauvin, Michel Estevan was performing miracles. In four years, he had taken his former club from the fifth tier to Ligue 2.
However, the DNCG, French football's financial watchdog, refused to grant Arles a licence. They argued both their Stade Fernand-Fournier and budget, which was the second lowest in the National (3rd division), were too small. In response, Arles asked the city of Avignon for her hand in marriage. Giving the club a 17,000-seater stadium in the Parc des Sports, the DNCG still opposed the relationship. It was only after a successful appeal that the renamed AC Arles-Avignon were allowed entry for the 2009/10 season.
Arles is famed for being where Vincent van Gogh cut off part of his ear in December 1888. It was in the city of bullfighting where the Dutchman painted some of his most famed works. And yet, it's doubtful even Van Gogh could have created something as stunning as ACA's rise. Despite having the smallest budget in Ligue 2, Arles defied expectations again. Finishing third, that made it four promotions in five years. To put it into context, imagine Weymouth playing Premier League football by 2025.
In preparation for their maiden top flight campaign, ACA turned to experience. Two duos- EURO 2004 winners Angelos Basinas and Angelos Charisteas, and former Real Madrid defenders Álvaro Mejía and Paco Pavón – were the standout recruits. They were joined by ex-French international Camel Meriem, Hameur Bouazza, Rémy Cabella and Yann Kermorgant.
Unfortunately, most signings made no impact. Basinas played five games and was gone by October. Charisteas left a month later, after just six appearances. He later told L'Équipe: "After only a few days, I knew I couldn't stay. I had never experienced such an organisation within a football club. Signing for Arles-Avignon was the worst decision of my career."
Few could argue with Charisteas. ACA won just three games all season, conceding 70 goals. That resulted in a points return of 20, the worst in a French top flight season since Lens in 1988/89. Even if you doubled ACA's tally, they would still have been relegated.
Problems started before the season had even begun. In June club president Jean-Marc Conrad awarded Estevan a two-year contract extension. It seemed a just reward, but for two minor details. ACA couldn't afford it, and Conrad hadn't consulted anyone else on the board. He was forced to resign, with Estevan following him on 30 June.
In a major u-turn, the coach was re-appointed a week later by new president Marcel Salerno. Questions existed of who was in control. Robert Duverne, who infamously threw his whistle amidst the French mutiny at the 2010 World Cup, was appointed assistant. Sporting Director Luis de Souza was not retained. Top scorer Maurice Dalé was sold to Romanian outfit Unirea Urziceni. André Ayew returned to parent club Marseille. The entire defence was let go.
In total ACA brought in 18 new players. Time was not on Estevan's side to gel this new squad. They lost all five of their opening Ligue 1 games. After the fifth of these, a 4-0 defeat to PSG, Duverne quit. He attacked Estevan for questioning why so many players were in such poor condition.
Salerno was furious. He told the press he thought his players had been drugged. He publicly criticised his squad for being worse than the youth team. He enforced a blanket ban on anyone speaking to the media. Estevan was suspended for five days, before being sacked: this time for good. Upon leaving he hit back: "in five games, five years of work and four promotions has been erased."
Salerno then appointed Faruk Hadžibegić. It was hardly an inspiring choice. In 2009/10 the Bosnian had got Bastia relegated from Ligue 2. Predictably, he didn't win a game until 15 May 2011. By that stage ACA were already down.
Reflecting on his time at the club, Hadžibegić told France Football in 2015: "There was a sort of mind-boggling confusion. The club had quickly climbed to Ligue 1. It was unexpected and it was all a bit rushed. The club, structurally, was not ready to end up there, at a very high level. In Arles-Avignon, we all understood the problem and we knew how it would end."
It took several years for the premonition of Hadžibegić – who left in November 2011 – to come true. Then again, at ACA chaos never seemed far away.
The 2014/15 campaign began with a PR tweet to Rihanna after the singer hinted she'd like to own a football club. Unsurprisingly ACA got no response. Jilted at the altar, Salerno decided to assemble another group of veterans.
Former France internationals Gaël Givet, Jonathan Zebina and Pascal Chimbonda, with a  combined age 104, arrived on frees. They were joined by ex-Marseille striker Mamadou Niang and Garry Bocaly, a 2012 Ligue 1 winner with Montpellier.
With hindsight, the presence of Ismaël Bennacer, Téji Savanier and Samuel Gigot made it an impressive enough squad. However, ACA finished bottom once again. The situation was best summed up by former president Chauvin: "We had cancer, now we have AIDS. We can't go any further."
On 30th July 2015, the DNCG administratively relegated ACA to the CFA. By then the club only had four professional players, the rest of the team consisting of youth players. Arles-Avignon were further demoted in October to the Division d'Honneur, France's fourth division.
Liquidation finalised the divorce of the club and towns it represented. Today, AC Arlésien remain in the seventh tier. By contrast Avignon's largest club, AC Avignonnais, are playing ninth division football. It hasn't proved a fruitful separation for either city, but it sure was a memorable six years together.