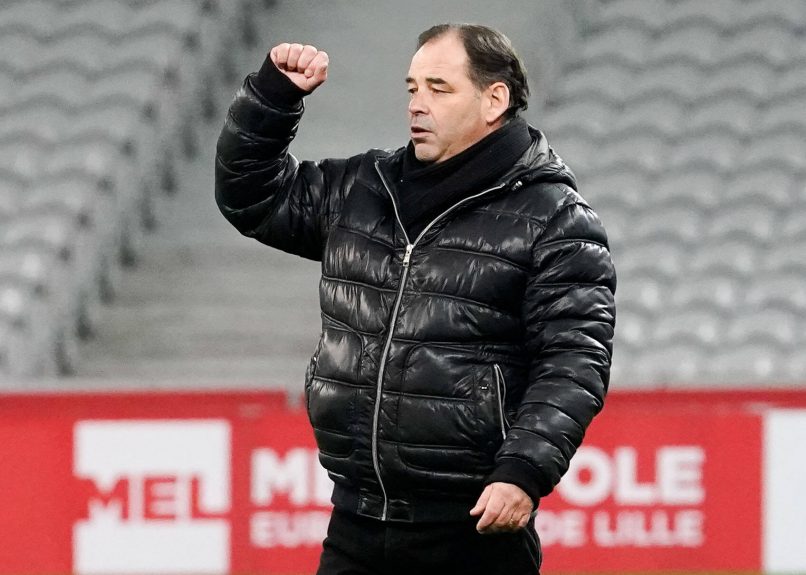 FEATURE | After 10 years, Stéphane Moulin & his staff say goodbye to Angers
"10 years is a lot. I'm only going to remember the good. Longevity can be an ally, a strength and sometimes a weakness. I didn't want it to come to this. We have experienced a very difficult season, with everything that has happened around the club. When reflecting, I asked myself what was best for this club, which I am forever in love with: when was the right time? The right time was today."
10 years. 10 long and fruitful years for a century-old club that has have grown from strength to strength under the guidance of one man. Stéphane Moulin started his professional career as an attacker for Angers SCO back in the 1980s in Ligue 2. He retired from playing at Châtellerault in 1997 and immediately took over the coaching role for the club and over the course of 8 years he managed to achieve a promotion to France's 3rd tier. In 2005, he returned to Angers to become a coach for the reserve team for a club that were competing in France's third tier. In 2006, Angers were bought for €300,000 by businessman Willy Bernard who brought in Olivier Pickeu as general manager. This was the start of a strong connection between Pickeu and Moulin.
In 2011, after 5 more years in both the National (3rd tier) and Ligue 2, the now Angers president, Saïd Chabane, purchased the club for under €1m. Head coach Jean-Louis Garcia left to join Lens and Pickeu approached Moulin with a job offer to become 1st team coach. 10 years later Angers can afford to pay a single player €1m a year as a wage. In 2015, Angers achieved promotion and were a Ligue 1 club for the first time in 21 years. In the transfer window before their first season they spent no money in transfer fees and signed seven players who would become regular starters for the season. By the winter break Angers had shocked France as they sat in a Champions' League position. In the following campaign, they were a whisker away from winning the Coupe de France, only falling to an own goal in added time. They've achieved considerable profits on the acquisition and subsequent sale of a number of players and are model of how to become a stable top flight club. It goes on and on…
Moulin was always at the centre of these achievements. He was able to craft a squad using the free transfers they had signed in the initial summer window back in Ligue 1. Angers conceded 11 goals in the first half of the season. They were organised almost to perfection with a wrecking ball of a midfielder and captain in Cheikh N'Doye who terrified opposing teams from set pieces. Nicolas Pépé, Karl Toko Ekambi, Baptiste Santamaria, Jeff Reine-Adélaïde and many more talented players passed through Angers and in who Moulin saw potential and began to craft their talents.
Since their first season back in Ligue 1 in 2015, pundits and fans alike predicted Angers would be part of the relegation battle. Five seasons later those words became whispers. After every campaign, Angers sold their star players and after every campaign the size of those fees increased and continued to increase. In 2016 Romain Saïss (Wolves) €4m, 2017 Nicolas Pépé (Lille) €10m, 2018 Karl Toko Ekambi (Villarreal) €18m, 2019 Jeff Reine-Adélaïde (Lyon) €25m, 2020 Baptiste Santamaria (Freiburg) €15m. Each summer you would wonder how they could cope with the latest loss of a star. Two simple answers. Clever recruitment and superb coaching. Moulin proved his ability to adapt season-upon-season to integrate new signings and maximise their potential. The most recent example comes from this 2020/21 season in which Le SCO lost their midfield sentinel, Baptiste Santamaria, in the summer. Santamaria had featured in almost every minute of his final two Ligue 1 campaigns for Angers and became their most important player in their usual 4-1-4-1 or 4-3-3 set-up.
After the departure of such a crucial player Moulin adapted the team's setup to favour a 4-2-3-1 in which a lot of defensive principles remain the same, however in attacking play, a mini-revolution has occurred. The Angers wide and attacking midfielders regularly rotate positions with Angelo Fulgini now at centre stage in his attacking midfield role dictating much of the Angevin attack.
Moulin has received plaudits from the legends of French football such as Arsène Wenger:
"When we see the quality and consistency of Angers' performance, Stephane Moulin deserves all our praise," on BeIN Sports in 2019.
Moulin recently spoke with French national coach, Didier Deschamps, who was also very complimentary of the Angers coach.
"What I also appreciate a lot about you is tranquillity, your serenity, even if inside you must be bubbling a lot."
However, the end of an era has come in Angers. After a decade on the sidelines as first team coach, Stéphane Moulin announced on March 26th he would be leaving the club at the end of the season. His achievements not just in terms of his longevity as a coach, but also to take a side that were battling in the tundra of Ligue 2 and make them a consistent Ligue 1 regular, puts him as a supremely underrated coach of modern French football.
It is not all the achievement of this one individual. Throughout his time as coach, Moulin has been surrounded by a consistent nucleus of staff who he has always worked very closely with. They all trust each other and share a strong bond even outside of football, going for meals and biking together. Moulin is a pillar of Angers and these people are the foundations that have supported him the whole time. Just like Moulin, they deserve a huge amount of credit for the success of Angers SCO over the past decade.
Serge Le Dizet:
The former Nantes player had crossed paths with Moulin before while playing in Ligue 2 and also as a coach in the amateur divisions of French football. In 2011, when Moulin was promoted to 1st team coach, he did not have the BEPF diploma required of a professional coach so needed an assistant with one. Le Dizet had been a Ligue 1 coach with Nantes and had his diploma, so Moulin asked Le Dizet, who had left his post as assistant at former Ligue 2 club Boulogne-sur-Mer 6 months prior, to become assistant with Moulin at Angers.
"Serge brings all his experience. He has experienced things I have never, he has sometimes allowed me to avoid traps and he knows how to temper."
Le Dizet has been at Moulin's side despite being a Ligue 1 coach years' prior with Nantes and turning down an offers from Ligue 1 clubs in the following years for assistant coach.
"Steph told us if he left it would be with us. I said okay. I want to continue working together. I don't see myself as someone else's assistant, I'll wait if I have to."
Patrice Sauvaget:
There are many similarities between Sauvaget and Moulin, both were trained and started their playing careers at Angers in the same season in 1983. Both also come from very humble coaching backgrounds. In 2000, Olympique Saumur FC was a brand new club in French football following the merger of three other small clubs in the town of Saumur, local to Angers. By 2009, they had won promotion to France's 4th tier of football but were denied promotion by the DNCG, who ruled the club ineligible.
From the formation of the club until 2012, Patrice Sauvaget was the head coach. In 2012 he took the 40-minute trip to Angers to become the club's reserve coach, a year after Moulin had been promoted to the first team. With Angers struggling with the 2nd worst attack in the league in 2017, Sauvaget was promoted to attacking coach and second assistant for Moulin. When speaking about his former teammate and friend of more than 30 years, Moulin said he is the link they needed with the offensive players.
"He knows the job; he knew it in Ligue 1 too as a player. He is able to convey messages under the seal of laughter. His generous side, the players like, especially as he is able to say strong things that some need to hear."
Arnauld Lucas:
Yet again another former Angers player who coaches at the club but for Lucas he never left. Arriving from Cherbourg in 1997, he was the 1st choice keeper for many years and retired in 2006. He hung up his gloves at a time when the club had just been bought for €300,000 and he was offered the role of goalkeeping coach where he has been ever since. Moulin said:
"He has a great longevity at the club. He has his knowledge and competence in his field, but also the knowledge of the club and the city, with which he identifies."
Benoît Pickeu:
You may notice that name by now and it's correct. Once a high school PE teacher, he was attracted to the club by his older brother, Olivier, who had recently become the general manager. He joined the club in the summer of 2007 as the fitness and conditioning coach. The importance of his role at Angers cannot be understated, Moulin's tactical setup demands a lot from the players in terms of physical endurance, season-upon-season Angers have always ranked near or top for distance covered or the most sprints, so of course the conditioning coach is integral to this style working.
It should also be noted that Angers have an older than average squad with an average age of 28.5 only bettered by Montpellier in Ligue 1 (28.8). These older veterans are not types that are featured sparingly, they are at the heart of the playing squad. In the 2019/20 season, the top 7 players in the squad with the most appearances for the club were also the top 7 players who obtained the most minutes of playing time in that particular season. The below graph displays data from Transfermarkt with the amount of minutes in the 2020/21 campaign for each player and their length of time at the club, a similar trend.
Transfermarkt also provides information about players' injury history. The current six highest capped players at Angers have featured in total 1279 games, collating the injury history from Transfermarkt for every single one of these six players, it demonstrates that between them there are just 2 games missed, that's it. This reflects the fact that these players, despite now way past what would be known as "peak performance age," have been able to maintain themselves and still remain vital cogs in the squad. Credit goes to the players and especially to Benoît Pickeu. Moulin commented about the coach:
"He is very much about the protection of the player. Me, I focus on the way a player can perceive an exercise."
Pickeu contracted COVID-19 in November and went on sick leave that was extended multiple times, he returned after over 2 months. It is perhaps no surprise that in his absence, performances of the squad began to decline as week after week those same endurance and fitness levels seemed to have faded away. The 3nd half of the season has been a very poor one from Angers and the absence of their physical trainer is one of many reasons to explain it.
The timing of the announcement from Moulin was at an ideal moment. It allowed the club and supporters to prepare for a huge adjustment but it came at a time where, despite a poor 2nd half of the campaign, Angers were safe on 40 points. All of these men will leave Angers at the end of the season too. Moulin himself has been heavily touted to join back up with his former general manager and long term friend, Olivier Pickeu, who is now president at Caen in Ligue 2. If he does, then Le Dizet and Benoît Pickeu will most likely follow him.
The level of interconnectivity and loyalty between these five men has almost no equal in the top levels of football. They have worked for so long together at a club that they cherish. Both Moulin and Lucas have spent more than half of their lives at Angers and together the combined experience of these five individuals at the club amounts to 93 years. Almost a century's worth of experience will depart from Angers SCO and the club will begin a whole new era. One thing is for certain, Ligue 1 will never see anything quite like it again.