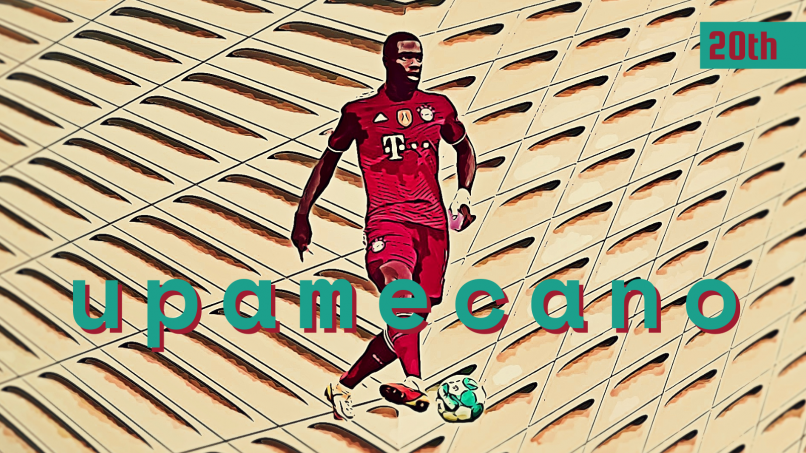 FEATURE | Dayot Upamecano – French Player Of The Year 2021: 20th
This article is part of GFFN's French Player Of The Year Award 2021 countdown, follow the daily feature series here on GFFN as we build up to naming the best French player in the world this year. Look out for 19th place tomorrow.
It's a daunting task to lead a brand new backline for Bayern Munich. Especially if you're new yourself. But that's the challenge Dayot Upamecano faced as he made the 361km journey from RB Leipzig to Bavaria last summer. It's been tough at times during this first third of the 2021/22 campaign but the French defender has shown enough to suggest he can become a permanent fixture for many years to come. Indeed, that was what Bayern were hoping for when they announced an agreement to pay his €42.5m release clause back in February.
It was easy to see why Die Roten decided to move quickly. The 23-year-old's 6'1 height allows him to physically compete with the most imposing of forwards while also being quick enough to match the fastest of wingers when defending counterattacks, making Upamecano the ideal centre-back for Bayern's high defensive line. Against dribbling opponents, he's won 75% of his duels so far this season, underlying his ability to handle one-on-one situations.
Meanwhile, Upamecano's on-ball skills are elite compared to many of his peers, completing nearly 91% of his passes so far. A talent for bypassing opposing presses using his accurate forward passing is crucial to his team's build-up play. In October's 5-2 away win over Union Berlin the defender showed an ability – that also caught the eye as a young player at RB Salzburg – to carry the ball forward and break through lines. Dribbling from his own half, Upamecano glided past the Union midfield before setting up Thomas Müller for the visitors' fifth goal. That was his fourth assist this season, incredibly only four Bundesliga players had more after 12 games this season.
Of course, it helps to be be reunited with Julian Nagelsmann, the German head coach who aided the Frenchman's development at Leipzig. Unlike his teammates, Upamecano was already up to speed with the different defensive patterns introduced by the new manager. Speaking about his first months in Bavaria with Goal, Upamecano explained:  "It's never easy at the beginning at a new club. But I knew the coach, and that was an advantage. He's implemented a lot of the things we did in Leipzig – only better. That made it easy." 
Nevertheless, there's still plenty to learn. Upamecano's defensive positioning is suspect at times, occasionally finding himself nowhere near the opposing attacking play which leads to a big chance. His decision making also seems to be a work in progress as was underlined by an errant pass that led to Filip Kostić's winning goal in a 2-1 defeat to Eintracht Frankfurt in October. A low-point in an unconvincing display for the centre-back.
Indeed, whenever Bayern have been under pressure this season, Upamecano has looked shaky. A few weeks after the Frankfurt defeat, Bayern suffered a shock 5-0 loss to Borussia Mönchengladbach in the DFB Pokal. Gladbach forward Breel Embolo gave Upamecano such a torrid time that the defender was subbed after just 55 minutes. Outmuscled and caught napping throughout, he looked a pale shadow of his usual self. That performance attracted a lot of criticism but Nagelsmann stressed the French international would bounce back, suggesting he would have to adapt his defensive style of play.
"Of course, it's difficult for any centre back to play against physically strong and fast players," Nagelsmann said. "That's normal, everyone has a hard time there. Against physically robust players, he has to choose a different way of defending. It's about getting into a smart defensive stance in certain moments." Improvements are needed as Upamecano adjusts to the brightest spotlight of his career with perfection expected by the 31-time German champions. A greater consistency not previously shown during the player's short career will be required.
However, if anyone can elevate their game to succeed in new environments, it's the 23-year-old. On the concrete pitches of his native Évreux in northern France, youth coach Romaric Bultel help a teenage Upamecano hone his skills. In an interview with Bundesliga.com, Butel said: "He wasn't a natural talent; the abilities he has now weren't there when he came to us. He worked hard and listened. He even worked with us outside of training, practicing ball control, working on his speed and tactical aspects of the game. That's how he overcame that initial deficit."
A shy character off the pitch, that training help the Frenchman build his confidence and mental strength, both helped him flourish during his first years as a professional. Now, facing arguably the biggest challenge of his career, it will be down to the player to again make the necessary adjustments to disprove concerns that Bayern were mistaken in anointing him as a defensive leader for the future. In the best training environment, surrounded by world class teammates and a supportive coaching mastermind in Julian Nagelsmann, Upamecano has all the tools he needs to succeed in Munich. Starting from now, he needs to use them.