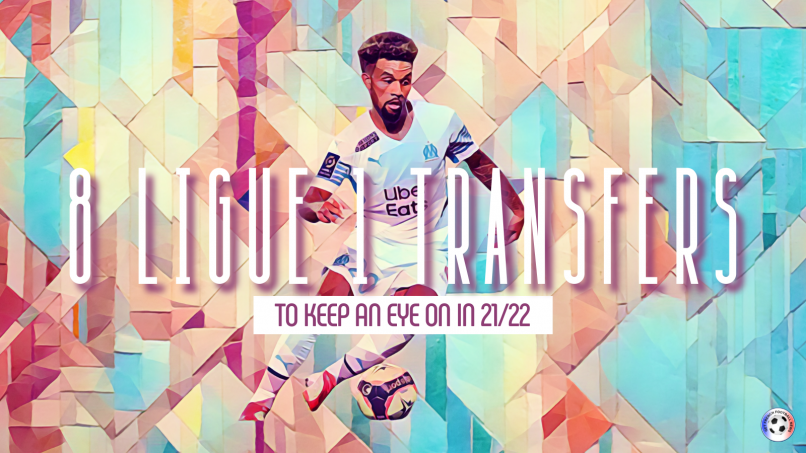 FEATURE | Eight Ligue 1 transfers to keep an eye on this season
After one of the most hectic summer transfer windows ever, despite significant financial restrains for many, Ligue 1 clubs were surprisingly busy this off-season. Here are a handful of intriguing transfers to keep an eye on for the rest of the season.
Andy Delort (Montpellier to Nice, €10m) – Despite a meandering career up to this point that's taken in Tigres of Mexico, Wigan Athletic, Caen and Toulouse, Delort finally found a home, and crucial consistency, at Montpellier. Much like team mate Téji Savanier, exciting goal scorer and creator Delort has become an under-the-radar Ligue 1 gem. Whether it's a flicked outside of the boot cross for partner-in-crime Gaëtan Laborde to head home or an outrageous bicycle kick finish, Delort is continually underlining his status as one of Ligue 1's most imaginative and flamboyant strikers. After 15 goals and 10 assists in just 30 league games last season, Delort's addition to a stacked OGC Nice squad with the reigning Ligue 1 winning coach at the helm is a thrilling prospect. With no European football to worry about, a title challenge could be on the way.
Baptiste Santamaria (Freiburg to Rennes, €14m) – Santamaria was quietly one of Ligue 1's best midfielders during his four year spell with Angers. An unerringly consistent high level, a nuanced use of the ball and being surprisingly difficult to destabilise or dispossess made him perfect for the physical and often pragmatic Ligue 1. Interest, however, despite being capable of playing at a far higher level, never truly coalesced with Napoli and Aston Villa both only flirting with signing the holding player. Bundesliga club Freiburg eventually snapped up the now 26-year-old last summer for around €10m but the move never truly worked out and Santamaria returned to France and Rennes this off-season and has picked up where he left off. It's early, but his opening salvo at Roazhon Park indicates Santamaria could again quietly become one of the best Ligue 1 signings of the season. That big move could yet arrive. 
Achraf Hakimi (Inter Milan to PSG, €60m) – Is there a better right-back in the world than Achraf Hakimi? Whether you answer "yes" or "João Cancelo", Hakimi's arrival at PSG is an atypical and unusually sensible move for the Paris club. Usually such mammoth fees are reserved for celebrity forwards with other positions hastily filled by cut price options, such as Kevin Trapp, who's quality may not meet the club's lofty aims. However, here PSG have finally signed a world class, and decidedly expensive, player for a less fashionable position. The key to the transfer's success will be how Mauricio Pochettino deploys the Moroccan international. Given that Hakimi's attacking skillset makes him almost exclusively a specialist wing-back rather than a typical full-back, it seems Pochettino is likely to move to a three man defence in the Champions League. Hakimi's full-throttle style will be workable at right-back in Ligue 1 given the lack of defending he'll have to do, even if Ander Herrera has been covering right-back areas in the early weeks of the season as Hakimi marauds forward, but he could yet be exposed against stronger opposition in Europe.
Melvin Bard (Lyon to Nice €3m) – Why Lyon let promising left-back Bard leave remains one of the most baffling stories of a manic transfer window in France. As a club famous for developing and nurturing academy talent, often happily providing those players with chances in the first team, Bard had seemed an obvious candidate for increased game time this season. The 20-year-old was likely even expecting a starting berth with makeshift full-back Maxwell Cornet on the move, eventually joining Burnley, and the addition of Brazilian defender Henrique from Vasco de Gama hardly seen as a coup. Instead, however, the ever-shrewd OGC Nice pounced early in the window and Christophe Galtier has already dropped Bard into an exciting side likely to be PSG's closet challengers this season. Although not the most attacking left-back, Bard is technically gifted, resolute defensively and already looks at home in Ligue 1 despite his lack of experience.
Gaëtan Laborde (Montpellier to Rennes, €15m plus bonuses) – The physical striker has improved beyond all recognition at Montpellier having left Bordeaux in 2018 as a workmanlike forward for just €3m. Indeed, he was sold without then coach Gus Poyet even realising. When the Uruguayan called to ask why Laborde wasn't on the FCGB team bus, the response was: "I've signed for Montpellier." The now 27-year-old soon struck up a ferocious and fluid understanding with Andy Delort, taking on some of his partner's more flamboyant attributes, and is now a consistent and unpredictable threat in Ligue 1, either as a number nine of from the wing. An impressive haul of 16 goals and eight assists in 38 league games last season could rise this term with Benjamin Bourigeaud, Martin Terrier and Jérémy Doku his supply chain. Marseille, Lyon, Zenit and West Ham were all also keen this summer.
Konrad de la Fuente (Barcelona to Marseille, €3m) – Something of an unknown when joining Marseille this summer, the American winger has already surpassed expectations in Ligue 1. A surprise starter on the opening day comeback win at Montpellier, Konard's pace, direct style and trickery both thrilled and surprised. Having progressed through the ranks at Barcelona, the Miami born forward only made three senior outings for the senior side. After turning 20 in July, it was clear that de la Fuente needed game time in order to develop and he will likely get that at Marseille this season while Jorge Sampaoli's impossibly gung-ho 3-4-3 formation (almost a 1950s Hungary style W-M) will afford Konrad plenty of opportunities to showcase his skills despite playing as a nominal wing-back, with the equally attacking Cengiz Ünder on the opposite flank.
William Saliba (Arsenal to Marseille, loan) – The French defender's short career to date has been eventful after emerging at Saint-Étienne before joining Arsenal for a €30m fee, then struggling with injuries and being outcast by Mikel Arteta, moving on loan twice, to Nice and now Marseille. Saliba has certainty been in the news but he's been on the pitch far less. Admittedly injuries have been troublesome but Saliba has just 51 league games to his name as he begins his fourth season of senior football, and it shows. The centre-back's serene and assured style that made him so attractive to Arsenal has only fleetingly been on show since. Meanwhile, his performances, although often at least solid, can lack the presence and personality needed to succeed at the level his ability suggests he is destined for. Signs have been promising at OM but this is a pivotal season in Saliba's development, he'll be 21 in March.
Lionel Messi (Barcelona to PSG, free) – After not only Ligue 1's biggest ever signing, but perhaps world football's most momentous transfer of all time, the pressure is already intense. Not least for Mauricio Pochettino who, with Kylian Mbappé likely to leave on a free next summer, has perhaps just one chance to distil this dream team into an effective winning unit. With Neymar nearly 30, Angel Di Maria 33 and Messi 34, not to mention Georginio Wijnaldum, Sergio Ramos, Keylor Navas and Idrissa Gueye all passing 30, this team is built to win right now and may have just one season to get it right. Although being perhaps the greatest player ever, and certainly of the last 30 years, might mean obstacles to success on a personal level are easily overcome, some doubt remains as to if an aging Messi can navigate the possible injuries, rough treatment and frustration Neymar has endured in a far more physical and pragmatic league than La Liga.