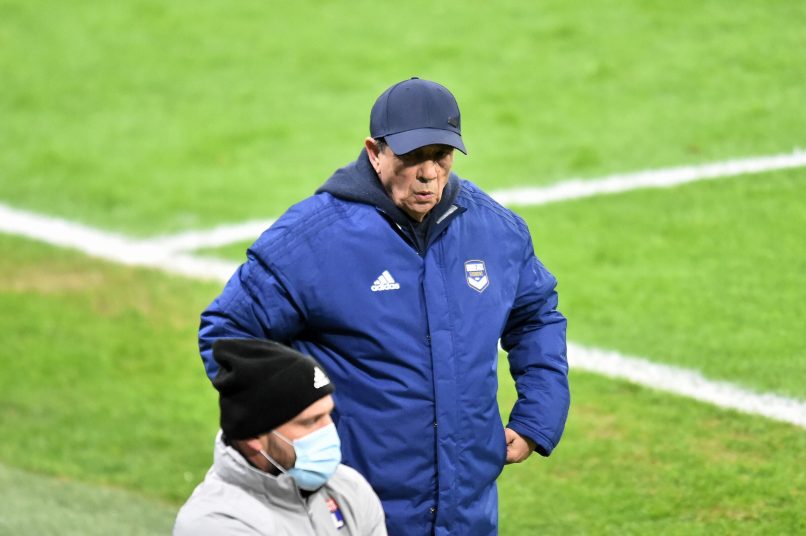 FEATURE | How Jean Louis Gasset stopped the rot at Bordeaux
Bordeaux have often been forced to take bold decisions, usually in tumultuous circumstances. This was seen in July 2020, when the club were reported to be interested in hiring their former assistant coach, 67-year-old Jean Louis Gasset. This came after reports of then-manager Paolo Sousa looking likely to resign.
However, Get French Football News then reported that Sousa was determined to stay, just weeks after attempting a resignation. As a side effect of this u-turn, was Bordeaux sporting director Eduardo Macia being sacked. This all came in a summer that show Bordeaux spend nothing on transfer fees. When Gasset arrived in late August, the odds were stacked against him.
Bordeaux had finished 12th in the cut-off 2019/20 season, yet expectations were low. They had lost powerful young midfielder Aurelien Tchouameni to AS Monaco. Their top scorer was Jimmy Briand, a 34-year-old striker, who had just mustered 7 in the 2019/20 Ligue 1 season.
Regardless, there were still lots of promising components at Bordeaux. Yacine Adli, Josh Maja, Samuel Kalu and Remi Oudin were considered as one of Ligue 1's best quartets of young attacking talent. However, under Sousa, all had failed to click.
While Bordeaux were not in the picture for relegation in Get French Football News' predictions in August 2020, little attention was paid to Les Girondins. Yet Jean Louis Gasset had some plans in store to make a great impact on his new side.
What has Jean Louis Gasset done?
Paulo Sousa operated Bordeaux in a three-at-the-back system in 2019/20. While they generally performed well, finishing just four points off of fifth placed Reims, the football was very stale.
This season, Jean Louis Gasset has reverted Bordeaux to a 4-2-3-1 (And some other 4 at the back shapes). The effects have been huge for Bordeaux on and off the field. It is also easy and interesting to see the thought behind this system change. 
In 2019, the club spent £9m on attacking player Remi Oudin from Stade de Reims. Yet he received less than 500 minutes under Sousa in Ligue 1 in 2019/20. This season though, he has found a home in a free-flowing attack created by Gasset. He is given more space and freedom to float across the pitch.
The decision to switch to a formation with a designated "number 10" was also no doubt done to accommodate Bordeaux's single summer signing. On his day, 33-year-old Hatem Ben Arfa is one of the most dangerous forwards in the world. On other days, he is a luxury passenger not even PSG could effectively utilise.
When analysing Ben Arfa's last three spells in French football, it is easy to understand why Gasset has switched to a 4-2-3-1. Ben Arfa flourished at Nice in 2015/16 while playing exclusively as a lone attacking midfielder behind a pair of strikers, scoring 17 goals. At PSG the following year, he struggled to break into the side playing 4-3-3. Then at Rennes in 2018/19, he was once again productive as an attacking midfielder, in a 4-2-3-1. This no doubt helped Gasset choose the system he would pursue.
These two factors, along with the criticism that fans had last season for Paulo Sousa's style, would help drive the style of football chosen by Gasset to pursue. While Get French Football News wrote a great piece on how Paulo Sousa steadied the Bordeaux ship, fans were still left wanting from players like Maja and Kalu. Gasset would have to win matches in a more convincing and entertaining manner.
Has it worked?
On face value, the differences in Bordeaux's performances seem small. They finished last season just 10 points clear of the relegation spots. They had a +6 goal difference. In 20/21 they are six points off fifth placed Rennes. They also have a -2 goal difference, conceding 29 goals in 24 matches. The side has just managed to score 27 goals.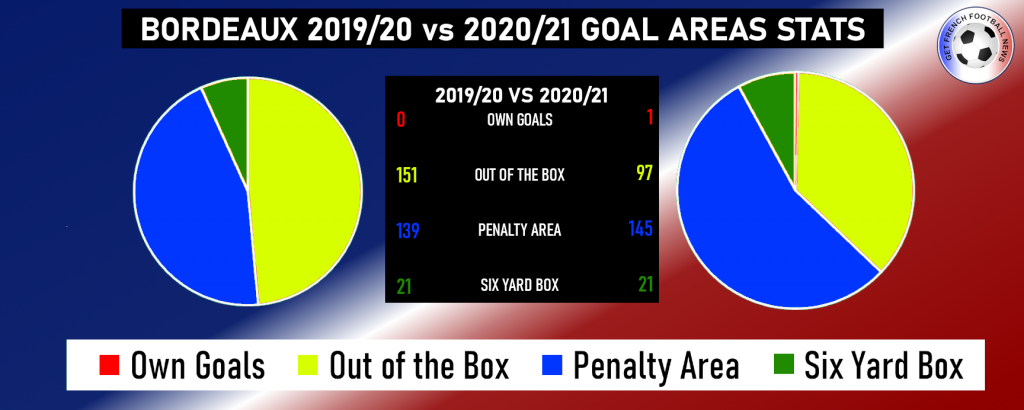 Yet the manner of these goals, and the manner of the nine victories, have been far brighter than last season's same number of wins. On matchday two, Jean Louis Gasset proved that Bordeaux had already improved under his management when they beat Angers 0-2 away from home. Bordeaux lost the same fixture last year 3-1. 
Bordeaux were also unlucky to lose away at Lyon recently, when Léo Dubois scored one of the goals of the season in the dying seconds. Lyon had been shut out by a well-organised, defensively astute Bordeaux, but a Les Girondins side that also posed a dangerous threat on the counter attack. 
Rudi Garcia's men had been undone by simply beautiful football by Bordeaux. 20 year old Yacine Adli intercepted a clearance, drove into the box before laying it to Remi Oudin, who pulled it back for a belting finish for Samuel Kalu to originally make the tie 1-1.
Who has benefitted?
The previously struggling Yacine Adli had churned out another composed performance against Lyon. Last season he continuously and needlessly lost the ball, and he won less than 45% of his tackles.

In 2021 though, a well built and more tactically astute Yacine Adli bossed the midfield against Lyon. He even grabbed a goal in Bordeaux's brilliant 2-2 draw against Adli's old club, PSG. This is largely down to a positional change – Adli is now playing in a 2-man pivot, allowing him to create from deeper and have his back to goal less.
Remi Oudin has also seen his fortunes transform. He has been one of the key performers in Ligue 1, scoring four goals and assisting four more times. The 24-year-old even has two man of the match awards, given for his performances against Dijon and Lorient.
Samuel Kalu and Ben Arfa are also major actors in the Gasset revolution. Aside from the goal against Lyon, Kalu has scored twice more in Ligue 1 as he looks more confident than ever before. He even assisted Ben Arfa's winner away at Rennes in November, a marquee victory in the new Gasset era.
Ben Arfa is once again producing goals and assists. His six goal contributions have helped Bordeaux on multiple occasions, as well as his progression of the ball. In fact, no one in all of France has completed more successful dribbles than Hatem Ben Arfa in Ligue 1 this season (3.6 p90). He even recently reached a landmark of 600 career dribbles completed in Ligue 1.
What Gasset has done is fantastic. While Josh Maja has left for Fulham after once again struggling to make a large impact, Gasset has gotten value out of every other single one of Bordeaux's talented players. Remi Oudin, Yacine Adli, Samuel Kalu, Toma Basic and Mehdi Zerkhane are all exciting footballers on the young side of 25 and are all experiencing great form. Even last season's signing from Korea, Hwang Ui-Jo, has 6 league goals plus 2 assists. Jean Louis Gasset looks to have been a masterstroke in the dugout for Bordeaux. It will be interesting to see how the club can grows from this season onwards, and what potential heights it reaches.