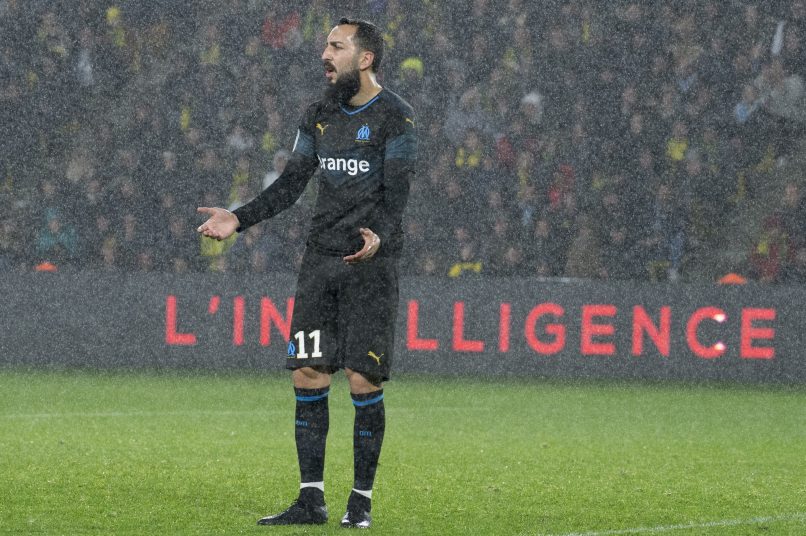 FEATURE | Kostas Mitroglou's ill-fated spell in Ligue 1
When Kostas Mitroglou joined Marseille in 2017, there was good reason to expect some decent return from the Greek striker. Despite his controversial and weak spell at Fulham three years prior, he had managed to pick up his form in Portugal, for Benfica. Sadly though, Mitroglou has now left France after, not for the first time, majorly disappointing. He has returned home to Greece, at the age of 32. 
It is worth remembering though, when Mitroglou joined Fulham in the January transfer window of 2014 for £13m, there was a certain amount of hype surrounding the move. He had contributed to 46 goals inside 51 matches for Olympiacos across all competitions. That even included 4 goals in the Champions' League in the 2012/13 season.
These goals were mostly inside the penalty box, as Mitroglou's strong physique combined with decent finishing helped him dominate Greek football. He was benefitting in a side where he would receive a lot of chances and crosses. At 6ft 2, he was clearly impressive in the air.
At Fulham though, he struggled, making just three appearances in four months as the club were relegated. He was shipped on loan back to Olympiacos for the following season. After performing well, Benfica took Mitroglou permanently off Fulham's hands for £6.3m in 2015. This was the fifth club in Mitroglou's career, since beginning his career with the Gladbach reserves.
Across two seasons, Kostas Mitroglou did a huge amount of work to rebuild his reputation. In his first league season, he scored 20 goals and assisted 5 in Liga NOS. Again, Mitroglou did well in the Champions' League. He scored against Atletico Madrid in 2015, and then scored the winner against Thomas Tuchel's Dortmund side the following season. This was enough to convince Marseille to take the plunge for £13 million, giving Kostas Mitroglou a 4-year contract in August 2017.
A Bold Experiment
When he arrived in Rudi Garcia's side in 2017 at 29 years old, he was Marseille's biggest signing for seven years, minus Dimitri Payet's return from West Ham. Mitroglou was handed the number 11 shirt in a side which desperately needed a striker. Valère Germain & Clinton N'Jie were not cutting it upfront.
In his first season, Mitroglou managed 19 Ligue 1 appearances, his most league matches in a single campaign in Europe's top 5 leagues. While a total of 9 goals suggests he was far from horrendous, this came with zero assists and plenty of other issues.
Mitroglou missed four of his first five Ligue 1 matches due to a muscle injury. While the striker managed to score on his debut, scoring a rebound to save Marseille from a 3-2 defeat to Strasbourg, the tone had already been set.
Mitroglou would go on to start his next six matches, and only manage another single goal. While Florian Thauvin was dragging Marseille through the French league scoring an incredible 22 goals and assisting 11 times, Mitroglou was a passenger more than an enabler. This was especially true in the Europa League. Even though Marseille would reach the final in 2017/18, Mitroglou played less than half the minutes. He failed to grab a goal or an assist.
Despite the inconsistent form and the plaguing injuries that barred Mitroglou from 11 matches across all competitions that season, there were fleeting signs of class. A stunning volley against Toulouse was particularly memorable. So was the double he got against Lille, in a historic 5-1 victory in April 2018. One goal was a trademark header, the other a nice finish inside the six-yard box. Mitroglou was a penalty box poacher, but he was not able to get the space he did in Portugal and Greece.
There were other issues too. Mitroglou was a unique player; he came with such a fantastic reputation to both Marseille and Fulham but would see his form slump on both occasions. This led to added attention, like when Djibril Cissé was quoted as saying "When he (Mitroglou) tries to sprint, he looks like he's dragging a 300kg crate."
By the midpoint of the 2018/19 season, Mitroglou had disappointed in even fewer Ligue 1 matches. He had scored just three goals in 14 appearances. Marseille were seventh in the league, and Mario Balotelli had replaced Mitroglou upfront. Therefore, Marseille opted to loan Mitroglou to Galatasaray on January 31st 2019.
Efforts to Shift Mitroglou
Despite leaving two years ago on loan, Mitroglou still managed to have an impact on Marseille while in different countries. At Galatasaray, where he barely managed two goals for the rest of the 2018/19 season, the club cut the loan spell short. Mitroglou was meant to be off Marseille's hands for the next 18 months, but Galatasaray were hesitant to keep the 30-year-old.
With his deal running out in the summer of 2021, Marseille managed to help Mitroglou convince PSV to take a chance on him. He was given 13 Eredivisie appearances in the 2019/20 season, which was declared null & void after the COVID-19 pandemic hit. After the arrival of Roger Schmidt in March 2020, Mitroglou's third home in three years was likely to uproot him. One goal & 262 minutes did not spell importance.
Finally, Marseille have managed to shift their experiment from 2017. It was always going to be a risk, yet a 4-year contract now feels like a costly mistake given the financial struggles that OM have contended with throughout. While Galatasaray did pay Mitroglou's wages, PSV paid less than half. Marseille have subsequently let the Greek striker move back to his homeland, to Aris Thessaloniki. Marseille waived their right to a transfer fee, as they were more concerned getting him off the books.
Perhaps it was the wrong club, or maybe even the wrong time. Mitroglou did move to France at the age of 28 and was injured before the £13m fee was finalised. There was certainly promise, but as with a lot of things Marseille have done in the past few years, it feels like another empty disappointment. Whether the 32-year-old can help his new side win their first Greek title since 1946 remains to be seen.