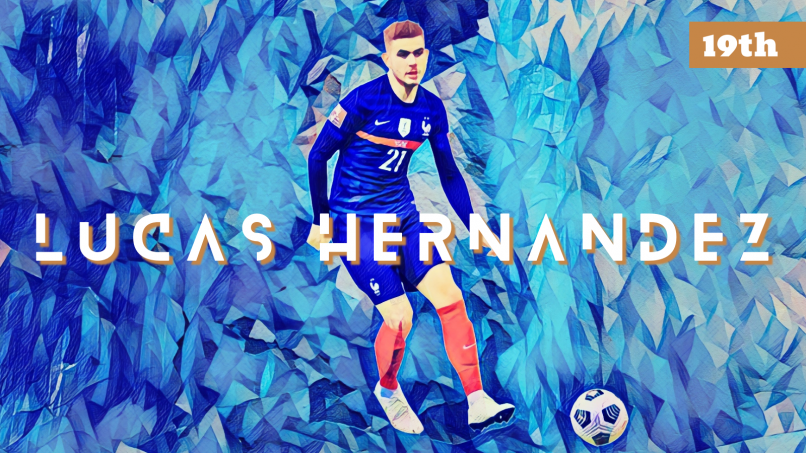 FEATURE | Lucas Hernandez – French Player Of The Year 2021: 19th
This article is part GFFN's French Player Of The Year Award 2021 countdown. Follow the daily feature series here on GFFN as we build up to naming the best French player in the world this year. Look out for 18th place tomorrow.
If you're playing for one of Europe's biggest clubs, you'd think you'd get a lot of attention. However, in the case of Bayern Munich defender Lucas Hernández, his exploits often go under the radar despite having won a considerable amount during his relatively short career. It's often strikers and creative midfielders who grab the spotlight while the more defensive players do the dirty work in the background. In terms of Lucas Hernández, this is too often the case and it's especially apparent when reviewing his 2021. 
A regular in Bayern Munich's defence, Hernández played a pivotal role in helping the Bavarians claim their tenth Bundesliga title in a row. Often playing at left-back or centre-back, Hernández was a leader on and off the pitch as he supported Bayern by aiding the keeping of clean sheets whilst Robert Lewandowski did the business up top. At the turn of the year, Hernández also reached the Club World Cup Final with Bayern. Playing the role of centre-back in the final, Hernández assisted Bayern in winning 1-0 against Tigers UNAL of Mexico. It was perhaps a game where the German side could have scored more but looked comfortable at the back with Lucas and Co. keeping the Mexican side quiet. 
Domestically, the Frenchman played 13 times in the Bundesliga last season this side of Christmas. It would have been more if it wasn't for a rib injury but he still made an impact as, in all 13 games Hernández featured in, Bayern didn't lose. As that little known fact suggests, when you scratch below the surface, it's clear that Hernández doesn't get the credit he sometimes deserves.  
Standing at 6'0, Hernández has been dominant in the air whilst still providing some clever footwork when needed. At time of writing, this season the Frenchman had already won over 80 tackles and 20 ariel duels. His mobility on the ground is backed up by the 75km he's covered in just his first eight appearances for Bayern this season. Hernández appears to have settled in well since moving to southern Germany in 2019. This will be his third season in the Bundesliga and he'll be looking for his third consecutive title. The 25-year-old has become accustomed to winning trophies and this continued during 2021. 
After a disappointing Euros for France, in which Hernandez appeared in the opening two games against Germany and Portugal, in October, Hernández help Les Bleus to the National League title. In the semi-final, the defender played played the full 90 minutes as France made a thrilling comeback to defeat neighbouring Belgium 3-2 before France lifted the trophy in Italy after seeing off Spain 2-1 in the final. This was the first time that Lucas and his brother, Theo, had both been selected by Didier Deschamps. They featured at left-centre-back and left-wing-back respectively during the semi-final win. A proud moment. 
In helping France secure qualification for next year's World Cup in Qatar, Hernández has tallied over 30 appearances for his country and there's many more to come. When looking at his trophy cabinet for both club and country, it's important to remember that Hernández is just 25. You'd imagine there will be a seat for him on the plane en-route to Qatar and perhaps more glory awaits him there on the biggest stage of all. 
Overall, Lucas Hernández has had a superb 2021. Domestically, he's assisted Bayern in winning a prestigious tenth Bundesliga in a row whilst claiming the Club World Cup. On the International stage, already a World Cup winner the defender added the Nations League and World Cup 2022 qualification. It's no wonder that Hernández features on this list as one of France's best players during this calendar year. At 25, the defender is yet to reach his full potential for both club and country and, in the year's that follow, you'll need to get used to hearing the name Lucas Hernández.