When Chelsea were looking for an emergency first team goalkeeper to replace the error prone Kepa Arrizabalaga, Sky Sports confirmed that they were looking at two goalies from Ligue 1: Edouard Mendy of Rennes, and Mike Maignan of Lille. If there is one thing former Lille chairman Gérard Lopez did right, it was pricing the London side out of a potential move.
Chelsea were asked to pay £32m for Mike Maignan, and they decided money would be better spent on Mendy. Now the honeymoon period is over, it is clear that Chelsea missed out on a fantastic deal. Maignan has not only potentially been the best keeper in France, but performed up there with the best in Europe, in 2020/21.
Maignan's headline statistics are tremendous. He has played every league minute for Lille in the past three seasons. In 2020/21, Maignan had saved 19 out of the first 22 shots on target he faced in the league. He has kept 21 clean sheets from his last 47 Ligue 1 matches. The 25-year-old has been superb. He is clearly number one in the queue to replace Hugo Lloris in the national side, when the Tottenham goalie's eventually form starts to fall.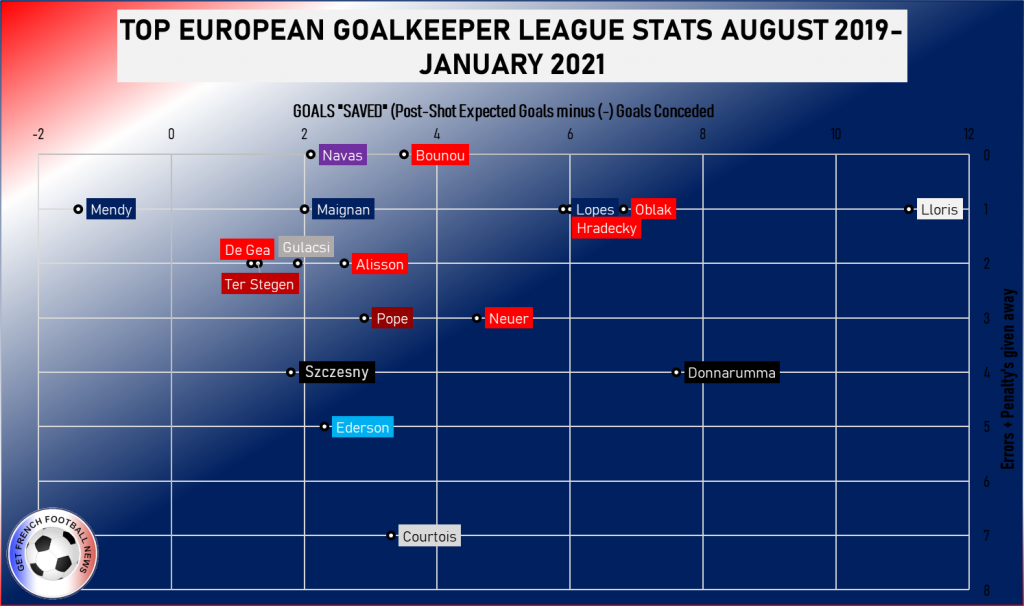 Mike Maignan though, is on the positive side of this metric. As seen in this chart above, Maignan has saved Lille two goals since August 2019. The numbers from FBREF say that Maignan has faced enough shots to concede 39 goals, but Maignan has conceded just 37. In terms of Europe's best goalies, this puts Maignan around the same level as 34-year-old Keylor Navas, and ahead of David de Gea & Marc Andre Ter-Stegen.
The statistics improve when looking at on-target shots just from open play. Maignan would have been expected to concede 31 Ligue 1 goals in this period, but he has only let 25 past him. This is a massive over-performance from Maignan.
Maignan is also the second-youngest goalie featured on the chart above. Only the generational talent of Gianluigi Donnarumma is younger than Mike Maignan. Ederson is two years his senior. In a position that rewards experience, Maignan is excelling with just four seasons of Ligue 1 football.
Maignan's calming presence
Despite standing at just 6ft 2, relatively small for a goalie, Maignan is extremely good at making the goal smaller for strikers. This is due to the way he uses his body. Maignan is rarely forced into one-handed super saves. His positioning is intelligent enough to let him get his body behind the ball on most occasions. Maignan is a very sensible goalkeeper, and rarely caught looking silly.
When Chelsea recently gave away a penalty against Everton, it was in a situation that never would have transpired with Mike Maignan in goal. Edouard Mendy charged at a through ball and took out Dominic Calvert Lewin inside the box. Maignan meanwhile, has made just one error in the last 16 months, and has never given away a penalty in his entire career.
This clearly gives his Lille teammates confidence. Jose Fonte and Sven Botman can be composed and casual on the ball, knowing they have a keeper behind them that will save their skin.
Maignan is a classy distributor too. Lille are a side that enjoys possession, with their goalie touching the ball around 27 times per game. In 2020/21, Maignan is yet to misplace a short pass, and has failed with just two passes that travelled up to 30 yards.
The areas for improvement
Much like David de Gea when he first moved to the Premier League, Mike Maignan has one glaring weakness. He has shown that his near-flawless positioning has fallen apart on crosses and corners.
This was demonstrated against Marseille in September 2020. Lille were winning with five minutes to spare, and a Marseille corner came in from Thauvin. The cross curved towards the near post. Maignan made the mistake of trying to rush for the ball off his line, and Valère Germain headed into an empty net. You can see the sequence of events below.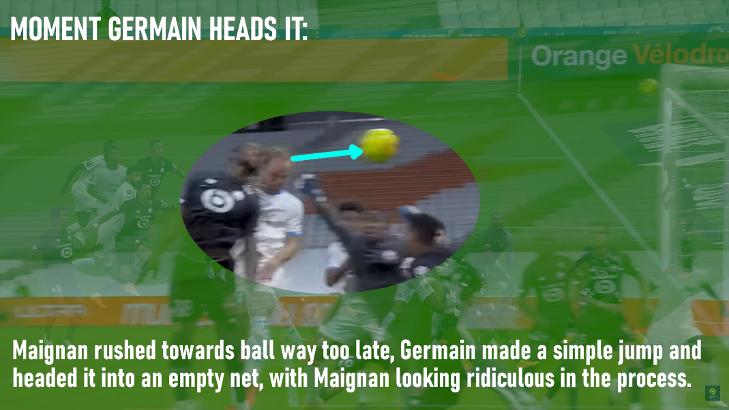 A similar event occurred in Lille's 3-2 loss vs Brest. A cross came in from open play this time, and Maignan made a late decision to step towards the flight path of the ball. However, he came out too little too late, and Pierre-Ronael Gabriel's header looped over the French keeper and into the far corner.
The numbers also back it up; XG suggests Maignan should have conceded 3.2 league goals from corners. Maignan has conceded six in 2020/21.  Clearly, it is something for Lille manager Christophe Galtier to take a deeper look at.
Overall, though, Maignan is an incredibly talented goalkeeper. The average age of a first team keeper in France and England is 29 years old. Yet Mike Maignan has already fully established himself as a top-quality keeper six months after his 25th birthday. If clubs are set to raid Lille in this January transfer window, Mike Maignan should be the player who receives the most attention.