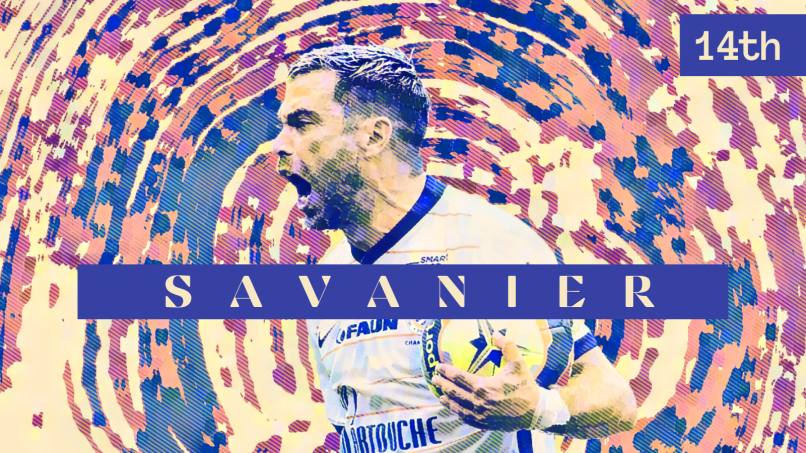 FEATURE | Téji Savanier – French Player Of The Year 2021: 14th
This article is part of GFFN's French Player Of The Year Award 2021 countdown. Follow the daily feature series here on GFFN as we build up to naming the best French player in the world this year. Look out for 13th place tomorrow.
With the 'big names' on this list, Téji Savanier's fourteenth place in our French Player Of The Year Award ranking for 2021 may come as a surprise to many non-Ligue 1 viewers. However, Ligue 1 faithful have long known the quality of this jewel of a midfielder. For Savanier, this year was the culmination of a steady climb that the 29-year-old's career has been so far. From the start of his first Ligue 1 campaign with Nimes in 2018, Savanier has shown he's a player to be recognized as one France's top products and 2021 only solidified Savanier as one the best all-around players in France and, on certain levels, one of the best all-around players in the world.
Without the now common overnight stardom as a young player or slew of ensuing endorsements, Savanier has worked his way up from the French second division to the national team. Many outside France first took notice of Savanier during the 2018/19 season when he led Ligue 1 with 14 assists, outperforming the likes of Ángel Di María, Nicolas Pépé, Kylian Mbappé, Memphis Depay and Nabil Fekir – a total that compared well across Europe. The following season Savanier would break the transfer record of his hometown and boyhood club Montpellier.
This most recent calendar year would see Savanier achieve one his greatest accomplishments so far, even if it was symbolic in nature. As one of the most underrated players in the world, Savanier more than deserved his his call up to the French team sent to the Olympic games this summer, where he scored the winner against South Africa in a 4-3 victory. That win proved to be the highlight of Les Bleus' tournament, however, exiting at the group stages. France's poor performance may have had more to do with how the Olympic tournament was handled as a whole rather than any individual player's fault. Nevertheless, Savanier received the honour that he deserved and even captained France at one stage.
Savanier is a one man attack. One that makes everyone around him better. With one of the best right foots in Ligue 1, he's deadly from set pieces, the quality of his deliveries being comparable to anyone in French football right now, or for many years before. A footballer's footballer, compared glowingly to Zinedine Zidane by both teammates and coaches, Savanier is a lethal attacking midfielder who has it all. Long balls, touch, speed, technical ability, dribbling and he can score from anywhere on the pitch, as was proved by his goal of the season contender from the half way line against Dijon while with Nîmes. Savanier's range of passing mirrors Neymar's or Dimitri Payet's, and is equally effective in play-making.
Some say true number tens are disappearing from the game, with only a handful of players effective in that position. Savanier is certainly in that handful. An ability to use both feet to pass and score combined with his insatiable dynamism sees Savanier wreak havoc in Ligue 1 midfields every week. Stats alone can not describe his on-field dominance. His work rate and technical ability allows him to elude the high pressure of Ligue 1's physical defences, which is particularly impressive considering the difficulties players like Neymar and Lionel Messi have encountered when playing as a number ten in France compared to their successes on the more spacious wings.
Savanier's 2021 highlights would compare to many players' career highlights, a better attacking midfielder couldn't be created in a video game. Despite his growing reputation, as Didier Deschamps' flirts with the idea of a full international call up for the midfielder, Savanier's name still may not be one that comes up in conversation when discussing the world's elite midfielders. But, as 2021 has again proven, it should.