Despite this being Lille's best ever league showing at this stage of a season in French football history, banana skins have continuously emerged in their charge to the title. The club had to change president after amassing huge debt. It took record signing Jonathan David exactly 3 months to score a goal, while other players like Jonathan Ikoné have seen their form dip. Perhaps no player has disappointed more than left-back Domagoj Bradaric.
The Croatian left-back has seen his chances limited in 2020/21. For a 21-year-old, it would usually be hard to argue against 19 starts across Ligue 1 and Europa League. However, Bradaric was one of the most exciting talents in 2019/20, and considering the lack of injury-enforced absences, many expected Bradaric to enjoy a breakout campaign in 2020/21 building upon a solid initial campaign under Christophe Galtier.
This is his second season in French football, after Bradaric moved from Hadjuk Split in Croatia for €9m. He had shared his game time with Mozambique international Reinildo, a more experienced full-back/winger. Bradaric looked set to formally relegate the 27-year-old to the bench coming into the new Ligue 1 season, but if anything, Reinildo has achieved the opposite.
The pair sit next to each other in Lille's top minutes played. Last season Bradaric amassed 300 more league minutes than Reinildo, yet this season Reinildo has flipped it. He has started 15 times in the league, also making 4 sub appearances, while Bradaric has started 13 times, being subbed on 6 times.
While Bradaric is still incredibly young, Lille are a side proven to give minutes to younger players. Bradaric's drop in playing time on the surface is thus peculiar, especially in the context of Lille's guiding philosophy of nurturing young talent.
Why has his gametime decreased?
Bradaric was gifted a dream start to the beginning of the season. In Lille's first match against Rennes, Reinildo was sent off after 45 minutes, meaning Bradaric came on and would start the next three fixtures. However, Bradaric was a passenger throughout the opening fixture, failing to complete a block, clearance, tackle, interception, dribble or cross in 45 minutes.
This trend continued in the next match, where Lille won against Reims. Bradaric played the full 90 minutes, and despite adding more to his game defensively, Bradaric failed to complete a dribble, key pass, or achieve a cross across the whole match. This trend has continued throughout the season, as Reinildo has consistently proved himself to be better in supporting Jonathan Bamba down the left wing.
The issue is for Bradaric, is that he has also failed to be reliable defensively. This was shown in Lille's first defeat of the season, losing 3-2 to Brest. He was caught under the ball for Pierre-Gabriel's headed goal which opened the scoring.
A couple of weeks later, he gave away a penalty against Saint Étienne, contributing to Lille drawing the match. He was slightly unfortunate as he had stumbled and taken down Wahbi Khazri, but the situation was all started by a poor headed backpass from Bradaric.
He was subbed off in that match, and since December he has only played a full 90 minutes twice. These minutes came against Reims and Dijon, two games against the league's weaker opposition which Lille won. Yet Galtier is clearly placing more trust in Reinildo in defence, especially as Lille build momentum towards their title push.
Where can Bradaric improve?
When comparing Reinildo to Bradaric statistically, it is clear to see why Christophe Galtier continues to turn to Reinildo. Despite Bradaric registering a goal and an assist, the 21-year-old is a lot more stationary than Reinildo.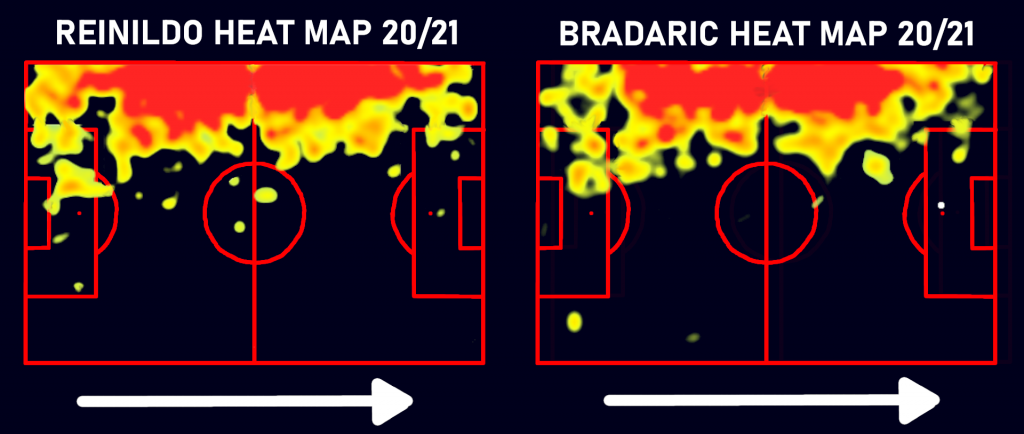 The former winger continuously reaches the byline, while Bradaric is less eager to reach the opponent's box. This is mirrored in the statistics, as Reinildo averages more crosses, forward passes and successful dribbles per game than Bradaric.
The defensive statistics demonstrate Bradaric's weaknesses too. Standing at 5ft 8, the Croatian only wins 44% of his aerial duels. This pales in comparison to Reinildo's 66.7% aerial win rate. There is still an improvement on the Croatian's 2019/20 aerial win rate, where Bradaric won less than 37% of his duels. This upward trend must continue.
On the ground, Reinildo has proved himself more reliable than Bradaric, as he succeeds with his tackles 15% more often than Bradaric. Reinildo's experience shows in his other statistics too, as he makes over two interceptions per game compared to Bradaric's 1.3. 
Bradaric needs to work on his anticipation and decision-making. According to FBREF, Bradaric wins just 41% of his ground duels, which is dreadful in comparison to Reinildo's 57% tackle win rate. Both attempt around the same number of tackles per game, but it is clear Bradaric needs to work at succeeding with them more often. Bradaric has also been observed to make poor challenges this often this season, giving away silly fouls.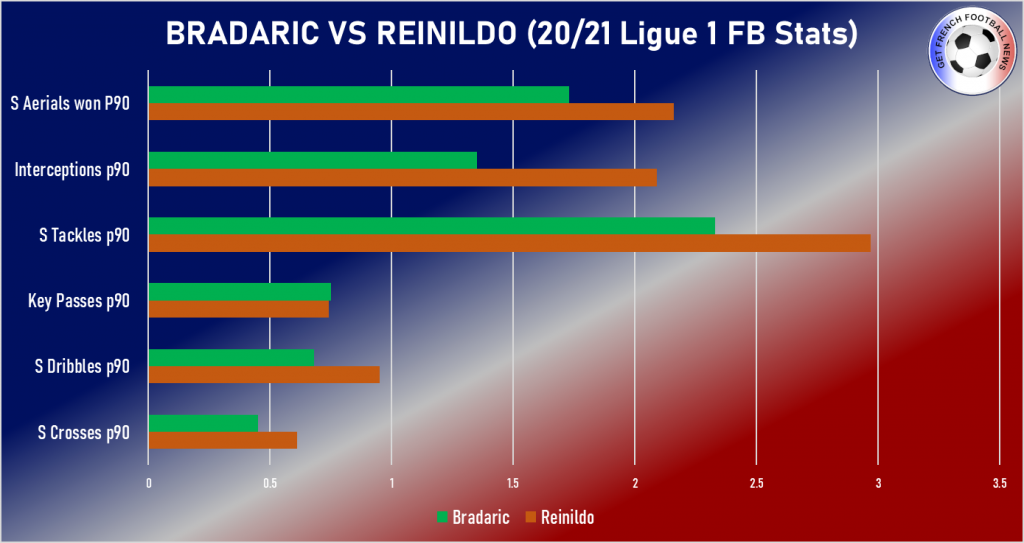 What does the future hold?
It is still worth reiterating that Domagoj Bradaric is extremely young. He turned 21 in December 2020, and he is hardly the only under-performer in Lille's side. Jonathan Ikoné, Luiz Araujo, Boubakary Soumaré have all made errors and seen their form slip throughout 2020/21. 
Bradaric's career is hardly in freefall, and this season will just be an important lesson for the Croatian. He has got to work on his ability in the air, and how threatening he is going forward. Losing minutes to the experienced Reinildo will be painful in the short term, but another season in Ligue 1 will be helpful for his development. He is also set to play in Croatia's U21 side for the U21 European Championships. This tough season could still end well for Bradaric, and it will hopefully prove to have been a positive learning experience come the end of the 2021/22 season.