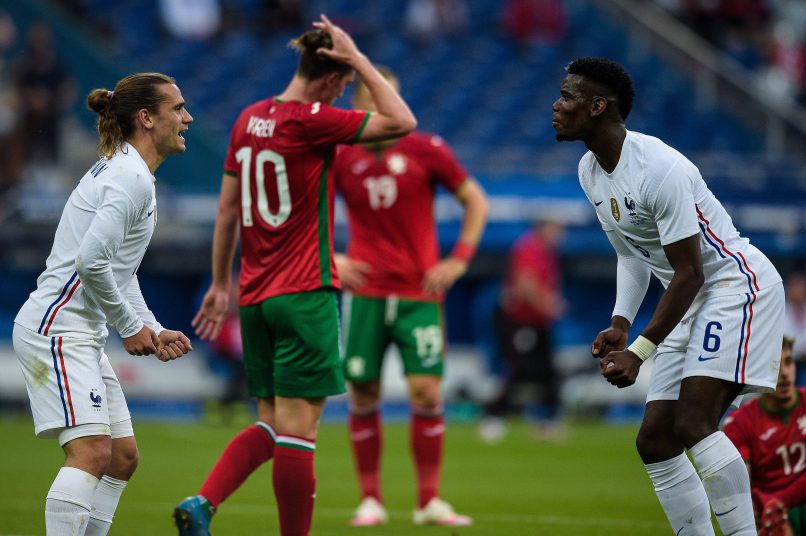 French Friendships – A Guide to the Social Circles Forming in the Les Bleus Camp
As revealed by L'Équipe, here is some insight into the friendship groups that were either pre-existing or are currently forming across the French national team's 26-man EURO 2020 squad.
There are 12 new players in this group compared with the 2018 World Cup squad – several significant characters, who might have grabbed the Kylian Mbappé – Olivier Giroud tensions by the scuff of the next this week had they been there – are now missing: Adil Rami, Samuel Umtiti and Blaise Matuidi were all major dressing room leaders.
Paul Pogba – Interconnecting Generations
At the heart of keeping groups together is 28-year-old Manchester United midfielder Paul Pogba, who enjoys strong relationships with the vast majority of the squad. It was no accident that Didier Deschamps sent Pogba on Thursday to the first press conference following the release of information in the press about the difficulties endured between Mbappé and Giroud. Deschamps uses Pogba frequently to send messages to the wider squad, as he is able to connect easily with all generations.
His friendship with Antoine Griezmann is incredibly strong and well-known. The pair's families are even close. In England, Kurt Zouma, who also played with him at the U20s World Cup, is his best professional footballing friend who he sees regularly during a season, with the pair visiting each other in Manchester and London. Pogba also has a link to Lucas Digne, who was another member of the U20s World Cup squad for the 1993 generation. The Manchester United man has also struck up a close bond with Presnel Kimpembe and is able to exchange openly with key individuals like Hugo Lloris, Raphaël Varane and Kylian Mbappé. On top of this, Pogba makes an effort with the new arrivals, having taken Marcus Thuram under his wing somewhat in recent days.
Antoine Griezmann – The Class Clown
Aside from his relationship with Pogba, Griezmann is far closer with Ousmane Dembélé than he was at the 2018 World Cup, quite logically owing to the duo now being at Barcelona. The duo share a number of hobbies, including the NBA and video games, and are also some of the key pranksters in the squad. Griezmann also enjoys close relationships with the "Atletico Madrid family" – i.e. Thomas Lemar and Lucas Hernandez. Above all, Griezmann is fixated on ensuring that as many squad members are laughing and smiling on and off the pitch as much as possible.
Karim Benzema & Kylian Mbappé – A Speedy Bromance
The Benzema & Mbappé have got on like a house on fire, with an instant connection and the PSG man seeking to learn from the Real Madrid striker as much as possible as quickly as possible. Generally speaking, Dembélé and Mbappé share the same friends, they are inseparable – having formed a trio at the 2018 World Cup with Benjamin Mendy, Dembélé and Mbappé have gravitated towards Thuram. Mbappé also likes to have quieter friends who he can relax with, N'Golo Kanté and Thomas Lemar being the duo he looks to in this regard. Mbappé, Kanté, Lemar and Nabil Fékir formed a bit of a gang at the 2018 World Cup, but the Real Betis man is of course missing this time.
Presnel Kimpembe – An Evolution
The PSG defender has become a starting player for EURO 2020, which was not the case at the 2018 World Cup, which has necessarily resulted in him taking more social leadership. He is the lynchpin in the "PSG" social group which includes Adrien Rabiot, Kingsley Coman and Mike Maignan. Kimpembe has also become closer to Pogba, which has resulted in him building friendships with a diverse set of characters including Moussa Sissoko, Varane and Kanté.
Hugo Lloris – The Veterans
Lloris has slowly seen his previous best friends in the national team fade from view, including Christophe Jallet and Laurent Koscielny. His relationship with Steve Mandanda has improved and he is very close with Olivier Giroud. The duo and their families hang out regularly together in London. He has a strong and trusting relationship with Varane. Mandanda in the meantime is seen as the big brother of the squad. Giroud, as seen with the Mbappé episode, is not especially close to the younger generation. He is well liked by Zouma and Kanté, and is close to Benjamin Pavard and Léo Dubois, as well as Clément Lenglet and Sissoko.
The Bayern Camp
There is also a Bayern group that has formed in recent months, with Corentin Tolisso, Pavard, Hernandez and Coman all being very close.
N'Golo?
Kanté is liked by everyone in the camp, perhaps unsurprisingly, but is closest with Monaco striker Wissam Ben Yedder, who is another shy character. WBY does hang out with the Griezmann clique at times for playing video games and has also been very welcoming to Jules Koundé, who he briefly crossed paths with at Sevilla.