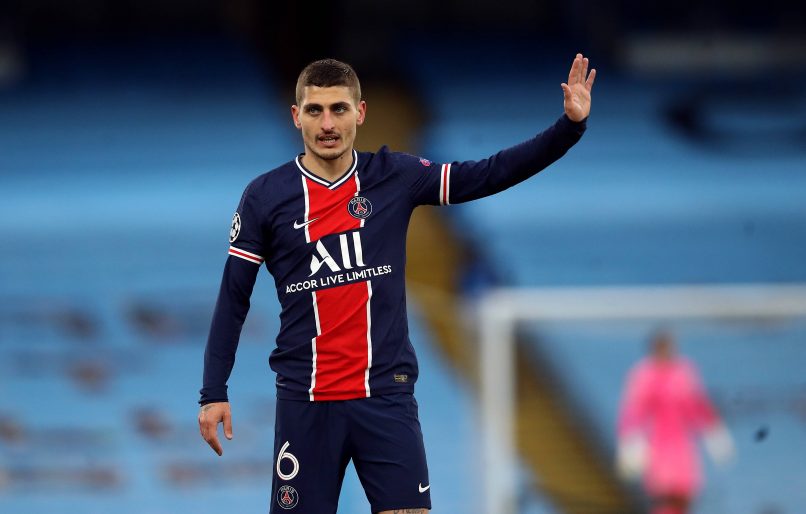 Marco Verratti: "We are going to try again, we are going to try again until we die."
Speaking to RMC Sport, Marco Verratti sought to sum up his emotions following a Champions' League semi-final exit at the hands of Manchester City.
"Of course, we were one step away from the final, so of course there is disappointment. Disappointment because we believed, up until the red card, that we were in the match, I believe that we had a lot of chances, we played much better than them. We conceded a goal with their first chance, a bit like in the 1st leg. That makes the difference when you play against great team. We are proud to have fought until the end, to have looked them dead in the eyes and to have tried everything. In football, it is like that. Over the last two years, we have reached the final point, we have done a good campaign. I do not have a lot else to say, we are sorry, but we are going to try again, we are going to try again until we die, each time that we are here, we are going to try again. In the end, we did not succeed."
"It is difficult but this is football. We know how it goes, when we play against Bayern, City, it is difficult to be perfect during 90 minutes. When I came home after the 1st leg, I saw on the TV that we were "catastrophic," that we did a "shit" second half. But sometimes, speaking on TV is very easy, when you play matches against great teams, it is impossible to spend 90 minutes attacking, 90 minutes without suffering. We have to accept that, sometimes it is not PSG who wins, but also the other teams. Today, I think we played with a lot of personality, in the first half, City had just one shot on goal. We have to believe, because one day or another, it will also happen for us. Against Bayern we had a bit of luck, today a little less, that is football. We have to keep getting to the final stage each year, one day or another, we will be in the final."
On the referee telling Leandro Paredes to **** off:
Me too, he said to me f*** you twice. Me, I have never said f*** you because if I say f*** you I get banned for 10 matches. I speak a lot with the referee, but I have never allowed myself to say something like that. He said it to me, for them, it is normal, if we do that it is 10 matches, but it is not the referees fault, we did a good match. We said before the match that we had to give everything, each of us had to give everything. Football is like that, they are two great teams, City deserve it too, it has been 6 or 7 years, that they have been working with the same coach, this is their first final. We also have to be happy with our campaign, because this is twice now that we have reached the final 4, we have to continue like this. The coach has just arrived only 5 months ago, he gave us great courage, we came here to play with the ball, that is the most important thing. We promise that each year we are going to try to get to the final and win this Champions' League.