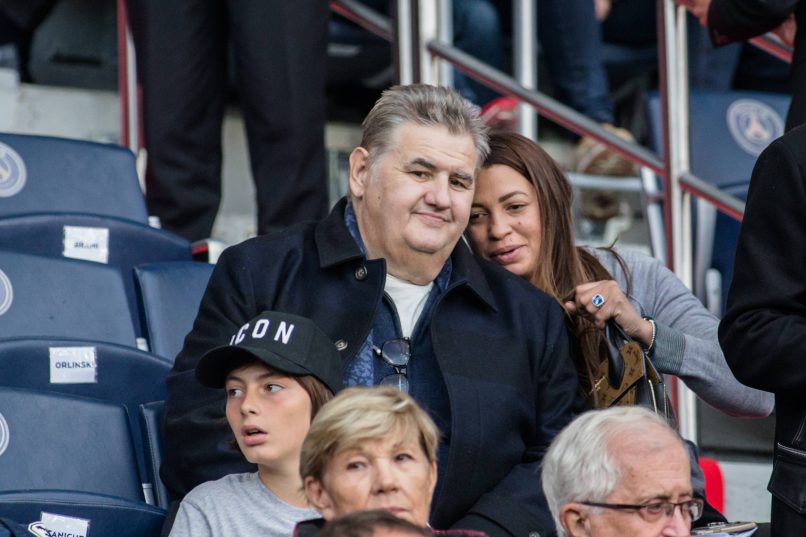 Pierre Ménès, caught in sexual assault scandal, also being sued for moral harassment
Canal Plus' top pundit, Pierre Ménès, last night appeared on TPMP to respond to accusations that his employer had censored a documentary put out on Sunday night by Marie Portolano, in which the male journalist was confronted with two historic accusations of sexual assault, dating from 2011 and 2016.
In an appearance on Canal Plus' nightly magazine show hosted by Cyril Hanouna, Ménès was asked to explain himself and was also shown one of the segments that Canal + initially censored from the documentary, where Marie Portolano confronts Ménès for lifting up her dress and smacking her buttocks at the end of an episode of Canal Football Club, the French equivalent of "Match of the Day," in 2016.
Ménès said the following in the passage that was shown:
Why do you have this reputation of being a misogynistic pundit?
I can't explain it. I am (apparently) sexist but I am the only guy who tried to do a show with only women (19:30 PM, Friday night football magazine show on Canal + that now no longer exists). So where is the truth? We have to distinguish between what's unacceptable and then everyday things. If we can no longer say anything to a woman because she is a woman, I am sorry, that is sexist. To tell a girl that she looks good wearing something low-cut. I find that a nice thing to do. I remark that in terms of low-cut you haven't exactly treated me to day (looks towards Portolano's breasts, she is wearing a sweatshirt). I banter people at Canal Football Club, but it is my way of existing.
On when he lifted up Portolano's dress in 2016 in front of a studio audience:
I don't recall. Not at all. I don't remember that at all. 
Would you do that again?
Um, yes.
Lifting someone's dress up like that?
Um, yes.
Even knowing that it could be humiliating?
Did I humiliate you?
Yes.
Oh, I am sorry. But, we also need to take people as they are. I was hired because I am a personality. I am not playing a personality. I might have lifted up your dress, I have to be honest I don't remember that at all. But was I inappropriate with you one time?
Well, yes, then.
Not that time. Independently of that.
We are talking about the system as a whole.
What is for sure is that if you were a man I would not have lifted up your skirt. That is obvious. That is more my rebellious side. If I can't banter a girl because she is a girl, that is not acceptable. "No, no I won't joke with you because you are a girl." Is that not shocking? That's super shocking. I am so used to having women around me in my professional life that I do not see a difference (between men and women). For me, a woman, a man it is the same.
When asked to explain himself live on Monday night, Ménès claimed that he was the victim:
"It is horrible. It is horrible for me, it is horrible for my wife above all who is being insulted in proportions that are far bigger than everything that you can reproach me for in that sequence and things attached to it. There are death threats, a deluge of hate. "I hope that you will get up on the roof.""
"In this sequence I do one thing stupidly, that is to say that I would do it again. Why? When Marie tells me about this incident, I am flummoxed. But now I know why I don't remember. Because the facts, and they are facts, occurred on 28th August 2016. That was my last appearance on Canal Football Club before I became ill for 7 months and disappeared from screens."
Ménès is separately facing a moral harassment suit, brought against him by a former employee, Emmanuel Trumer. The ex-Canal + employee, who essentially acted as Ménès' assistant, is arguing that he was bullied by Ménès.
An examining magistrate has been appointed to investigate this case, despite the initial complaint being thrown out in October 2020 because a separate suit lodged in May 2020 in Nanterre in December opened the way for the matter to be further examined, but he has not yet heard from the Canal + columnist or the one who accuses him.
"We will be able to add to the testimonies of all these women who were humiliated or belittled by Ménès, which clearly shows that this behaviour is not at odds with character and it is not only Emmanuel Trumer who was subjected to this behaviour," specifies Didier Seban, the lawyer of the former assistant of Pierre Ménès.
"We have testimonies from the production company (where Emmanuel Trumer was employed at the time) and other people who assure us how much Pierre Ménès has always been respectful with Trumer and valued him", has clapped back Ménès' lawyer, Arash Derambarsh. Pierre Ménès has also counter-sued his former assistant for "public defamation", with Trumer having notably accused Ménès on his personal website of "uninhibited racism" and "very serious behaviour towards women." A hearing on this case has been set for June 14th 2022, at the Paris Criminal Court.