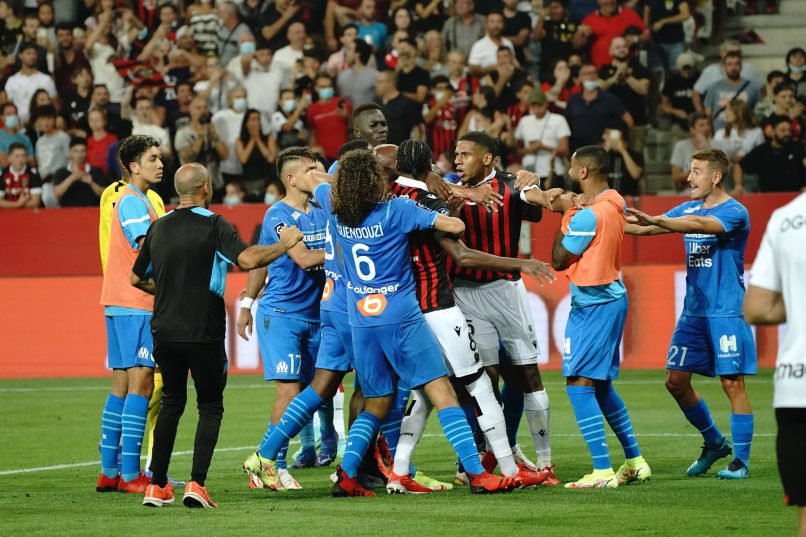 Round Up | This week's major stories you might have missed on GFFN
1) Jérôme Boateng sentenced to pay ex-girlfriend €1.8m in damages following domestic violence charges (Thurs)
Bild reported on Thursday evening that, after his appearance in court in Munich, Lyon defender Jérôme Boateng was found guilty of assaulting his ex-girlfriend in an altercation during a holiday which was reported in 2018.
The former Bayern Munich man has been sentenced to pay the victim €1.8m in damages, consisting of 60 daily payments of €30,000 each.
Boateng and his ex-girlfriend gave contrasting accounts of what happened on a vacation in the Turks and Caicos Islands. According to the prosecutor's office, the former German international is said to have thrown a glass lantern and a cooler bag full of drinks at her, allegations which had been denied by Boateng.


2) Nice docked two points with Marseille game to be replayed on neutral ground (Wed)
On Wednesday evening, the LFP gave their verdict on the outcome of the suspended Nice-Marseille game, which had been interrupted by a pitch invasion on the part of the home side's ultras and an ensuing mass brawl involving fans, players and members of staff.
The disciplinary commission has ruled that the match will be replayed behind closed doors, on a neutral ground. In addition, Nice have been docked two points – although one of those points is a suspended sentence.
OM defender Álvaro González has been banned for two games, while Dimitri Payet – the target of bottle-throwing from Nice fans, who sparked the pitch invasion by throwing one back – was given a suspended one game ban. Meanwhile, Marseille physio Pablo Fernández was handed a nine month touchline suspension for his role in the events on the pitch, lasting until June 30 2022.

3) Eduardo Camavinga on move to Real Madrid: "It's one of the best days of my life." (Wed)
Speaking at his unveiling as a Real Madrid player, French midfielder Eduardo Camavinga expressed his satisfaction at making the move to Spain, underlining that playing for Los Blancos had been a long-time ambition of his.
His words transcribed in L'Équipe, the former Rennes man pointed out that he was looking forward to learning from the club's experienced midfield three as well as working to get as many minutes on the pitch as possible.
"It's one of the best days of my life, you also have my first France match which generated a lot of emotion. I'm very happy to be here among the big names of football. It's a dream, I'm really happy. I've wanted to join this great club since I was a kid, so I will give it my all to satisfy the supporters. The moment I found out I was coming, I thought back on all the trouble my family and I have been through, to be here today is more than an honour."
"The first factor was not money, it was joy. As soon as I had the chance to come, I jumped on it. I know I will thrive here. When you think of Real Madrid, you think of the Champions League titles, of Ronaldo, Zidane, Figo, and all the other legends that have played here. Then you have Benzema who is an idol. He helps the youth, he's close to younger players like with Vinicius, and on top of that he is French."
"My role will be to learn [from Casemiro, Kroos, Modrić]. I'll have to show the manager that I am here and give it my all in training, work hard, and then try to get some minutes to play as much as possible. I'll learn from their experience and longevity, because those guys have been up there for a while. I'm often asked about my position on the pitch. I like to play a defensive role, but I'm young, I'll have to adapt."

4) Joan Laporta on Antoine Griezmann at Barcelona: "He wasn't the player we needed." (Tues)
Speaking to Catalan TV channel Onze, Barcelona president Joan Laporta discussed Antoine Griezmann's spell at the club and whether the Frenchman's signing was a failure, admitting that the forward was not the player the team needed.
The World Cup winner recently made his return to Atlético Madrid, where he played between 2014 and 2019, in a dramatic deadline day move, returning on loan after a two-year spell with the Catalans with mixed fortunes.
"I think that everyone was expecting more from him, because he gave everything and didn't have a questionable attitude."
"We know what kind of player he was and is, he's a great player. I think he didn't fit in our system, but I think he showed a very good attitude. I sent him a message wishing him well, because he's always had the correct attitude. In footballing terms he wasn't the player we needed. He scored goals – I think the one he scored in last year's Copa del Rey that we won was very important – but it's true that he could have given more. But he was under difficult circumstances."

5) PSG interested in signing Milan's Franck Kessié (Mon)
Foot Mercato reported this week that Paris Saint-Germain have initiated talks with AC Milan midfielder Franck Kessié and his representatives, the Ivorian being out of contract at the end of the season.
PSG could be set to offer the 24-year-old a €9m per year salary, higher than the Rossoneri's last offer of €6.8m per year.
Les Parisiens have also made contact with the midfielder's club, with directors Leonardo and Paolo Maldini discussing a potential move in January which would see the Serie A side receive a small transfer fee, rather than losing Kessié on a free.
The former Atalanta man begins his fifth season with the Rossoneri, having impressed last season as Milan finished in the Champions League spots after a title push for much of the season.