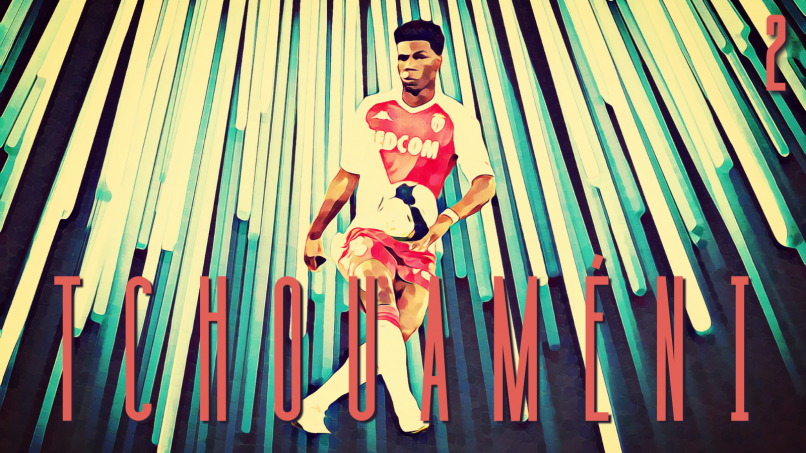 SERIES | Top 20 Transfer Targets for 2022 – 2nd: Aurélien Tchouaméni (Monaco)
This feature is the latest in our series looking at the top 20 hottest properties in Ligue 1; those players to keep an eye on this season and who are most likely to feature heavily in the 2022 summer transfer window. Look out for 1st place tomorrow and follow the run down in full here on GFFN
"We were in steamroller mode," recalled Aurélien Tchouaméni in L'Équipe. "We constantly had this desire to crush our opponents." In assessing his team's effervescent form in the second half of last season, Monaco's 21-year-old French international midfield general did a good job of describing his own unstoppable year. However, as a powerful, striding, dynamic presence but graceful and supremely technically gifted too, Tchouaméni is far from just a steamroller.
Having emerged at Bordeaux as an 18-year-old, Tchouaméni's technical ability was obvious, but his ability to affect games wasn't. Nor was his best position. The youthful Tchouaméni was too slight and too easily shoved off the ball while he failed to truly excel as a ball winner, a creative move instigator or a dynamic box-to-box man. He was always assured in possession but applying his talent to matches effectively was a slow process.
Tchouaméni's move to Monaco in January 2020 was perfectly timed and pitched. Monaco recently switched back to the recruitment policy that helped win Ligue 1 in 2017. The club have returned to signing burgeoning talent with meaningful experience that's ready to blossom complimented by experienced pros to guide those prospects and lead the side, such as Wissam Ben Yedder and Cesc Fàbregas. Tchouaméni took his opportunity, joining a club keen to give youth a chance after his development curve had started to plateau at a struggling and unstable Bordeaux.
The move coincided with significant physical growth too. Previously lightweight and lean, Tchouaméni was suddenly broad, powerful and striding confidently around midfield. His physicality and aggression now matched his technical ability. "In modern football," Tchouameni told L'Équipe in March, "you have to get good very quickly. The train doesn't leave the station forty times… Our generation is in more of a hurry."
Since Niko Kovač replaced Roberto Moreno in summer 2020, Tchouaméni quickly became Monaco's most important player. With Kovač's fluid set up moving between a Christophe Galtier-esque 4-4-2 and a three at the back set up as right-back Djibril Sidibé shuffles across, Monaco can lack numbers in deeper central areas. Tchouaméni and Youssouf Fofana, however, cover the ground and maintain possession with ease due to their combination of tenacity and vision.
"I immediately said to myself that this guy was very good," Fàbregas told L'Equipe in August. "My favourite thing about him is his attitude, he asks questions all the time. We can see that he wants to progress." To motivate himself, Tchouaméni jots down inspirational quotes picked up while reading. "I read a book about Kobe Bryant and, before a game, when I need motivation, I will read some passages I've noted on my phone. I'm currently reading a book on the period when the All Blacks were at the top, their coach talks about their mentality on a daily basis… I also read Michelle Obama's book because she's such an emblematic figure."
This season, Tchouemani's role has shifted slightly. Nominally the midfielder to push on more often and join attacks last term, while Fofana sat as a sentinel, Tchouaméni is now the more defensive of the two. It's a role he's suited to. Over the last year, Tchouaméni's 2.49 interceptions per 90 minutes puts him in the top four percent of midfielders across Europe's top five leagues, while his 4.01 tackles per 90 minutes put him in the top two percent, according to Fbref.
However, the graceful, ball-carrying Tchouaméni has suffered as a result and that reduced freedom is partly responsible for Monaco's recent lack of intensity. With Fofana slower on the half turn and relatively easily dispossessed – even if he can bulldoze through the lines when he gets running – Monaco miss Tchouaméni's consistency of power and vision when progressing play.
In truth, Tchouameni's best position would be as the most dynamic and mobile central presence in a 4-3-3 or as the more expansive deeper midfielder of a two man set up in a 4-2-3-1. Both systems would afford Tchouaméni a holding player to provide security for forays forward and a more creative teammate ahead, either next to him in a three or a number ten, to play off and allow his passing to flourish.
At time of writing, despite that deeper role, no one at Monaco has completed more passes that enter the final third or, just like last year, progressive passes in total than Tchouaméni this season. Meanwhile, only Caio Henrique, Wissam Ben Yedder and Gelson Martins have a better xG assisted rating, that being expected goals from shots assisted by a player's passes.
There's a low-key but commanding and unerring confidence to Tchouaméni's play and persona as well as a strong sense that Monaco is merely a stepping stone. "I have goals, dreams, a desire to play for the best clubs, to win titles, to impact my sport and my position," Tchouaméni told L'Equipe this week. "I want to leave a mark. It's not just about playing football, earning money, titles here and there, and then doing something else with my life – I don't want to end my career like an average player, and to be forgotten." Utilising a personal video analyst, the studious Tchouaméni instead wants to become "a complete player" and it shows. "When there is a midfielder that excels in a certain area, I take inspiration from them to try and progress," he says.
Having broken into Didier Deschamps' France squad this year, notably excelling in the Nations League final, Tchouaméni is – aside from Kylian Mbappé and his impending free agent status – Ligue 1's hottest property. Although concrete interest was thin this summer, it's growing with Juventus, Manchester United and Real Madrid all now linked.
Given his impressive displays in a holding role this term, Tchouaméni could become the deep midfielder United desperately lack. However, with Paul Pogba's contract situation uncertain, Tchouaméni would be best used as a Pogba replacement, in terms of position if not style, with Tchouaméni unable to match Pogba's glorious range of passing. Meanwhile, for French observers, not least Deschamps, with Toni Kroos and Luka Modrić aging, a Casemiro – Tchouaméni – Eduardo Camavinga triumvirate is an exciting prospect indeed.
Teammates joke about a seemingly imminent departure but, for now, Tchouaméni isn't being distracted, describing his appearance on the front of Spanish sports daily Marca, as "cool but what is it worth? Nothing." As one of the most promising and effective talents to emerge from The League of Talents in recent years, the elegant but powerful Aurélien Tchouaméni is much more than a just a midfield 'steamroller.' However, still just 21, the Frenchman's development as a professional, and his career in general, is likely to be just as unstoppable.
AW