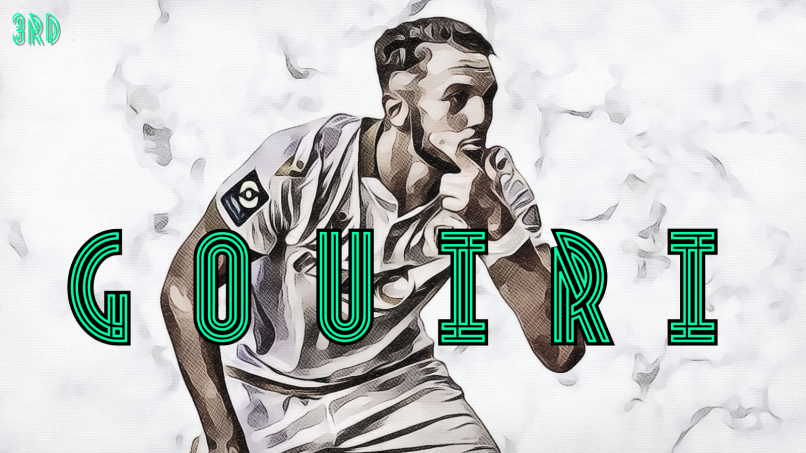 SERIES | Top 20 Transfer Targets for 2022 – 3rd: Amine Gouiri (OGC Nice)
This feature is the latest in our series looking at the top 20 hottest properties in Ligue 1; those players to keep an eye on this season and who are most likely to feature heavily in the 2022 summer transfer window. Look out for 2nd place tomorrow and follow the run down in full here on GFFN.
If you'd looked at the top teams by goal difference in Europe across the first five match days, you'd have found the usual suspects; Bayern Munich, Chelsea, PSG. The outlier in the top ten was OGC Nice. With Amine Gouiri upfront, Nice had won four games, conceded three and scored 15 with Gouiri contributing to just under half of that goal tally. Now tallying six goals and four assists in his first 12 games this season, the 21-year-old currently leads Ligue 1 in goal contributions.
The French forward arrived from Lyon last summer for a mere €7m after spending seven years in the OL youth setup. Since then, only seven players have contributed to more Ligue 1 goals plus assists than Gouiri. Make no mistake, this is one of Europe's most lethal up-and-coming all-round forwards somehow slipping under the radar. With senior experience at left wing and as a number nine, 2022 could be the last time this dynamic attacker can be picked up for a fee that isn't record breaking.
Gouiri was meant to be the darling of a new wave of French talent at Lyon. He'd made his way into the French national team's youth system as early as 15 and has been included in matchday squads for Lyon since he was 16. Unfortunately for OL fans, their promising talent only played 292 senior minutes. His departure came at the end of the shortened 2019/20 season when Lyon landed seventh under wildly unpopular boss Rudi Garcia.
What was striking about Gouiri was that he joined Nice with nearly zero senior experience. A combination of injuries and commitment to Lyon had seen Gouiri avoid loan spells as well as first team football. Patrick Vieira would depart soon after Gouiri's arrival, leaving his Nice side close to Ligue 1's bottom three before Christmas 2020. Gouiri, though, would remain consistent throughout a glittering 2020/21 season. In fact, only twice did he go four games without contributing to a league goal, finishing with 12 goals and 7 assists.
Gouiri would end up spending slightly more time as a centre forward but his best work comes drifting to the left hand side. As a right footer, his heatmap from last season profiles similarly to the likes of Atlético Madrid forward João Félix. Both players drop to the left, away from the opposition penalty box, before carrying the ball inside past defenders. It's a trait that has continued this season with Gouiri completing the most progressive carries in the OGC Nice squad so far with 73 after 12 games.
Under new coach Christophe Galtier, Gouiri's attributes will only develop further. There's a reason Galtier is the hottest coaching property in France right now, he's at the top when it comes to tactical nous and player development, as shown with his work with Lille in last season's title win.
So far Gouiri has partnered mainly Kasper Dolberg upfront in Galtier's 4-4-2 system, helping Nice progress the ball down the left and often pulling wide, looking to receive the ball in space before moving towards goal. Gouiri is extremely well equipped for this task given the Frenchman's ability to bring any ball under control instantaneously. While two of his six goals this season have come from the penalty spot, creatively Gouiri is causing havoc.
Gouiri is currently in the top 15 in Ligue 1 for expected assists per 90 while no one in France is averaging more expected goals plus expected assists per 90 than Gouri, his 1.03 betters even Kylian Mbappé. All this attacking promise could be ruined by a poor attitude, or a lack of defensive work rate. Yacine Adli, Adrian Rabiot, and other French talents have seen their reputation suffer due to these issues. Thankfully, though, Gouiri is a hard worker.

Under Vieira, and caretaker manager Adrian Ursea, Nice's form stuttered and tumbled as playstyle shifted. It would have been easy for a young head to drop but Gouiri continued to pull his weight in the final third. Only four others at Nice blocked more passes per 90 last season. In fact, Gouiri compared well to Liverpool's Sadio Mané, attempting just 0.2 tackles per game less than the Senegalese forward.
Indeed, Liverpool would make a lot of sense as a future destination for Gouiri, who's versatile enough to play either at centre forward or left wing in Jürgen Klopp's system. Genuine interest remains varied, however. Before his move to Nice, Real Madrid made an approach to Lyon in January 2020 while, during the UK's initial Covid lockdown, Celtic had their efforts to sign Gouiri rebuffed too.
By 2022, Gouiri may have settled as a striker, which could make him a more approachable target. There are obstacles, however. Now supported by UK Billionaire Jim Ratcliffe's INEOS, Nice are one of Ligue 1's richest clubs having also raised at least €20m in sales every year since 2017. Gouiri's contract also runs to 2024. If Nice were to sell Gouiri, they'd look to better his current €31m Transfermarkt valuation. However, if Gouiri continues to average a goal or an assist every 97 minutes in Ligue 1, then that price tag may be worth paying. Who knows what Gouiri's valuation will be in the Summer of 2022.