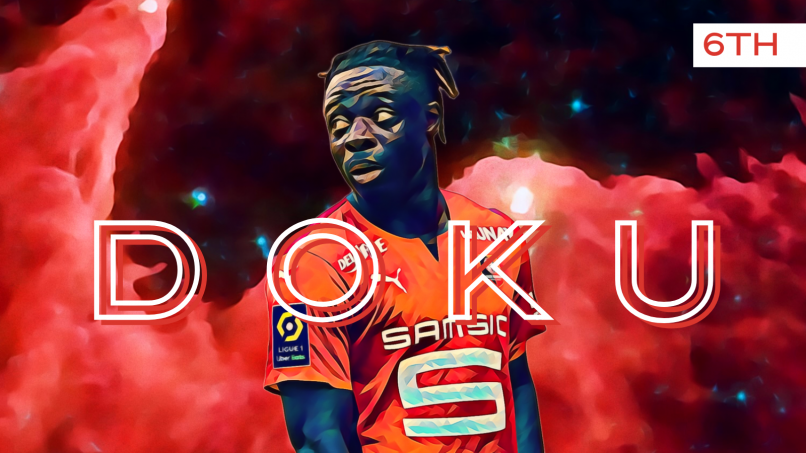 SERIES | Top 20 Transfer Targets for 2022 – 6th: Jérémy Doku (Rennes)
This feature is the latest in our series looking at the top 20 hottest properties in Ligue 1; those players to keep an eye on this season and who are most likely to feature heavily in the 2022 summer transfer window. Look out for 5th place tomorrow and follow the run down in full here on GFFN.
Key members of Belgium's national team squad have something in common. Age. The golden generation are all either nearing or in their thirties, with their chances of international silverware seemingly slipping despite still being ranked number one in the world. Roberto Martinez's EURO 2020 squad included just one player under 24, one seen as the future of the team, Rennes teenage winger, Jérémy Doku.
Still just 19, Doku has already racked up one full season in the Belgian top flight and one in Ligue 1. With his eye-catching pace, an unpredictable style fools defenders on a weekly basis. Already touted as Sadio Mané's replacement at Liverpool, Doku is yet to match Mané's goal scoring exploits, however. Even at RB Salzburg and Southampton, Mané was a threat and, under Jürgen Klopp, the Senegalese wide man has become a reliable goal scorer and someone to depend on. Doku, meanwhile is often almost unplayable with the ball at his feet but erratic in front of goal. Nevertheless, this special talent is raw but ready and, under the right coach, he could be developed into a superstar.
Comparisons between Doku and Mané come from Klopp himself. Aged 15, Doku was invited to Liverpool's training ground, where, according to his father, David, Klopp "explained to us that Jérémy could replace Mané in a few years." Since becoming Rennes' record signing, and Anderlecht's record sale, for a hefty fee of €26m, Doku has taken great strides. He's evolved into a winger capable of withstanding the physical nature of a top five European league while also impressing during European cameos.
The Belgian typically plays off the right, allowing him to beat his full-back down the line with blistering speed, but he's equally capable of playing on the left and cutting inside. Two goals and three assists in Ligue 1 last season doesn't inspire but if he were to move to the left on a more regular basis, he could find that goal-scoring touch. A problem with that plan comes via Rennes' new signing Kamaldeen Sulemana (19). The Ghanaian was brought in from Danish club FC Nordsjaelland, despite interest from Manchester United, and has already hit the ground running on the left with three goals in his first six league starts, more than Doku managed in 26 league starts last season.
However, comparisons could be made with a younger Raheem Sterling who managed to score 18 goals and add 11 assists playing on the right for Manchester City in their Premier League title winning 2017/18 campaign. A shaky finisher at best in his early days, Sterling has perfected the art of arriving at the back post under Pep Guardiola, it's something Doku could learn from.
Frighteningly fast and standing at just 5'7, Doku is nimble, tricky, and hard to predict. What differentiates him from many other wingers is his versatility of style. At times he takes little touches of the ball, just like Sterling, before quickly changing direction, while he can also opt for a couple of heavier touches into space, relying on his pure pace to beat his man, akin to Adama Traoré, making him tough to defend against.
Difficult to bully off the ball, Doku's physicality can now compete with seasoned professionals despite his youthfulness. Doku always looks to beat his man and isn't afraid of losing out in a duel. Some wingers are discouraged if their opponent is dominating, but not Doku, he instead uses that as fuel to go again, and usually he ends up winning the battle.
Of 6.6 attempted dribbles per 90 last season, he was successful with 4.3. That 65% success rate was far better than Neymar's 56% and higher than Lionel Messi's 64% in La Liga. In fact, Doku's 4.3 successful dribbles per 90 ranked second in Ligue 1 for players with over 1,000 minutes, first for players with over 2,000 minutes and sixth across Europe's top five leagues using the same metric.
That goes to show just how dangerous he is, and the fact he's still a teenager is even more encouraging. Wingers do tend to peak earlier than those in other positions but Doku still has several years before he reaches his top level, making the next few years arguably the most important of his career. Natural development aside, Rennes coach Bruno Génésio could have a major impact on the player Doku becomes, especially over the next 12 months. Wingers often find their killer instinct in their later years, so Doku has time to discover that trait.
Italy right-back Giovanni Di Lorenzo will be well aware of Doku's abilities. The Azzurri triumphed in their EURO 2020 quarter-final clash with Belgium but it was Doku who arguably shone brightest. His eight dribbles were not only a match high but more than double second placed Nicolò Barella with three. With Doku a constant threat down the left, Di Lorenzo was forced to stay alert for the entire 90 minutes and made a huge seven tackles, but Doku caused him more problems than any other attacker in the tournament.
The next step for Doku is producing regular output. His xG and xA per 90 tally last season was a measly 0.24, so not only is he failing to rack up impressive goal and assist numbers, he isn't getting in the right positions either. That frame of mind and knack for being in the right place at the right time will come and, for someone in the 97th percentile for progressive carries per 90 in Europe's top five leagues (10.78) according to Fbref, Doku has a significant base to build upon.
Currently out with a hamstring injury, the Belgian has managed just 151 minutes of league action so far this term, last featuring in a 1-0 win over Nantes on August 22nd. But, with Liverpool sniffing around, a move away from Ligue 1 could be imminent. For one of the division's most dangerous prospects, it would be fully justified.