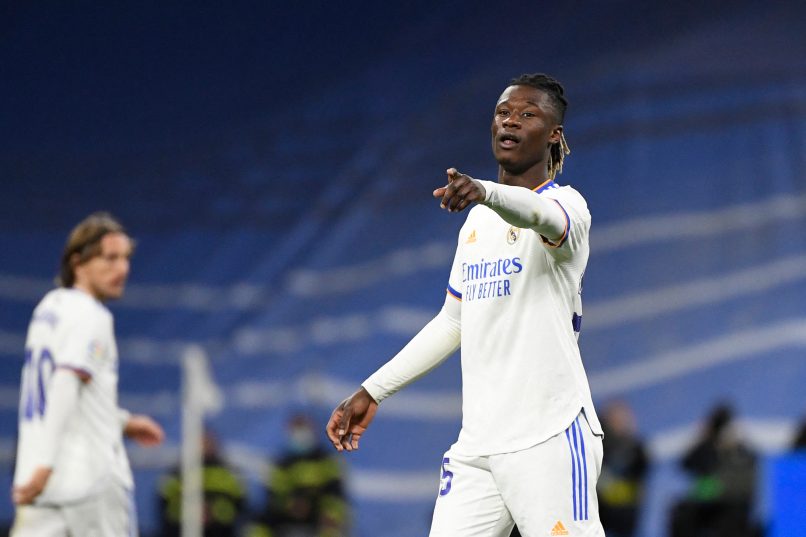 Eduardo Camavinga on Rennes: "I nearly threw up"
Following his move from Rennes to Real Madrid last summer, 19-year-old French international Eduardo Camavinga spoke to One Football about his very young career.
Having joined Rennes at the age of 11, Camavinga became the club's youngest ever player at the age 16, making his debut against Angers in April 2019. Playing at such an early age required a significant adjustment. "The first training session, I suffered physically. I nearly threw up, it seems. And then I adapted to it, I progressed," said the teenager.
After his impressive performance against PSG in August 2019, he explained that people started to take notice. "After the game, I received some mad messages. Even from my parents. People were saying to me, 'what you did was mad!' But I didn't realise it at the time. That changed the way people saw me."
On his transfer to the Spanish capital last summer, Camavinga said that he tried to remain calm until it was official. "The first time I heard about it, my agent came to the house at the end of the transfer window. With my parents, we didn't jump with joy, because we know that nothing is ever certain in the world of football until it's signed. So we stayed calm. But once it was confirmed, we jumped with joy."
"Everyone wants to play here," said the Frenchman about his new club. "Once you sign, you enter into a new dimension. I have a lot of memories of Real in mind: The Champions League final against Atlético, the one against Liverpool with Bale's overhead kick."
On his current teammates, he said, "There's Casemiro, I really try to learn from him tactically. Before matches, he tells me to play simply, to be efficient. And then there's Luka Modric and Toni Kroos. I learn from these three because I can play in any midfield position. And I should be ready when the coach calls me up."
Asked whether there is any pressure in playing for Real Madrid, he answered, "I wouldn't say pressure. It's something that motivates you, because you know the club you're stepping into can count 13 Champions Leagues. And the Champions League is the objective. You have to give everything. The objective is clear: to win the fourteenth Champions League."