"For me, Alexander Nübel has the quality to become one of the best goalkeepers in Europe, in the top 10," claimed AS Monaco manager Philippe Clement in the wake of his side's 2-1 victory against Lyon earlier in September. It wasn't so long ago that the Bayern Munich loanee's appearances were the subject of much less enthusiastic remarks. But the sounds of critique have since dimmed, giving way to proclamations of the German goalkeeper's almost unbridled potential. As Nübel told Get French Football News' Luke Entwistle, he believes that he has refound his "rhythm" at Monaco after a difficult period at the Bundesliga champions. 
The shackles of Neuer comparisons 
When Nübel arrived for the start of his two-year loan deal in July 2021, he did so with a bagful of pre-conceptions. The previous summer, he followed in the footsteps of German great Manuel Neuer in making the move from Schalke to the Bavarian side, and having played second-fiddle to Germany's no.1 at Bayern Munich, the comparisons drawn were almost unshakeable. 
"I think the comparisons [to Neuer] were part [of the criticism]. Luckily, I couldn't read the newspapers over here," he joked. "The criticism was very hard, too hard in the beginning. I wasn't playing at my top level, but nor was I playing as badly as what was being reported. You have to handle it. For me, the most important thing is the criticism from my goalkeeping coach (Frederic de Boever), and from the manager. These guys tell me the truth every day," he told Luke Entwistle. 
With criticism arriving from all angles, he was selective to whom he listened. During those tough first few months, he retained the support of then-manager Niko Kovac. "It always helps when you have the coaches of the coaches and the manager. With Niko it was helpful. I knew it wouldn't be easy at the start," said Nübel. 
Firstly under Kovac and then later under Clement, with whom Nübel says he shares a "good connection,"  he has remained an undisputed starter in all league and European fixtures. Having staved off competition from Radoslaw Majecki, who has since gone in search of game time at satellite club Cercle Brugge, he has further consolidated his position as the no.1 this season. Thomas Didillon made the opposite journey and left Belgium to join the Principality club. Whilst he will push Nübel in training and likely feature in cup competitions, he is not the player to challenge the German goalkeeper's supremacy. "It's always good to have a coach who sees your potential, and so you try to give everything back during the games," he said. 
"I think I have my rhythm back."
That faith shown in him is certainly being repaid. Even by the end of last season, Nübel's performances ranked him amongst the Ligue 1 elite. Only OGC Nice's Walter Benítez (7.1) prevented more goals than Nübel (4.8) during the past league campaign, prompting the club's sporting director Paul Mitchell to question the criticism of his summer signing. "Alex is a top player. This summer, it was one of the areas where we said we couldn't improve. I don't understand the harshness towards him. From January to May, there weren't many better goalkeepers in Europe," he said. 
The beginning of this new campaign has seen a continuation of his upward trajectory. Aided by a natural adaptation afforded by the passing of time, he has improved his connection with his back-line, whilst the presence of fellow Germans Kevin Volland and Ismail Jakobs (the latter has opted to represent Senegal at international level) also facilitated the growth of his confidence, especially through the most difficult moments.
"Kevin and Ismail were very important to me, especially Kevin who arrived one year earlier than me. It's much easier because I can speak German with them… it's important because you can talk about something else after training, after the games. We could just drink coffee and talk about other topics," said Nübel. But just like on the pitch, the German has also improved his communication, allowing him to connect better with his back-line, and contributing to his 85% pass completion rate (before matchday eight in Ligue 1). "Although I have to learn the language more, on the pitch it's okay," he began. "I can communicate with the guys in front of me, in English or in French, so that's a lot better than before. I think you can see the connection between myself and the guys in front of me is a lot better than last year."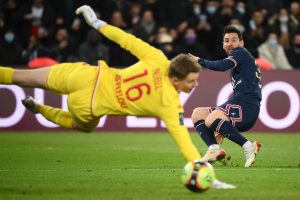 Whilst communication and confidence are indispensable for a goalkeeper, Nübel attributes huge importance to "rhythm" and thankfully for him, he believes he has now re-discovered it. "I think now I have my rhythm back from my time at Schalke. That was a factor in my difficult start, as it wasn't easy without rhythm, without games at Bayern. Now it's much better," he said.
During his sole season at Bayern Munich, he only featured four times. Clearly pigeon-holed as the no.2, he found game-time very limited. "Rhythm is very important for a goalkeeper. Normally, you don't change 'keepers during a game, or even during a season. It's something different compared to training. The rhythm and on-pitch actions are sometimes completely different. Seeing where the space is on the pitch is an important feeling to get back," he said. 
Having re-found his "rhythm," he is once again displaying his finest form in the red and white of Monaco. Despite confessing that he "doesn't want to be spectacular" in his shot-stopping, some of his saves have certainly caught the eye at the start of the season. But it is the underpinning numbers that provide a more clear view of Nübel's undoubted quality. No goalkeeper has made more saves than the German (38) in Ligue 1 this season, he has been awarded man of the match on three occasions, and he has kept three clean sheets in his last five games in all competitions. His performances are manifesting themselves into points; having faced more shots than any other goalkeeper in the league this season, Monaco's start-of-season report could look very different if not for the German goalkeeper. 
His performances are down to a myriad of factors, including the guidance of Monaco's goalkeeper coach de Boever. "He's a great goalkeeper coach," he began. "He helps me a lot and talks about my game: how to keep the ball, what positions I need to take up, and when to be more offensive or defensive."
He has also had the opportunity to train with the best. Denying reports of a strained relationship with Neuer, Nübel reflects positively on his time spent with Germany's and Bayern Munich's no.1 "I learned a lot about his general game and his connections with the guys in front of him… He's one of the best goalkeepers ever," he said. 
"He 100% changed [the way we see goalkeeping. He is always trying to keep possession… when you see top teams in Europe, they all have goalkeepers who play well with their feet… At Bayern, we, as goalkeepers, played a lot of possession games with the team and you saw barrel any difference between him and the outfield players during those games," said Nübel. 
"It makes no sense to go back to Bayern."
Although very much in the Neuer mold, as a calm and confident player with the ball at his feet, through his move to Monaco, Nübel is deviating from the path of his more experienced compatriot, and it is uncertain as to whether he will rejoin that path or carve out a new one altogether. 
Neuer's longevity at the top level throws into question Nübel's planned return at the end of the season, with the latter no longer content with playing the role of second-choice. "Game time is definitely the most important thing. If Manuel is still at Bayern, and he does have a contract until 2024, it makes no sense to go back. I have a contract at Bayern, but I also think for them it makes no sense to have both me and Manuel," said Nübel. 
That raises a question mark over his long-term future. Mitchell claimed in late August that Nübel could be a "long-term player," and the German goalkeeper isn't closed to the idea. "There are good options to play at a good level. Everything is open. [Monaco] are also an option, of course," he said. 
As is always the case in football, the future is dictated by what is done in the present on the pitch. In AS Monaco, and in Clement he has an admirer, but only time will tell how long their shared narrative will last.
GFFN –  Luke Entwistle