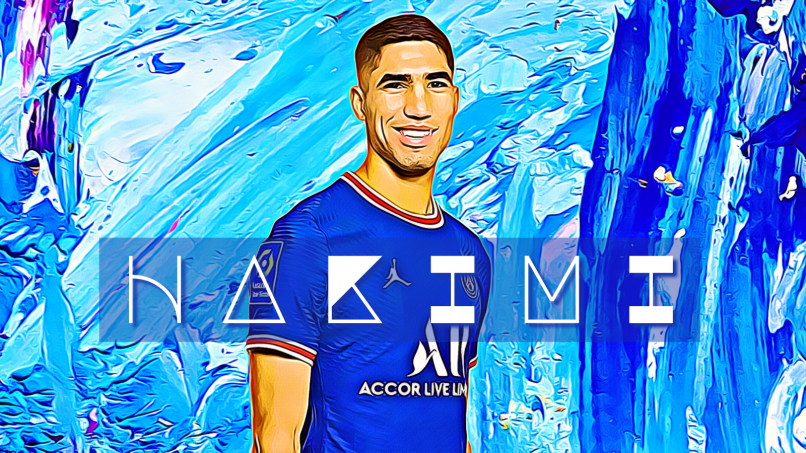 FEATURE | Morocco's free-kick wizard Achraf Hakimi flourished in 2021, is he the key piece of PSG's 2022 puzzle?
This article is taken from the new GFFN 100 2021. The GFFN 100 ranks the top 100 players in French football over the past 12 months, see the full list and read all 100 profiles right here on GFFN.
Achraf Hakimi was the key driving force of Inter's attack for much of last season. The Moroccan dominated the entire right-hand corridor with his lung-bursting sprints and incisive attacking contributions. His seven goals and 10 assists for the season make impressive reading, even when taking into consideration the importance of the wing-back role in Antonio Conte's set-up.
Although he'd already impressed in his two-season loan spell at Borussia Dortmund, this was the year that Hakimi established himself as one of the world's premier right-sided players. His speed, inch-perfect crossing and ability to take players on has seen him excel at both of his club sides in this last year – from combining with mercurial strike duo Romelu Lukaku and Lautaro Martínez at Inter, to lining up alongside PSG's star front three.
The fact that the Moroccan international was Inter's third top scorer last season is a testament to how crucial he was to the forward line, and how often he found himself in advanced positions. Hakimi is also a more than capable defender – especially considering he started his career further up the pitch – even if his task at Inter was facilitated by a rock-solid three-man backline of Alessandro Bastoni, Stefan De Vrij, Milan Škriniar who constituted the best defence in the league last season. Because of the sheer amount of ground he is able to cover, tracking back from high up the pitch is rarely an issue. Adept at last-ditch slide tackles and jockeys alike, Hakimi is no stranger to defending, even if modern football's wing-back position sees defensive nous valued less and less in favour of deployment as an all-out attacker.
He did struggle initially in his first couple of months with the Nerazzurri, with Matteo Darmian occasionally being the preferred option. A few moments of defensive fragility as well as inefficiency going forward appeared to suggest that his form from Borussia Dortmund would not be carried over to Serie A. When things did eventually click for Hakimi, it coincided with Inter's incredible run-in, losing only once from January 6 to May 15 as they sped to the title – including an 11-game winning streak to overtake previous frontrunners AC Milan. At his deadliest on the counter – the more space ahead of him, the better he is – the Madrid native benefitted from an improved set-up which saw Conte's men defend slightly deeper and hit their opponents on the break, to great effect.
What's clear is that nine months under Antonio Conte have taken Hakimi to the next level, rounding off his already-impressive skill set with some vastly improved defensive attributes. By the end of the season, he had progressed well past the status of a promising talent he arrived with, into a player who was not far off being the finished product – and Inter reaped the rewards.
Nevertheless, the title celebrations were short-lived as Inter's internal chaos finally caught up with them. With owners Suning in financial difficulty, this summer saw an exodus of many of the key elements of the title winning-squad, from top scorer Romelu Lukaku to Conte himself. Hakimi was the first big name to leave, dismissing what had been strong interest from Chelsea in favour of a move to Ligue 1.
Having been PSG's sole summer signing to come with a transfer fee, the wide man picked up where he left off with a barnstorming start to his career in France. Mauricio Pochettino's lack of a clear attacking strategy made Hakimi's initiative-taking all the more apparent. Much of the team's early-season forward play depended on their 22-year-old new season, as the more high-profile arrivals settled in. His transfer may not have garnered the media attention of Lionel Messi or Sergio Ramos' arrivals, but it was abundantly clear that he would be a crucial piece of the team Les Parisiens were building, in his own right.
But even the Real Madrid youth product was unable to keep the pace up for long, and his red-hot form eventually cooled down as the winter months drew on. The team's oscillation between a three or four-man defence has visibly caused Hakimi some problems, with the latter system not as suited to his attack-oriented skillset. Playing in a less structured and well-defined defensive set-up than under his previous manager, Hakimi is even said to have commented in private on the lack of cover PSG's backline is afforded, according to L'Équipe. 
The Serie A winner nevertheless remains a considerable upgrade over the club's past options at right-back, and in more open games on the European stage will prove a vital asset in their hunt for a Champions' League title. He had a forgettable continental campaign with Inter last season – finishing bottom of their group, albeit paving the way for their incredible form in the run-in – notably giving the ball away to Karim Benzema to score in a 3-2 defeat to Real Madrid.
With his club decidedly set on winning the big prize this year, the 22-year-old will be expected to defend against some of the world's best all the while acting as a facilitator for the likes of Lionel Messi and Kylian Mbappé in the knockout rounds, the latter of whom he has struck up a very close bond with in a short space of time. A tough ask, but if anyone's capable of it, it's Achraf Hakimi.