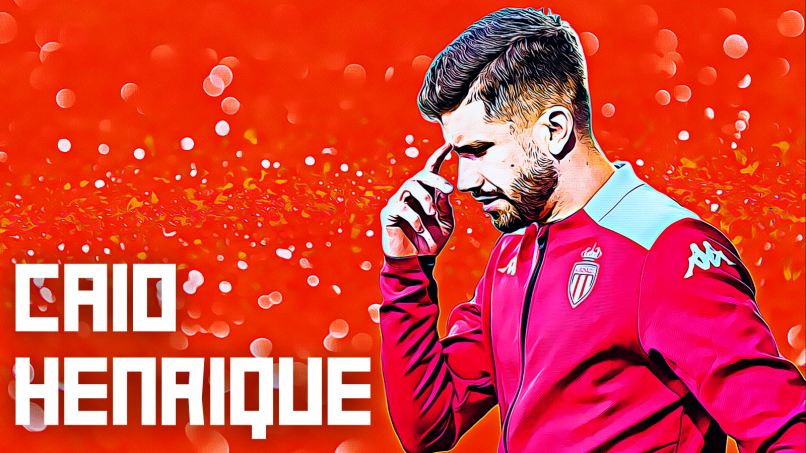 FEATURE | Now Ligue 1's best left-back, things haven't always been so straightforward for Caio Henrique
This article is taken from the new GFFN 100 2021. The GFFN 100 ranks the top 100 players in French football over the past 12 months, see the full list and read all 100 profiles right here on GFFN.
With Juan Bernat injured, and Jordan Amavi and Hassane Kamara suffering precipitous drops in form last season, the question of Ligue 1's best left-back remains one that's not terribly easy to answer. Mozambique international Reinildo was a key element of Lille's title-winning side last year, but his standards have admittedly dropped in the current campaign. Nuno Mendes, the teenage prospect signed from Sporting Clube de Portugal, is the latest example of Paris Saint-Germain's largesse, but he is far too inconsistent in terms of his defensive abilities to really be considered in the upper echelon just yet.
Might the answer lie, then, not in France, but in the Principality of Monaco, where Caio Henrique has surely but slowly established himself? On the evidence of both the early stages of this campaign and AS Monaco's brilliant form in last season's run-in, the 24-year-old can stake a claim to that title. In the first half of the season, no left-back in the league has more assists than the Brazilian's five, with another three coming in European play. Indeed, in 2021 Henrique's 13 assists was the most for a Brazilian across all competitions from a club in Europe's top five leagues.
He'd also made more tackles than anyone else in the Europa League this season, being a key factor in helping his team not only rebound from the disappointment of narrowly missing out on the Champions League group stage, but also navigate arguably the competition's most difficult group unbeaten.
Of course, none of this was a given for Henrique, who arrived at the Stade Louis-II in the summer of 2020 without having made much of an impact in European football, despite having just turned 23. A product of Santos' vaunted youth academy, he had joined Atletico Madrid in 2016 for a paltry €300,000, not for a lack of prospects but for he and the club having reached an impasse on contract negotiations. A captain of Brazil's under 20 side and a key part of the side that qualified for the Olympic Games in Tokyo, he was a regular for Los Colchoneros' reserves. However, he found a place in the first team hard to come by. With Filipe Luís and Lucas Hernandez firmly entrenched ahead of him, that was never to be the case.
A succession of loan spells back to his home country followed, at Paraná, Fluminense and Grêmio, the last of these being curtailed by the pandemic. He performed admirably in the Brazilian top flight, although his clubs foundered. However, despite impressing on loan, he looked no closer to finding a path to the first team. After the departures of Hernandez and Filipe Luís, countryman Renan Lodi arrived in 2019. With Mario Hermoso capable of filling in at left-back and Yannick Ferreira Carrasco looking sharp as a wing-back, he was still far from being a nailed-on starter.
Left-back had been a problematic position for AS Monaco prior to his arrival. Following the departure of Benjamin Mendy, the team had employed a veritable rogues' gallery at the position, with the likes of Antonio Barreca, Fodé Ballo-Touré, Gil Dias, and Jorge representing the better part of €40m spent on the position. The Frenchman, signed from Lille, was impressive enough going forward, but lacked the tactical rigour to succeed at the level of Monaco's ambitions, while about the remaining trio, the less said, the better.
Thus, with nearly one hundred appearances as a professional, and costing a relative snip at €8m, his move across the Pyrenees was beneficial for both clubs and the player. Djibril Sidibé was a capable option at the position, having played there regularly for Lille, should Henrique's move not work out. The Brazilian also offered a level of tactical versatility in being able to play up and down the left flank, either as a wing-back, as an orthodox left-back, or even on the wing in a flat midfield four.
He started the 2020/21 season injured, but once fit, became a regular part of the first team. Having come on at half-time in an embarrassing 4-1 loss to Lyon in late October, he would go on to feature in every match, both cup and league, save two, for the rest of the season. He would help spur the team to a legitimate title challenge that was undone only by a last ditch save on the part of Lille's Mike Maignan and a freak loss to a ten-man Lyon side. Henrique admitted to CodeSport that his adaptation wasn't exactly smooth, but he sees Ligue 1 as being "very physical. The attackers are fast, always looking for space. We defenders absolutely need to be focused at all times. The slightest inattention can have big consequences".
After an uneven start in Ligue 1 for the club, the current season has seen more of the same brilliance. Recent results have seen the team click into gear domestically as well as in Europe, edging closer to the top five on the back of recent results, improving defensively at the same time as Wissam Ben Yedder and Kevin Volland have hit form.
The 24-year-old explained to Nice-Matin early this season that, in addition to the rigour with which he plays, he also views his experience, increasing comfort with the language and maturity as being key in establishing himself as a role model for younger teammates. "I may have a little more experience now, I feel comfortable expressing myself, to set an example for the young players in the squad."
He has dovetailed brilliantly with the similarly versatile summer signing Ismail Jakobs. A more cautious presence than the younger German, Henrique's profile is that a of player who may lack pace, but his intelligence, work rate, and cultured left foot allow to affect the team's attacking play to a far greater extent than might a pacier player or one more with more flair about their game.
Interest from abroad, and also from Paris Saint-Germain, has bubbled under on the back of last season, showing Henrique's performances haven't gone unnoticed outside the Principality. However, a debut for Brazil's senior team isn't forthcoming. For the moment, rather, Henrique is satisfied with focus on progress in the Europa League and a top-three place in the league, his improvement testament to both the club's acumen in the transfer market and his own motivation. Tested as an attacking midfielder in Philippe Clement's early games as Monaco coach, 2022 is set to be an interesting one for Ligue 1's best left-back.