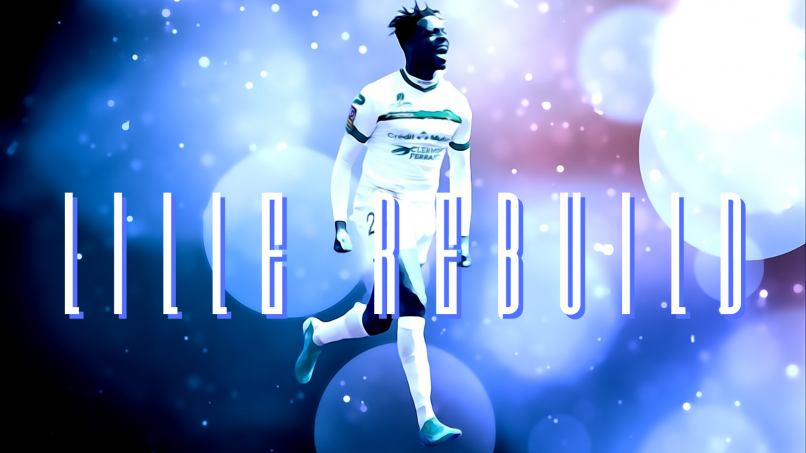 FEATURE | Which Ligue 1 players should Lille sign as they rebuild on the cheap this summer?
This piece is taken from GFFN's weekly newsletter focusing on transfer analysis, young talent profiles and your questions. You can subscribe and read previous editions right here! GFFN Weekly members have a direct line to our team to get their questions answered. Memberships are just £2 a month and greatly support our completely independent organisation. Thanks for reading GFFN!
A year on from their shock title success Lille are finally expected to see a mass exodus during the coming summer window. More bankable stars like Sven Botman and Jonathan David have already intimated they'll be off, while less heralded starters such as Zeki Celik and Jonathan Bamba have been linked with a move for some time. It's not unfeasible that Lille could be looking to sign almost an entirely new team, despite the club's ongoing financial restraints. If they were to focus their scouting on France and keep their title-winning 4-4-2, here's what the Lille of 2022/23 could look like.
GK, Lucas Chevalier (Valenciennes, 20, on loan from Lille) – With Ivo Grbić set to return to Atlético Madrid having failed to assert himself as first choice and been dropped after a disastrous display against PSG, Lille desperately need a new goalkeeper. Second choice Leo Lardim has sporadically impressed either side of Grbić's long run in the side but, at 26, offers minimal growth potential and has, understandably, struggled to match Mike Maignan's commanding calmness. On loan with VAFC this season, Chevalier has been one of Ligue 2's standout 'keepers and could slot neatly in as first choice with Jardim as backup.
Alternative: Etienne Green (Saint-Etienne)
RB, Akim Zedadka (Clermont, 26, free) – After a superb but largely unheralded season with promoted Clermont, Zedadka as a Lille player may soon move from transfer fiction to transfer fact. Foot Mercato reported last month that LOSC were set to beat Sevilla and Lazio to the Algerian's signing who's reliable and considered at both ends. At 26, given his upward trajectory, Zedadka offers meaningful resale value as well as a likely immediate effect on the side.
Alternative: Léo Dubois (Lyon)
CB, Tiago Djaló (Lille, 22) – With his contract running to 2024 and having grown in maturity and focus as a centre-back this season, the versatile Portuguese defender should be promoted to first choice next year with Sven Botman departing. Despite some nervy full-back performances, Djaló is a different player in central areas and he could become 2023's hottest Ligue 1 centre-back, should he continue to improve, which seems likely, in that role next season.
Alternative: Gerzino Nyamsi (Strasbourg)
CB, Yunis Abdelhamid (Reims, 34, free) – Despite pushing 40, José Fonte has been central to Lille's successes of late, both via his flawless defending and being able to nurture an inexperienced defence through pressure moments and, in particular, help develop partner Sven Botman's game. If Lille decided that Fonte's age (he'll be 39 next season) is now prohibitive, Reims' reliable and experienced veteran defender could be a well-suited replacement having successfully nurtured partner and burgeoning talent Wout Faes through his debut Ligue 1 campaigns. Few Ligue 1 defenders are as steadfast and experienced as the Moroccan, although his contract extension (following the release of this GFFN Weekly) makes a move much less feasible now.
Alternative: Laurent Koscielny (free agent)
LB, Ghislain Konan (Reims, 26, free) – Although current incumbent Gabriel Gudmundsson was only signed earlier this season, he's proven erratic at best and out of his depth in Ligue 1 at worst. It's clear Reinildo Mandava, now of Atlético Madrid, needs a more reliable replacement. Stade Reims' Ivory Coast international is at the end of his deal in Champagne and is proven in this division as one of the league's more low-key but most reliable full-backs. Lyon are interested but his signing would be an easy and cheap win for Lille too.
Alternative: Vital N'Simba (Clermont)
CM, Benjamin André (Lille, 31) – With another year to run on his current deal, André is one of few LOSC players sure to stay. Lille need him. As a reliable, consistent and well-rounded midfielder, André's leadership and poise have been crucial to his team's successes in recent times. With such a major overhaul likely, the Frenchman will be key to preserving the club's identity and cajoling a new-look side on and off the pitch.
Alternative: Jonas Martin (Rennes)
CM, Ibrahima Sissoko (Strasbourg, 24, ~€9m) – Sissoko is another player that has largely gone unnoticed despite a breakthrough year. His form may have peaked before the winter break as one of the league's best midfielders of his dynamic, box-to-box type but his energy, direct style and quality on the ball would balance nicely with André's efficiency. However, his fee could fluctuate depending on other interest, given his deal runs to 2024, and which European competition Strasbourg qualify for, if any.
Alternative: Lucien Agoume (Brest, on loan from Inter)
WF, Armand Lauriente (Lorient, 23, €10m) – Despite Lorient's near-disastrous mid-season dip, Lauriente was one of the few players to maintain some consistency while often making decisive contributions to the few points FCL did win. He would add much-needed pace, versatility and vision to this Lille team, as well as a set-piece threat. Burnley were interested in January with Lorient asking for €10m, but Premier League relegation would remove the English side as an obstacle. Otherwise, Lille might not be able to offer the same wages but they would be a much better fit for the pacey forward.
Alternative: Jeff Reine-Adelaide (Lyon)
WF Ludovic Blas (Nantes, 24, €12m+) – Nantes were expected to fight relegation by many this season but Blas' blossoming has been a major reason for a shock European challenge and cup run. Previously, the waspish attacking midfielder lurched between anonymous luxury and creative director on a weekly basis. This season, however, he's found consistency while also raising his level. With talk of a move any higher up the footballing food chain hasty, this would be a prudent next step. With Blas' former Guingamp coach Jocelyn Gourvennec in charge, Lille were interested last summer when FCN were reportedly looking for €12m. LOSC might have to beat that now, however.
Alternative: Bilal Brahimi (Nice, as a loan)
SS, Farid Boulaya (Metz, 29, free) – Few Ligue 1 players are capable of such extremes. Having often proven a match-winner as Metz challenged in the top half before Christmas last season, Boulaya has often disappeared this term as Metz struggled. However, his ability is undoubted and he could be a potent threat in a more attacking, higher-quality team that will provide more him with chances to create. The Algerian international is one of the more speculative names here but he also carries some of the greatest potential. Angers' Angelo Fulgini would be a more agreeable, if less inspiring, option but a €10m-15m fee might be tricky for LOSC depending on fees received for others and the need to book balance while signing other reinforcements.
Alternative: Angelo Fulgini (Angers)
CF, Mohamed Bayo (Clermont, 23, ~€8m) – Although his goals have been more sporadic since Christmas, Bayo has proven he's capable of being a reliable threat in Ligue 1, despite playing for a struggling side. Bordeaux made a €6m offer last summer which Lille would likely have to top and reported Premier League interest could quickly price LOSC out of the market, but the physical, clinical number nine is worth reinvesting some of the sizeable fee the club should receive for Jonathan David. Based on David's recent form, Bayo wouldn't be much of a downgrade.
Alternative: Serhou Guirassy (Rennes)