The office of AS Monaco performance director James Bunce overlooks an impressive, expansive vista. In the foreground, the club's modern training complex, which clings to the rocks of La Turbie, provides a stark visual representation of a club that occupies a unique place on the cutting edge. Below, between the Mediterranean and the mountains, is the Stade Louis II, where the work of Bunce's team manifests itself in a set of physical statistics, which turn Europe's elite green with envy. 
As Philippe Clement's Monaco gear up for another campaign, Get French Football News' Luke Entwistle sat down with Bunce to lift the curtain on Monaco's innovative, holistic approach to physical development, and how this pre-season, they are learning from the errors of the past. 
Beyond discourse
One of the most frequently evoked Clement-isms from the Belgian manager's press conferences last season was how"everyone's involved." Far more than just a trite comment, it was indicative of the club's approach towards the physical development of the side. 
"We focus on the whole 25, not just the starting 11, began Bunce. "The challenge for Philippe, and for us, was trying to build that in season, whilst still playing in three competitions at the time, without causing big injuries, without losing lots of games to the point that it becomes irrelevant what you're doing physically. That was the big challenge. It was like a pre-season within a season when Philippe arrived," the Englishman continued. 
Involving everyone "in the story" as Clement often says, was a difficult undertaking when he took over from Niko Kovac at the beginning of January. He inherited a squad blighted by injuries and heavily depleted by Covid cases. Despite those difficult beginnings, at least from a squad-depth standpoint, Bunce attributes the side's later success to that pivotal period. 
"The work under Niko's time here was really important around building a culture of changing the philosophy of how we work. He was really good at building a basic level of physicality that we could build upon. The biggest change came with the change of head coach," said Bunce. 
He continued, "He had a very modern approach to physical development, around what is required in training in order for it to be replicated in the matches."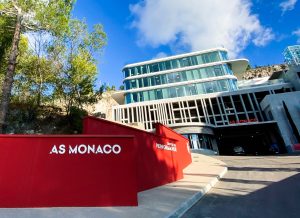 An engineering project 
Bunce's admiration for Clement, both as a manager and as a person becomes immediately apparent. Prior to his arrival at Monaco in October 2020, Bunce had worked with many great technicians of the game, including Mauricio Pochettino, with whom he worked during his time at Southampton. For him, Clement belongs in the elite category. 
"He's a logical thinker, super detailed, and super open to collaboration. My job and everyone else's job is to try to provide him with information to make his team more successful. But he has to also be able to make the decisions that he needs to make from a technical, tactical, mental perspective," said Bunce.
The performance director sees Clement's accrued experience outside of sport as a key facet of his skillset. "I didn't know this when I met him, but he's an engineer by background. He built and designed his own house, so he's very good with detail. He's very good at picking numbers and building a process to reach an endpoint and that perfectly aligns with how you need to think about training," said Bunce.
He continued, "It's not a finished product, how do I need to build the blocks to get to that endpoint? He is genuinely the best coach I've seen at trying to build those blocks and build them on an individual pathway because not every player can do the same training."
The infrastructure at the club has been incrementally built over Bunce's time at the club, although the construction process precedes the Englishman's arrival on the Riviera. Since Dmitry Rybolovlev's arrival as president in 2012, the club has built an ultra-modern training complex, which is a key feature of the club's innovative approach. However, the addition of Clement to this grand construction has facilitated the creation of one of the most athletic, physical sides in the whole of Europe. 
During the 2019/20 season, across Europe's top five leagues, Monaco ranked 76th in terms of total distance covered, 85th in high-speed running, 39th in sprint distance, and 88th in accelerations. Domestically, their physical statistics are probably best described as un-noteworthy. The club was ranked 10th in all of the aforementioned categories, except for sprint distance, where they ranked 3rd. 
The scale of the engineering project has been momentous, and the results extremely impressive. Across Europe's top five divisions last season, Monaco ranked 3rd in all categories, apart from accelerations, where they rank 23rd.  Domestically, they are unrivalled; Monaco come out top in every category. 
"We didn't know the numbers were going to be third-best in Europe or anything like that. We didn't have an objective such as getting into the top-five in Europe in mind. It was a nice by-product of the work that was going on," said Bunce.
Two games a week, every week
Whilst there isn't any stated objective to become the most physical side in Europe, there is a clear objective in mind in terms of the level of conditioning they are hoping to achieve. Consequently, even when Monaco were dumped out of the Coupe de France and the Europa League in March, Bunce and the rest of the performance department deviated neither from their approach nor from their schedule. The intensity was maintained."We decided that we'd change nothing because we still wanted to create the ability for our players to play two games a week, every week: it's part of the mission statement of our department. So we wanted to keep that robustness in the players, even if we didn't necessarily need it, but we wanted to keep that rhythm," revealed Bunce. 
Although Monaco fell short of on-field expectations during that difficult March period, players such as Alexander Nübel and Aurélien Tchouaméni attributed the subsequent 10-game run to off-field preparations during that time.
In a press conference in April Bayern Munich loanee, Nübel revealed the intensity of the physical training during the international break that followed the side's 3-0 victory against PSG. In early May, Tchouaméni revealed, "Relative to other teams we're physically superior. That is allowing us to win matches."
The side's physicality wasn't lost on opposition managers either. "It's nice to hear that our own players are saying that they can run in the 90th minute and the opposition saying that we never stop. That's validation for us," said Bunce.
According to the Englishman, that work allowed the squad to get to a level that they've "never been at," allowing Clement to inherit a squad in perfect physical condition. "If we have that level of comfort – which we believe that they have and the data shows that they have –  then we give them to Philippe in a very good way, to be able to put them out on the field and hopefully go out and get the three points," said Bunce.
A holistic approach 
Whilst bestowing Clement with a full complement of healthy players at their physical peak is the crux of Bunce's role at AS Monaco, his influence naturally transcends his own department. Although, as Bunce says himself, he isn't an "expert" in recruitment, the philosophy of the performance department influences the profiles that Monaco explore.
"An important thing to note is that the training is important, but we also have to give a lot of credit to the recruitment, which is itself deliberate and targeted: it's a young profile, it's an athletic profile, it's players that can play high-intensity football," said Bunce.
He continued, "I'm involved in recruitment with Paul (Mitchell) and especially with Laurence (Stewart), in identifying those talents like an Ismail Jakobs, who is the fastest player in our team, like a Vanderson who runs through walls every day to try to do as much as he can. Getting those profiles right so that you have the ingredients already to build a player is important. You're not trying to change a mindset, because those players are already in that mindset."
Getting those profiles right is of paramount importance in light of what Bunce perceives as an increasingly physical and competitive Ligue 1. "I think that sometimes Ligue 1 gets an unfair reputation. I'm glad that is changing now,"  began Bunce. "For me, I think that the league is growing as an organisation, you now look at the top of the league and there are some great teams now competing all through the season for the podium, and also it's very young. It is one of the most young and talented pools of players in the world, so when you put those two things together, you create this natural intensity and lust to win," he continued. 
The youthfulness of the league is a quintessential element of what makes the French top flight so competitive, according to Bunce:"There are these young players everywhere in the league that are €30m players. I think that creates a natural physicality because of youthfulness, talent, and passion. My job as always is to stay one notch above the league."
Thinking outside the 18-yard box
The methods utilised by Bunce in order to keep "a notch above the league" aren't always conventional. It isn't necessarily a matter of implementing models and ways of thinking from previous positions, but of sometimes looking beyond the sport itself. 
"If I took things from Southampton, where I was 10 years ago, we'd be dead. The evolution of football is constant. I try to 'steal' many ideas from many organisations, but also from many organisations from outside of football as well," said Bunce. 
Whilst it has become more commonplace in recent years for technical teams within clubs to look beyond football for inspiration, Bunce breaks free from the confines of sport entirely. 
"There is a danger that if you only look at football, you end up down a rabbit hole and you don't see what's going on in other environments. In America, I met a lot of people from Baseball, looking at analytics; NFL, looking at strength; working with air-traffic controllers to understand how to manage stress and pressure; working with the Royal Ballet Group to look at how they prepare and train. We're always trying to look outside the obvious to try to find things and keep evolving, but without getting carried away by fads and things that won't add value to the organisation," he said.
In an environment saturated by data, a large part of Bunce's job is now sifting through that, putting the individual at the heart of the club's "data-informed" approach. 
"A sprint within a marathon." 
Part of that human interpretation of data entails looking retrospectively at errors made. An ongoing, rolling process of appraisal and evaluation is key to how Monaco learned from the past. It is no secret that Monaco have – at least partially – attributed last season's failures to the late return from pre-season. The side were ill-prepared for the intense schedule that they faced in August. By the end of that month, the club were out of the Champions League and their domestic form didn't pick up from where it had left off the previous season. 
Monaco have learnt from that experience, with players returning early for pre-season this year."We are really reflective of everything we do. We do something called the 10-game review, so after every 10 games, myself, Paul, Lawrence, the coach, the doctors, we all sit in a room and we debate what we've done, is there anything we could have done better, are there any issues, and we try to always constantly review and improve. As a part of that, we're looking at previous pre-seasons and this is Philippe's first pre-season and we're thinking about what we need to do to be more ready. We feel that we need to give enough time to be ready for Q3 (Champions League play-off)," said Bunce. 
He continued, "Philippe talked about a sprint within a marathon. I think that's a really nice analogy of what it is. We have to win one of the most important games of the season right at the beginning, but also not die because we still need to be performing until May."
Monaco's preparations for the upcoming season are well underway. Before PSG even kicked a ball in a pre-season friendly, the Principality club already had four matches under their belts, and remain unbeaten. "For us, coming back early was about giving us a good six weeks of progression, to allow us to hopefully be prepared to play 14 games in 7 weeks. That's never been done. So we are one of one in terms of what we're going to be going through. Not many people have the ability to imagine what that could look like, so we're trying to develop the best programme."
In that sense, Monaco are heading into the unknown, and there is little room for error. Being slow off the line could hinder them for the remainder of the season, but having learned from past races, they are better equipped to succeed. 
GFFN