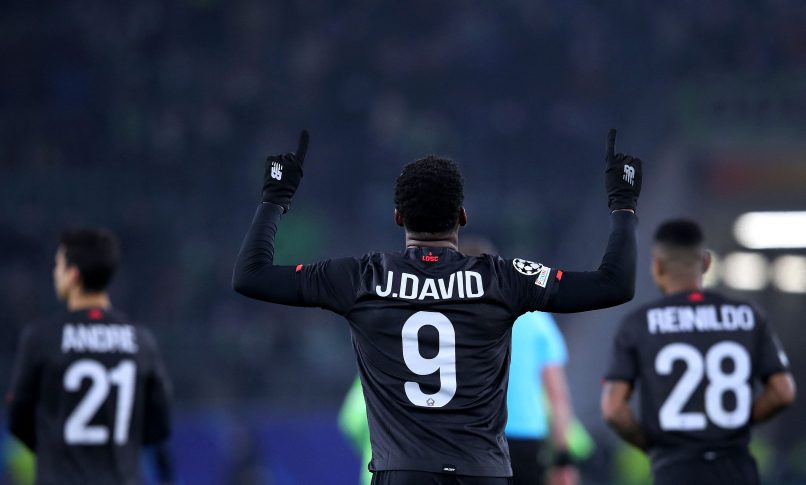 Lille's Jonathan David ahead of Chelsea game: "We'll never throw in the towel."
In an interview with L'Équipe ahead of tonight's Champions League second leg against Chelsea, Lille striker Jonathan David spoke about the task at hand as well as his own experience leading the line for Les Dogues.
Jocelyn Gourvennec's men have a two-goal deficit to come back from tonight as they host the Premier League side, who themselves have been marred by issues of late in the wake of sanctions on owner Roman Abramovich.
Is going through against Chelsea mission impossible?
It's be a very difficult task. Especially because Renato [Sanches] is injured. That impacts us because he's a very important player. But in football, anything can happen and change in 15 minutes. We'll never throw in the towel.
What do you take from the first leg?
That they're a great team, very strong and aggressive. The hardest thing, for me, was to find space in behind the defenders. They follow your runs really well. Their coverage is optimal. They rarely have blind spots. We only had a few opportunities. It's in the final product that it went wrong for us. If we can be more clinical, we can score. But first of all let's stay solid defensively. If we concede, then it really will be mission impossible, whereas scoring first would change everything. Especially in the first 5, 10 minutes. The fans can play a big role, and allow us to put in that 10% extra effort.
Is the pessimist environment an extra source of motivation?
Personally, the fact that no one believes in us doesn't really affect me. The most important thing is that I believe. And all my teammates as well. Because it's up to us to do this job.
Do you feel isolated up front?
Sometimes, yes. In the last few games especially. I suffer a bit because of it. I have fewer opportunities to score. We could be winning 1-0 instead of drawing 0-0. It's a question of getting the right player profiles together. Hatem [Ben Arfa] enjoys playing in between the lines and dropping deep. Burak is different. I'm behind him in the pocket. The manager asks me to keep running deep and play in the same line. I don't do ten a half. But I have to be able to expand my palette, improve and get that in my head. Forwards also have to be provided, they can't do everything alone. We have a few problems with the final ball. At the start of the season, we were having more opportunities. We can find that good form again.
Is that why you've been scoring less recently?
The team itself is scoring less. The final scores have remained tight. But I want to keep scoring and overtake my total from last season when that'll be the case.
How have you progressed in France?
In terms of positioning and tactics. I'm far more aware of where I need to be and when. Where I need to position myself in dead-ball situations, where I need to run, the spaces to exploit. There's a lot more freedom in Belgium. In Ligue 1 and even more in the Champions League, you're watched a lot more [by defenders]. 
It doesn't seem like you enjoy talking about yourself a lot
I don't really care. I'm not looking for the limelight. I don't go on social media. I stay focused on my career, my family, my friends. But I still aspire to become one of the best forwards in the world. I'm working on that every day.