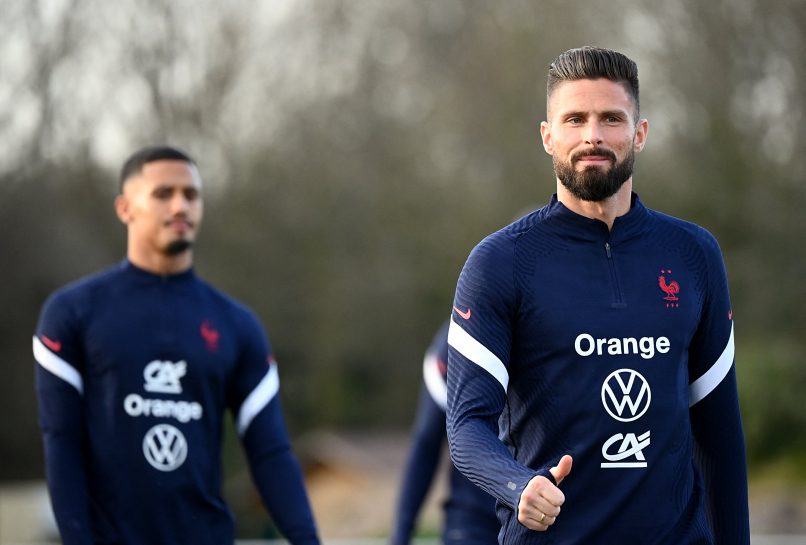 Olivier Giroud on returning to the France squad: "I had never closed the door."
In an interview published in today's L'Équipe, Milan striker Olivier Giroud discussed his return to the French national team, having been absent since last summer's Euros tournament.
The forward notably spoke about his relationship with manager Didier Deschamps, as he arrives to replace the injured Karim Benzema.
On whether he always believed he'd return
I had never closed the door. I never announced my international retirement, which means I still believed in it! Especially when you wear a shirt like that of Milan, when you remain competitive and score with that great club and that you're top of Serie A. The coach knows about the demands of that league.
On returning after the Euro 2020 fiasco
All of that is behind me. I see this return as a gift, a bonus in my career. I knew that if I performed well with Milan, I could keep the door ajar. I had that in the back of my mind. But it's not an obssession.This return to the national team comes from my good work and performances with Milan.
On his relationship with Deschamps since the Euros
The coach had sent me a message on my birthday [September 30]. I think it was the day before he announced his squad for the Nations League final 4. We spoke to each other then. Since then, there hadn't been much. Up until that phone call last Saturday. He left me a message before our match against Cagliari. He told me to call him before having a nap, I was pleasantly surprised.
On whether he sat down with Deschamps one to one
We had planned that discussion for Monday night, but we celebrated "Ninou's" [Antoine Griezmann] birthday. And that lasted a while! We made the most of it. We were together, happy to see each other again. It felt good. The coach could feel it.
We had never spoken face to face since the Euros. Even if I had come to terms with a lot of things, there was that need to talk among responsible adults. […] The coach knows my state of mind. He knows I'm fresh, available, and always 200% with the French national team. I always told myself that better days would come through hard work, self-sacrifice and perseverence. I'll be happy to have that discussion with the coach. I'll listen to what he still has to say to me.