John Textor appeared alongside Olympique Lyonnais president Jean-Michel Aulas in a press conference in June, posing with a Lyon shirt. However, five months later, the American businessman's takeover still hasn't been completed, despite the passing of numerous deadlines, the first of which was set for 30th September. The official reason provided by Lyon? The completion of the deal is subject to the agreement of the British footballing authorities.
Textor is only obliged to notify the Premier League of his impending purchase of Lyon. So why hasn't it been done? Or is this the true reason behind the protracted situation that we are currently witnessing? 
Textor's Eagle Football Holding Limited is a multi-club project, that already includes Premier League side Crystal Palace, Brazilian side Botafogo and Belgian second-division side RWDM Molenbeek. However, the American is looking to add Lyon to the group, and it is being claimed that his involvement with Crystal Palace is proving problematic. As stipulated by Premier League guidelines, should an owner wish to acquire a Significant Interest in a foreign club, they are only obliged to notify the League through the completion of a 'Dual Interest Notice.'
The Premier League says: "a Club shall forthwith give notice in Form 5 to the board if any person either directly or indirectly holds, acquires, or having held or acquired, ceases to hold any Significant Interest in the Club." A copy of said form can be viewed below: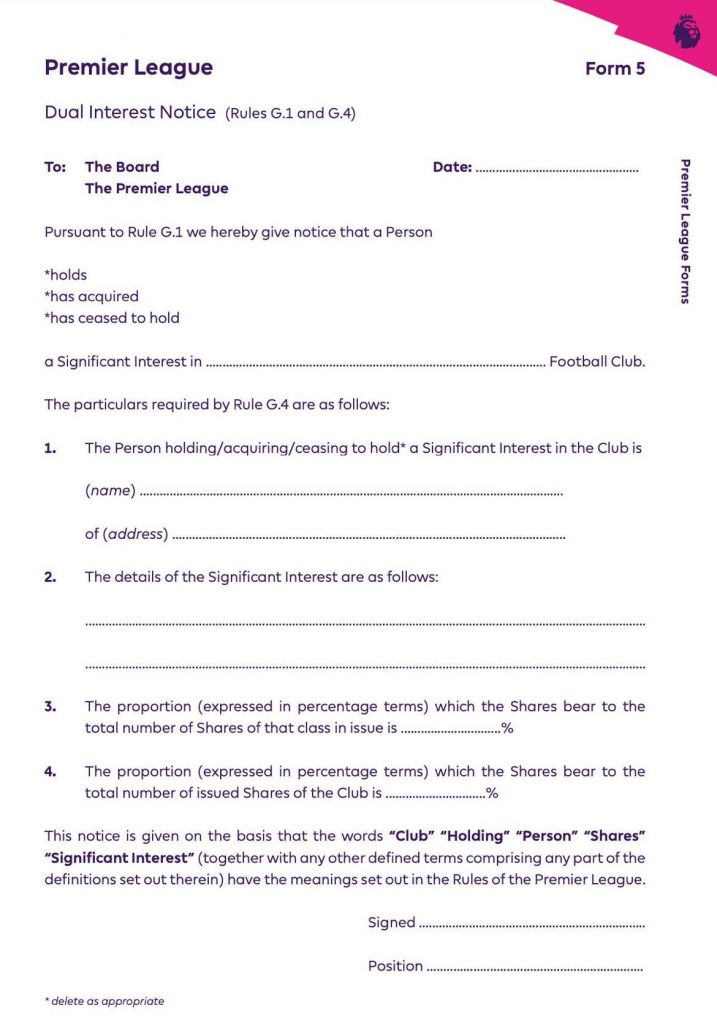 According to Ed Aarons, Textor wishes to transfer a 40% share of Crystal Palace, previously in his name, to his company Eagle Football Holdings Limited. It is the approval of this transfer that is now holding up the deal and complicates what would otherwise be a very simple bureaucratic procedure, according to the journalist. However, nowhere in the Premier League guidelines does it stipulate that a transfer of equity comes under the umbrella of the English football organisation. No shares are being sold. 
Contrary to claims from Lyon, it is Get French Football News' belief that the deal is not being held up by the English footballing authorities. For reference, the City Group, the owners of Premier League side Manchester City, purchased Ligue 1 side, ESTAC Troyes, back in September 2020 without encountering such difficulties.
Another club owned by Textor's Eagle Football Holdings Limited, Botafogo in the Brazilian top division, have had certain payments such as bonuses and commissions delayed in recent months, as reported by RMC Sport. Whilst all staff have been paid, the management have stated that "We are currently paying considerable unforeseen club debts." 
The funding of Textor's bid to buy Lyon, like the reasons for the non-completion of the deal to date, is mired in vagueness. Cannae Football Holdings were initially backing the American businessman's bid, however, contrary to L'Équipe's report that Bill Foley's investment was pushed back by Lyon creditors, sources contacted by Get French Football News have revealed that Foley had concerns over Textor's ability to manage the asset, and pulled out on his own accord. Foley has since decided to undertake his own football interests through the acquisition of Premier League side Bournemouth, where he will crucially have total control, subject to passing the Premier League fit and proper tests.
Ares Management are now reported to be involved in the bid to buy the club, as reported by Bloomberg back in September, but there is no confirmation of this. The constitution of the bid is therefore ill-defined. 
Textor has already passed through the DNCG, France football's financial watchdog, without any issue being flagged, however, his purchase is being repeatedly pushed back. The final date given was the 17th of November, but that day came and went without any announcement being made. L'Équipe now report that a decision on whether the operation will go ahead will be made on Sunday evening. 
John Textor and the Premier League have been contacted for comment.
GFFN | Luke Entwistle