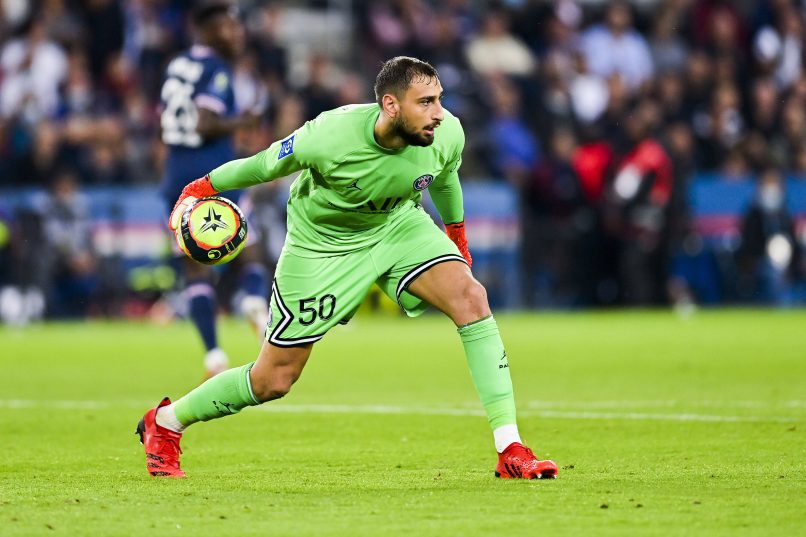 Who should be the starting goalkeeper at PSG?
Paris Saint-Germain F.C, a little known club from France, bankrolled since 2011 by the Qatar Sports Investments (QSI) with Nassar Al-Khelaifi as current club president. With a reported worth of $8billion you would be mistaken for thinking the club had a lack of talent available to them. In almost every position they have top tier talent, including, goalkeeper. Today we'll be looking at the two big names that PSG have fighting for that number one spot, Keylor Navas and Gianluigi Donnarumma and trying to figure out who we think should be their number one, after all, as fans we know more than the managers, right?
Before we get started, it's probably worth noting that we are in January right now, otherwise referred to by those in the know as silly season, one of two times of the year where, especially for clubs with money like PSG, you'll find them linked to anyone and everyone, this isn't me suggesting by any stretch of the imagination that PSG will be in the market for a new goalkeeper any time soon, they have two very good goalkeepers and in the case of Donnarumma at least, he has a VERY bright future ahead of him given he is only 22 years old. But given they haven't necessarily had what they would consider the perfect start to the season AND the fact they will be wanting to win the Champions League, I honestly predict they'll be signing another midfielder, MAYBE a striker. Someone big who can hold the ball up as a solid plan B, given they've dropped points because of a lack of plan B.
That being said, if you're looking to get involved, there are plenty of sportsbooks like William Hill Canada and many others who will be offering odds on potential transfers, even those super outlandish rumours you see, EVEN meme transfers like Kieran Trippier to Newcastle. Wait, that one actually happened didn't it? Like, for example, you can currently get 15/2 for PSG to sign Paul Pogba, will it happen? Who knows, Pogba was once the poster boy for the France national team, his time at Manchester United has been absolutely meh at best, but when you look at how he played at Juventus? You already know he would rip Ligue 1 to shreds right?
One thing is for sure, for those of us who we never quite good enough to make it, for those of us who could've made it if it weren't for that knee injury we picked up in our second year of senior school playing british bulldogs (if you know, you know) and last but not least, for those of us who know the game inside out but weren't ever really interested in playing ourselves. It is easier than ever to get involved in the game one way or another, in terms of having a dabble, plenty of sportsbooks have mobile apps with a lot of them having in app streaming if you've staked anything over maybe £0.50 on a game? Making it easier than ever to keep up with the game. In fact, find me somewhere that has a legal, good quality stream of a game for cheaper than 50p a game! Didn't think so!
Now, onto the two goalkeepers in question, it is worth noting before we really get into the stats of the two players, that Keylor Navas IS 35 years old and given he will start dropping off, I could see PSG cashing in on his name, while Donnarumma is 22. So it's safe to say that in a season or two, Donnarumma will be the number one anyway, ultimately this is a kind of pointless discussion really isn't it..? BUT FOR THIS SEASON! Who should realistically be starting?
Okay so, looking at the table above. It's safe to say that in his first season, PSG are being a little tentative and "bleeding in" Donnarumma, given the reputation he had coming into the team with 251 appearances for AC Milan and 75 clean sheets at only 22 year old, is crazy. Not only that but he cemented himself as the number 1 for Italy, having a very solid EUROs where they actually went on to win it winning the PLAYER OF THE TOURNAMENT?! As a goalkeeper, at 22. Mental! Look, it's clear that PSG want Donnarumma to be their number 1 and given the fact he's only conceded 9 goals in 12 appearances with 5 clean sheets, versus 16 in 16 with the same number of clean sheets for Navas, he's absolutely stamping his name on that number 1 spot.
However, for his first season in a new league, I get it. PSG like the security of knowing Navas has played in this league for a few seasons, he's still a relatively safe set of hands and being able to work Donnarumma in is brilliant at the end of the day. Usually when a team gets a new number 1 keeper, like Liverpool with Alisson Becker, the player they're replacing is either on their way out or is just nowhere near as good, so the new keeper ends up being thrown in the deep end, sink or swim. But in this case, PSG can take their time and work with Donnarumma, they can ease him into it which ultimately, given the expectations on the shoulders of the young man, relieves so much pressure.
Look, I'll be real here, I think it's a no brainer that Gianluigi Donnarumma should be and ultimately will be the number 1 goalkeeper for PSG, whether that's for the next 15-20 years or whether it's just for 5 years and then they sell him for the big bucks GIVEN THEY GOT HIM FOR FREE???? Granted he's earning around £10m a year, but given you've got a young goalkeeper who is already a globally recognised talent, with international honours that HE PLAYED A HUGE PART IN? It's an insane deal honestly.
That's going to do it for this one, do you agree? Is the decision really that easy? Honestly, I think it's a fantastic position for Donnarumma to be in though, low pressure situation, taking his time to staple himself as the number 1, he'll be an unreal keeper for PSG for many years to come and honestly could be the difference in them winning the Champions League. What do you think? Is he going to be the difference maker in Europe for PSG? Let us know! Until next time, take care folks!